Restaurant Review: Benares
A traditional Indian eatery finds a new home in Wyckoff.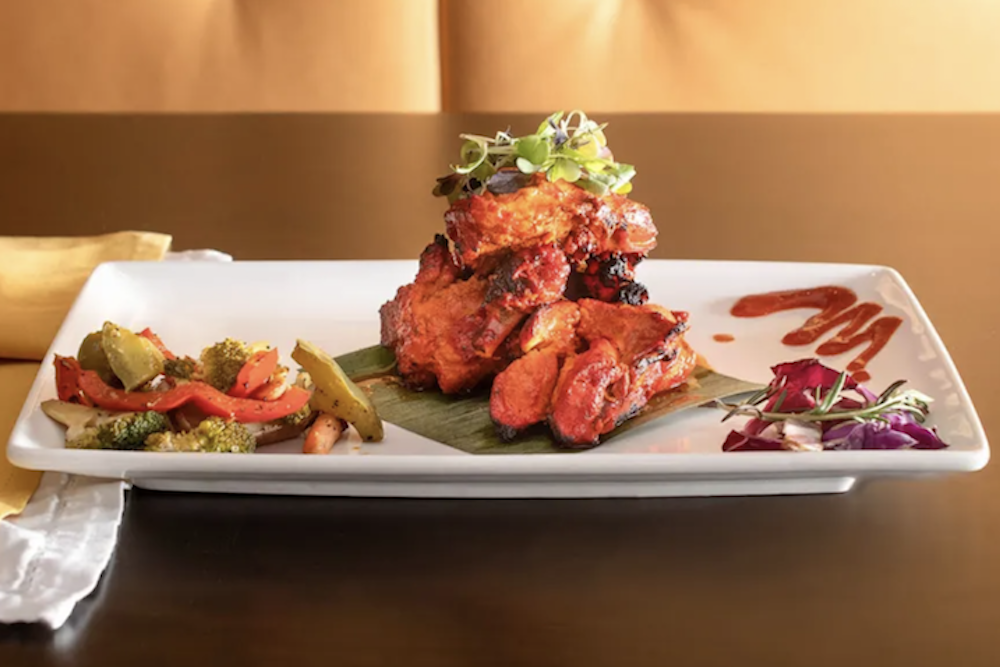 Learning to prepare simple Indian dishes in my own kitchen has been somewhat of a treat: I get one of my favorite cuisines when and how I want. But cooking the South Asian fare at home doesn't quite do is replicate the authentic taste found in a traditional restaurant.
That brought me to Benares, which opened this spring in Wyckoff's Boulder Run retail strip. "Benares" is the former name of Varanasi, a city in the northern Indian state of Uttar Pradesh, which is known for its vegetarian recipes. The Bergen eatery has its share of veggie dishes, but make no mistake: It does not fall short of meaty menu items, and they're all worth a taste.
Each table in the bright red dining room was topped with a small serving of colorful frimes, miniature chips that resembled veggie crisps but were made of rice. They were the perfect snack to hold us over until a pair of appetizers arrived. The first was barrah kebab, tender chunks of lamb (cooked to medium temperature) flavored in a yogurt-and-nutmeg marinade. Though scallops and chicken kebab starters were just as appealing, the thought of the juicy lamb bites made our plate a no-brainer—and it did not disappoint. My friend and I also perused the long list of vegetarian appetizers, which included potato pancakes, cheesy paneers and fried cauliflower, before opting for adraki samosas. Each of the trio of fried bite-size turnovers was filled with a blend of potatoes, peas and a flavorful blast of ginger and cumin. A forkful of the accompanying mint and tamarind chutney added more zest to each bite. We also had an order of onion kulcha, which we sampled but strategically slid to the side. (More on this later.)
Entrées at Benares aren't unlike any others offered at northern Indian restaurants, which are known for meat and dairy dishes as opposed to vegetable-oriented southern Indian establishments. But Benares' selections run the gamut—from vegetarian dishes like saag paneer (spinach and cheese) and roasted eggplant to carnivore-friendly tandoori hen and chicken vindaloo. My choice: Punjabi goat curry. A meat I never prepare at home, the goat was as tender as any red meat I've tried—each bite was delicate; no gamey flavor here. Diners can select the spiciness of their dishes, and I asked for a hot curry sauce, which was made with tomato, onion and numerous chilies. Thankfully, I had a soothing mango lassi to drink and tame the heat. (The doughy onion kulcha from earlier and side of basmati rice also helped.)
My friend, meanwhile, had the butter chicken—a staple in many Indian restaurants and home kitchens. Benares' version was one of the best, with the flavors of the tandoori grilled poultry mixing perfectly with the smooth tomato and buttery gravy. Clearly, it put my cookbook variety to shame.
Though both the main courses looked strikingly similar, the flavors of the meats and levels of heat (hers was a medium) were distinct. Once we polished off the goat and chicken, we reached back to the remaining kulcha and used it to scoop out the leftover curry and butter gravy from our plates.
The dessert menu features pistachio ice cream, a variety of puddings and gulab jamun (condensed milk "balls" in a sweet syrup), but I let the aforementioned mango lassi satisfy my sweet tooth this time. I promised our server that I'd get the gulab jamun next time because making it in my kitchen (or any Indian dish for that matter) can't compare to anything Benares will serve up.
Benares, 327 Franklin Ave., Wyckoff, 201.904.2222, benaresnj.com