Restaurant Review: El Conuco
Dominican flavor is alive at this new Cliffside Park eatery.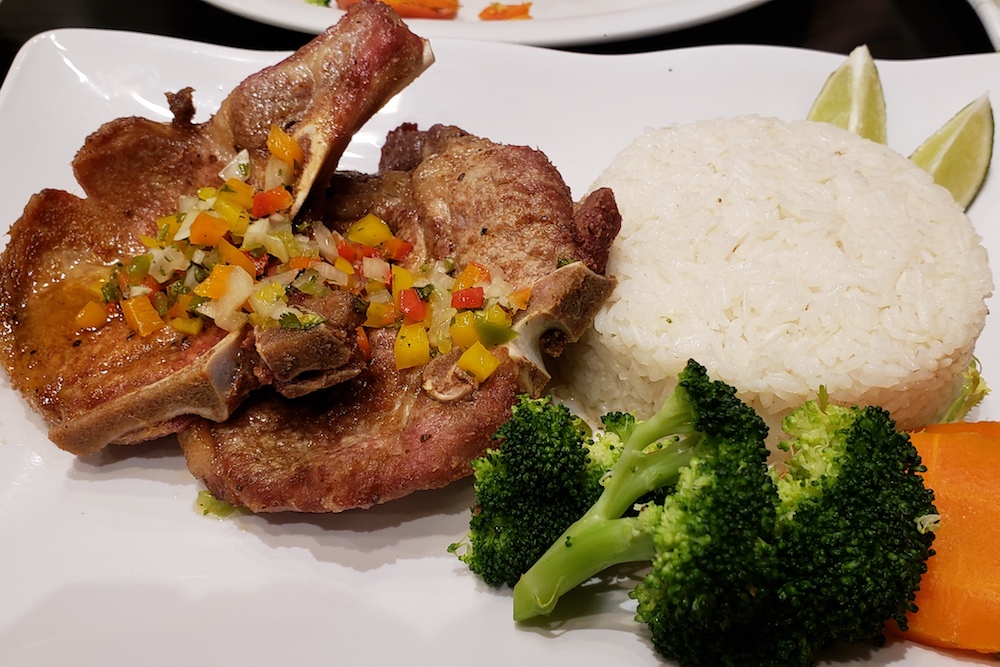 It's a known fact that I'd travel far and wide in the name of well-prepared and delicious pork—as many other of my fellow Filipino- American friends would do. While my global exploits fall well short of those enjoyed by the late Anthony Bourdain, I've toured many of Bergen's best. My latest journey in search of "the other white meat" brought me back to downtown Cliffside Park (I come here often), where a revamped restaurant row boasts a variety of cuisines, from New American and Turkish to traditional Italian and Thai.
I've often heard the acclaim for chefs from the Dominican Republic, the best of whom are skilled in the "art of pork," which includes mastery of the skin, fat and meat. It was just my luck that a new Dominican restaurant, El Conuco, opened this fall only a few blocks away from the central business district.
The cozy storefront, situated on Palisade Avenue near Cliffside's border with Fairview, is the ownership team's second location. The first restaurant, in Union City, has been earning rave reviews with diners for several years, giving me high hopes for the Bergen spot. Off the bat, my dining companion gave high marks for the cleanliness of the bright interior and the friendliness of the staff. The menu is printed in English and Spanish with photographs of each dish (I assume to assist in the ordering process, though all the images did for me was tempt and make my mouth water).
Hoping to immediately satisfy my yearning for pork, I started with a plate of chicharrón. The morsels of pork belly had everything a carnivore loves—crispy skin, just the right amount of fat and tender meat. My friend isn't a fan of belly fat, so she passed on my dish but devoured our second app, empanadas de yuca. The tiny pockets were breaded with cassava flour (naturally gluten-free) and fried, each crunchy bite containing ground pork and other spices.
Entrees on El Conuco's menu are separated by meat: pork, beef, chicken, shrimp and fish. Vegetarians have few listed options but chefs will accommodate special requests. I was still on a meat high, so I went with the grilled pork chops. The sizzling chops were topped with a tangy medley of diced peppers and onions and served with a side of white rice and broccoli. The chops were wonderfully crisp on the outside, delightfully moist on the inside and packed with the Dominican flavor consisting of garlic, onion, parsley and other herbs and spices. My companion, meanwhile, went with a lighter selection: breaded fried shrimp with a side of white rice and fried plantains. The medium-sized crustaceans were cooked to perfection—each was generously coated with panko-like breadcrumbs and had a soft, buttery texture with every bite. We also shared a plate of vegetable mofongo, mashed green plantains molded in a mound resembled mashed potatoes. This was the only plate that fell flat in flavor, though we salvaged it by drizzling the accompanying zesty tomato-based sauce on top.
The restaurant has a full bakery with Dominican pastries and desserts. We split a small plate of flan, a rich and creamy caramel cake that was the perfect balance to the meaty dinner. El Conuco, with its array of pork plates (and other dishes), was a worthwhile stop on my quest to try the best menus in Bergen—and it's the perfect place to fill food cravings.
—Darius Amos
El Conuco, 455 Palisade Ave., Cliffside Park, 201.945.9200, elconuco.com