Restaurant Review: Elia
A new Mediterranean restaurant in East Rutherford is owned by a mom/daughter duo—and the love shows.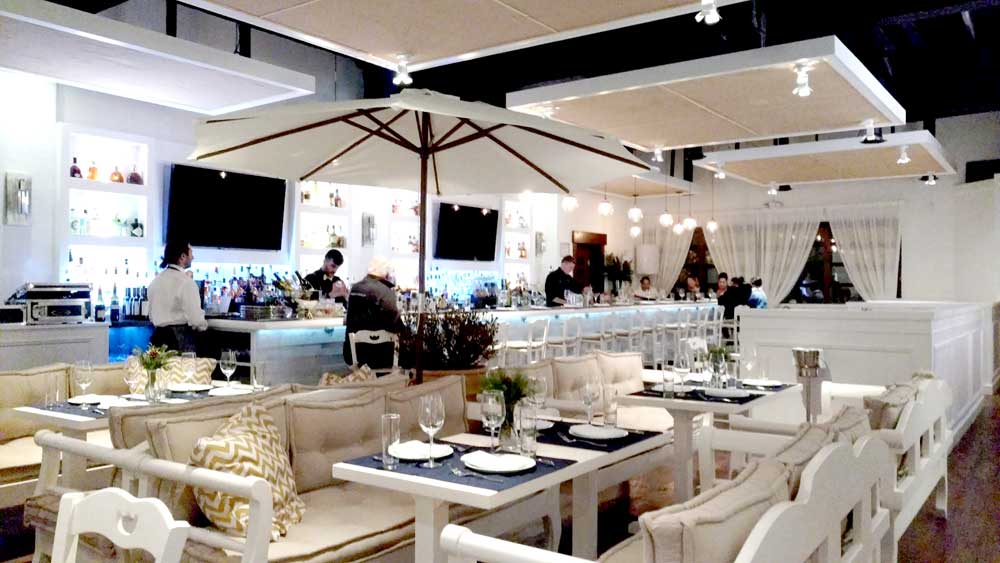 Step inside the East Rutherford restaurant Elia and you just might forget you're in New Jersey. The whitewashed brick and stucco walls, giant market umbrellas and ficus plants suggest seaside towns on the Mediterranean. There's a long Carrera marble bar, an open kitchen with a farmer's market-style front, showcasing fresh fish, fruits and veggies, and white tables with banquette- and chair-style seating. Tables are white with black cloth place mats and a small yet stylish bouquet of greens with wispy flowers.
Occupying the space that housed Park & Orchard for 40-odd years, Elia, named for the Greek word for "olive," unmistakenly exudes a very different vibe. It's the brainchild of Rutherford native Annamaria Adinolfi and her mom Anna Rosati, and this pair effortlessly reigns over the chic yet unpretentious operation, featuring Greek-Mediterrean fare. Silent owners they are not.
It happens that my dining companion's name was that of a lovely town on the Amalfi coast. When we made our reservation, Annamaria mentioned that it's her favorite place in the world. When we arrived, she took up the conversation, chatting as if we were old friends. Both mother and daughter were affable, taking pains to ensure that diners enjoyed their experience. Annamaria made the rounds several times during our visit to check on patrons.
A busboy quickly filled glasses with water and brought a basket of hot, triangular-cut pitas and a creamy, tangy hummus. Our friendly server, Nikolas, answered our questions about various dishes. (It was only later that I realized he hadn't told us the specials. Fortunately, we had a fine meal anyway.) Executive chef Jose Luis Falcon has been serving up Greek dishes in New York City, so it's no surprise that he's partial to fish. In fact, about three-quarters of the offerings hail from the sea. We chose accordingly. For starters, we opted for the baby shrimp and calamari, flash-fried and served with two dipping sauces: a spicy tomato number and basil aioli. Both the crustaceans and the mollusks were crisp yet tender with no trace of the greasiness that sometimes mars this dish. While that was delicious, it was the grilled octopus that stole the course. Sushi-grade fish—and plenty of it—was grilled to perfection and served with potatoes, grape tomatoes and balsamic onions in a Romesco sauce, an almond and red pepper-based concoction, which had just the right hint of sweetness but was in no way cloying.
After eating the pitas and appetizers, I worried that I'd be too full for the entrée. My dinner partner chose the seafood pasta, a heaping mound of house-made fettuccine with shrimp, calamari, scallops and mussels. We counted a dozen mussels in the dish (and plenty of the other fish), which featured a smooth tomato sauce and perfectly cooked pasta. While I was tempted to try one of the lesser-known whole fishes—such as lavrai, a flaky white European sea bass; tsipoura, a firm, mild Mediterranean dorado; or fagri, a pink snapper—I couldn't resist the Halibut a la Plancha. Served atop trahana, a pebble-shaped grain, with baby peas, grapes, currants, tomatoes and chestnut puree, the fish was perfectly grilled, moist and flavorful. (I did end up taking more than half home to enjoy the next day.)
Even though we were sated, we couldn't resist dessert. We shared the Ekmek Kataifi, a baked custard atop shredded phyllo with a thick layer of whipped cream, crushed pistachios and banana brulee. It was tasty but did not outshine the tried-and-true walnut baklava, served with vanilla ice cream, which proved that a great classic never gets old.
Back in our car, I was reminded that we were indeed in East Rutherford. Good! That makes it easy to pay a return visit. —Rita Guarna
Elia, 240 Hackensack St., East Rutherford, 201.939.9292; elianj.com
​