Restaurant Review: Green Fusion
Ridgewood's new vegan eatery satisfies all appetites.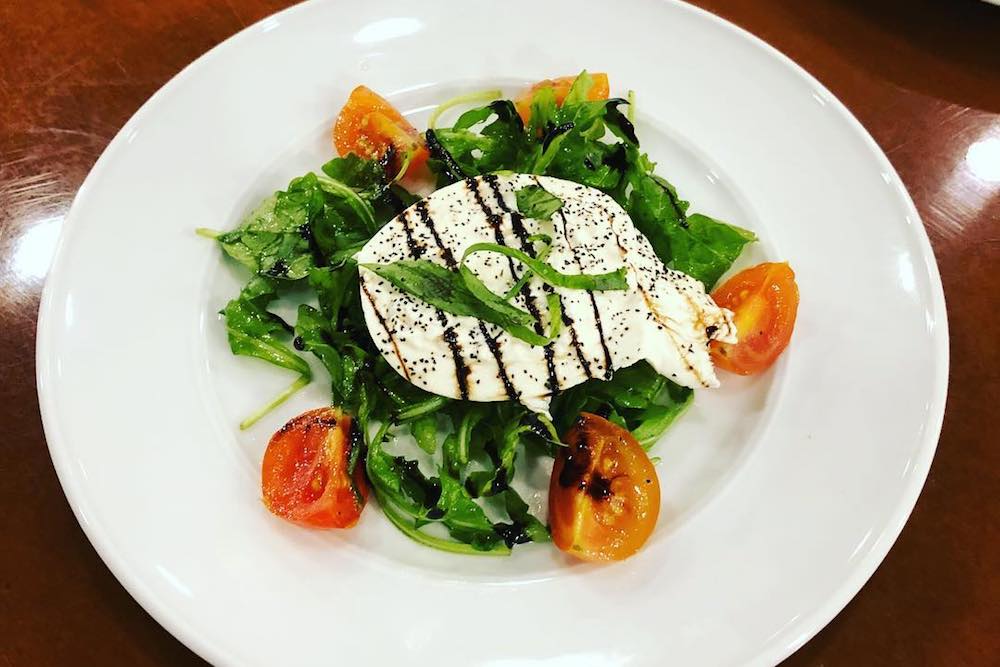 I'm a meat-and-potatoes guy, basically, but an omnivore who'll order a steak over salad roughly 85 percent of the time. (That's not scientific, but I made my point.) With that said, dining at a vegan/vegetarian eatery isn't common practice for me; however, given some recent dietary changes I figured I'd give one a try. I passed several places in downtown Ridgewood—a town where I enjoyed plenty of big, hearty and filling feasts—before reaching Green Fusion, which opened this spring in a spot formerly occupied by one of my favorite Indian restaurants. Oh, the meaty memories.
After my friend and I pulled up our chairs to the white linen-covered table, we were pleasantly surprised by the selections on the menu. From the soups and salads to the entrées and pizzas, most of the offerings piqued our interest. The majority of the food would be light, we thought, so our game plan was to split a few dishes. We started with a pair of salads, the first featuring soft burrata cheese on a bed of peppery arugula and tomatoes with a drizzle of tangy vinegar. This was a nice complement to the ABC salad, which boasted fresh avocado, cherry tomatoes and refreshing mandarin slices. As predicted, we weren't overwhelmed by the portion sizes, so a third starter was in order. While the tri-colored hummus and General Tso's cauliflower were tempting, we went with the fusion flatbread. At press time, Green Fusion didn't offer complimentary bread, so this perfectly charred flatbread topped with sweet sundried tomato, mushroom and arugula gave us a few carbs and held us over until our main dishes arrived.
As we did with our appetizers, my friend and I ordered a trio of entrées to share. I've tried other incarnations of a Buddha bowl—though those always included some sort of meat—so I was curious about Green Fusion's version. Served with rice (which can be swapped for quinoa), the bowl is filled with a colorful medley of chickpeas, veggies and grilled (and flavorful) tofu. In all honesty, I wasn't missing meat at all!
Photos of the Green Fusion lasagna grace the pages of the restaurant's social media accounts so we had to try it. A surprisingly generous portion, the plate was picture-perfect and the taste was just as good thanks to the layers of vegan pasta and creamy pureed greens. Even the tomato sauce, which was rich with onion flavor, got a thumbs up from my very picky friend.
Choosing a third dish from the tempting menu proved difficult. I wanted either Tandoori cauliflower steak or Manhattan masala tofu (both tips of the cap to the former Indian establishment that was once here), but we went with the cauliflower barbecue pizza. The crispy cauliflower crust was topped with palatable bite-size florets as well as chickpeas, garlic aioli and barbecue sauce. This pizza didn't need meaty toppings to make it delicious—much like the other dishes we tried.
I didn't leave Green Fusion thinking that I'd give up meat, but returning for the pleasant dining experience is something I'll do in the near future.
Green Fusion, 22 Oak St., Ridgewood, 201.670.7502, greenfusionnj.com