Restaurant Review: Jerk'D
New counter-service eatery brings Caribbean flair and flavor to Hackensack.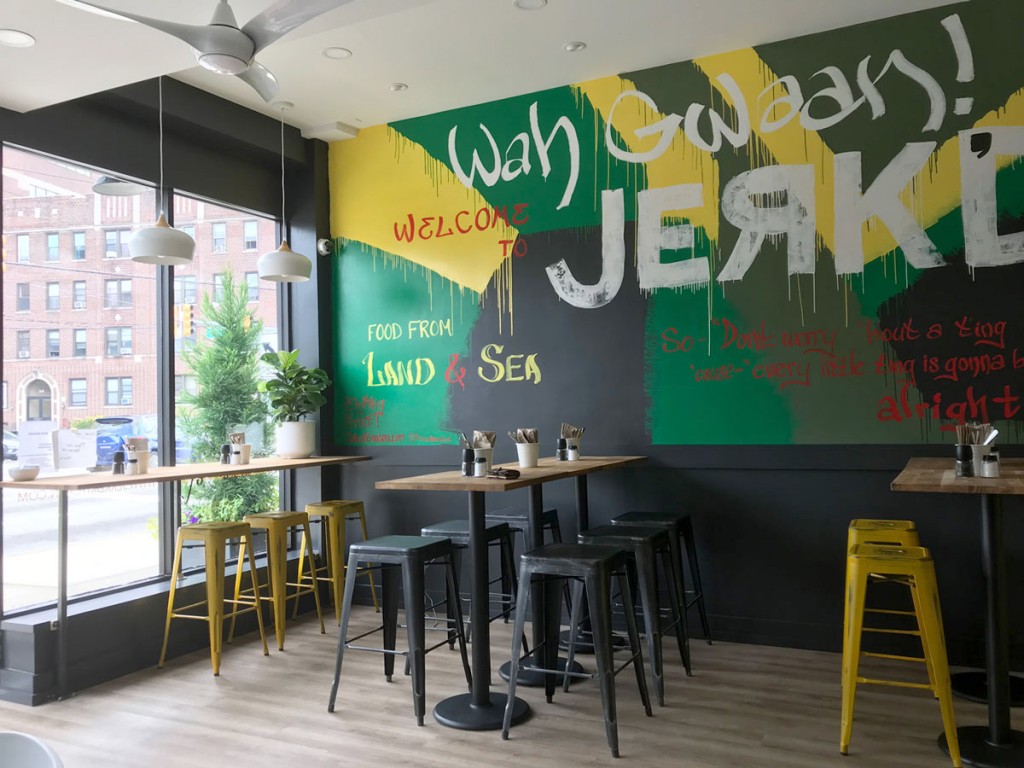 Far too many times have I ignored my countless promises to try whichever new eatery has opened up in the neighborhood. Consider it a cardinal sin for any food lover, to pass an establishment and swear to eventually go in—but never live up to the guarantee. I wasn't going to let that happen with Jerk'D. Dubbed a "modern Caribbean kitchen," Jerk'D opened late this summer along a busy thoroughfare in the shadow of Hackensack University Medical Center. If you're lucky enough to get caught at the adjacent traffic light, you'll catch a glimpse of the bright yellow, green and black interior—otherwise it's easy to miss the small strip mall. But once inside, you're instantly swept up not by a fine-dining ambience but by a simple, minimalist vibe. I liken it to a small roadside café, one you might stumble upon while taking a moped tour of Montego Bay. There's no wait staff, but two friendly servers behind a glass counter warmly greet you. And what's at that counter is why I'm there.
Jerk'D is a counter-service restaurant, similar to Eons in Paramus, where many freshly made menu items are presented behind a glass case. Made-toorder dishes—from kale salads and vegan burgers to whole snapper and traditional ackee and saltfish— are offered, but like most patrons who lined up on a recent weeknight (residents and hospital employees alike), my friend and I opted to build our own bowls using the selections on display. With wide eyes, I watched one of the servers slide a fresh tray of goat curry (one of my favorite West Indies dishes) into place behind the glass. Though tempted by the aroma of the curry, I ordered braised oxtail for this visit and I don't regret it. The meaty cuts were fall-off-the-bone delicious and had just enough fat to give a boost to the complex notes of the allspice and other flavors. Each protein comes with a choice of two sides, of which I selected broccoli and rice and peas. The latter selection is the perfect accompaniment to the oxtail stew—to me, stew mixed with rice is the definitive comfort food.
My friend claims she isn't an adventurous eater, so I was pleasantly surprised she passed on familiar items like jerk chicken and a pulled pork sandwich in favor of the aforementioned goat curry. "It looked so good," she told me. And it was. Like the oxtail, the tender meat fell off the bone and had plenty of Jamaican curry flavor, which varies slightly from Indian curry as it usually contains more cumin, paprika, cardamom and garlic. Her sides were roasted sweet potatoes and plain jasmine rice, which also blended ever so nicely with the curry sauce. Dessert choices, including West Indian fruit cake and mango cheesecake, are packed in plastic containers and available at the counter. We picked up two servings of bread pudding with rum sauce to go; we were advised to "heat it and you'll love it even more." We did, and we did. I admit that I'm a sucker for Caribbean food, and Jerk'D has plenty of traditional and modern takes on the cuisine. In addition to the friendly staff and clean interior, the restaurant's use of recyclable materials (plates, bowls, straws) is also an attraction and reason to keep coming back. And I'll return soon—that's a promise I know I'll keep.
—Darius Amos
Jerk'D, 363 Essex St., Hackensack, 973.826.9232, jerkdkitchen.com