Restaurant Review: Madang
Englewood Cliffs eatery offers a fresh take on Korean cuisine.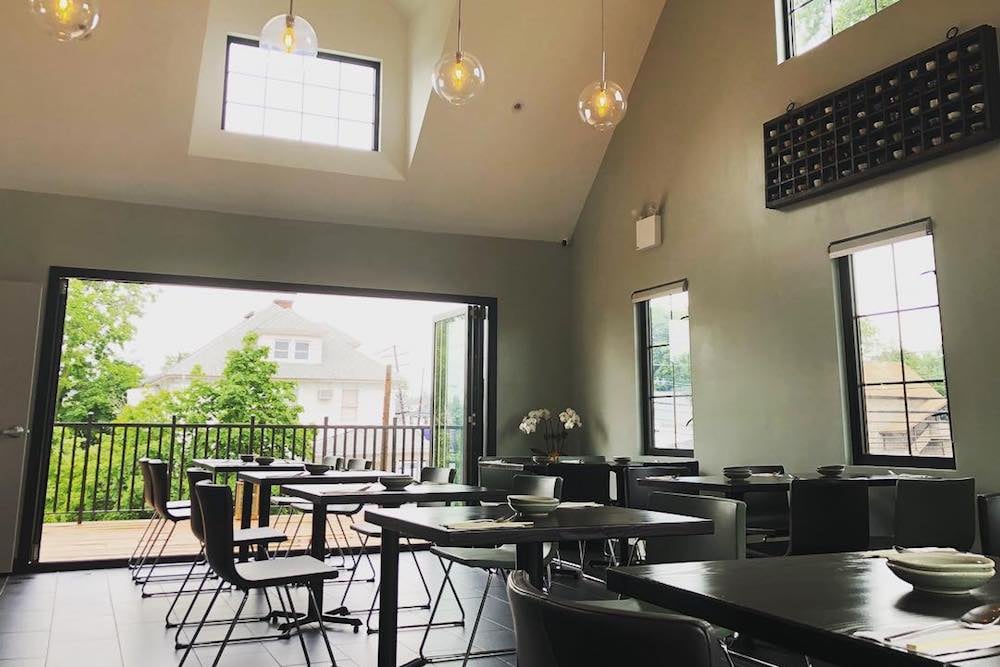 As tapas and shared plates grow in popularity, so does the number of casual Korean barbecues. You know the type— where tables are topped with banchan (essentially small communal side dishes like salted fish, rice, vegetables), and diners cook their own meats using built-in grills. Based on Korea's royal court customs, this style is a culinary spectacle—just like hibachi and fondue—but oftentimes the show shines brighter than the food. However, at Madang, a traditional Korean restaurant that opened this summer in Englewood Cliffs, the setting is simply that: It's the background to extraordinary fare.
Bergen County has its fair share of establishments specializing in Korean cuisine, particularly in towns along the Hudson River. So what's different about Madang? First, there's the ambience. The redesigned building along Sylvan Avenue (9W) boasts a modern and spacious interior, while its second-floor terrace provides a view of the George Washington Bridge. And, of course, there's the lengthy menu with long-established and modern Korean dishes (bulgogi cream pasta, anyone?) as well as "westernized" choices like the short-rib burger and skinny fries.
I resisted the urge to order japchae (stirfried noodles) for an appetizer, as it's my typical take-out app. Instead, my dining companion and I started with gaon mandoo, large steamed dumplings filled with pork and fresh vegetables and herbs. If you try it, you'll quickly discover why I emphasized those adjectives. Our second appetizer was nokdu bindaetteok, a fried pancake made of ground mung beans and vegetables. Although the smooth and savory cake was cut evenly into quarters, my partner beat me to three of the four pieces. I did, however, eat the majority of the accompanying greens, which were topped with a dressing my friend deemed too hot for her taste buds.
Of all the Asian cuisines, Korean is hands down my favorite, and that's because of the robust flavor of the meat. That being said, I ordered bossam as my main dish. The thin slices of pork belly were light and tasty, thanks in part to the spices but mostly due to the natural flavoring of the fat. Palatable on its own, the meat got a boost when combined with one of the sides, which included salted shrimp, spicy radish salad, an even spicier pepper paste and miscellaneous vegetables. This entree isn't customarily served with rice, but I should have asked for a bowl of it on the side, as the starchy carb would have been another perfect complement to the pork belly and spices.
Not much of a meat-eater, my dining partner ordered tofu yachae bokkeum—a medley of stir-fried tofu, eggplant and other vegetables served in a light brown sauce with rice. The dish was the perfect in-between of sweet and savory, while the black sesame-seed garnish added a delightful nuttiness to the overall taste.
Despite the staff's friendly efforts to coax us into dessert, we were too full from our meal to order. We vowed to try one or two sweets (various bubble teas, tiramisu, green tea cake, lava cake) from their first-floor cafe during our next visit. Understanding and grateful, our waiter, as he did all throughout the dinner, kept our hot and fruity Keywest tea filled until we decided to call it a night.
While today's do-it-yourself Korean barbecues are enjoyable, I still prefer a delicious and distraction-free meal with friends and family. When that's my craving, I'll head to Madang.
Madang Restaurant and Cafe, 11 Sylvan Ave., Englewood Cliffs, 201.345.0888, madangnj.com