Restaurant Review: Red, White and Pasta
The flavors at this Englewood Italian eatery will remind you of Grandma's kitchen.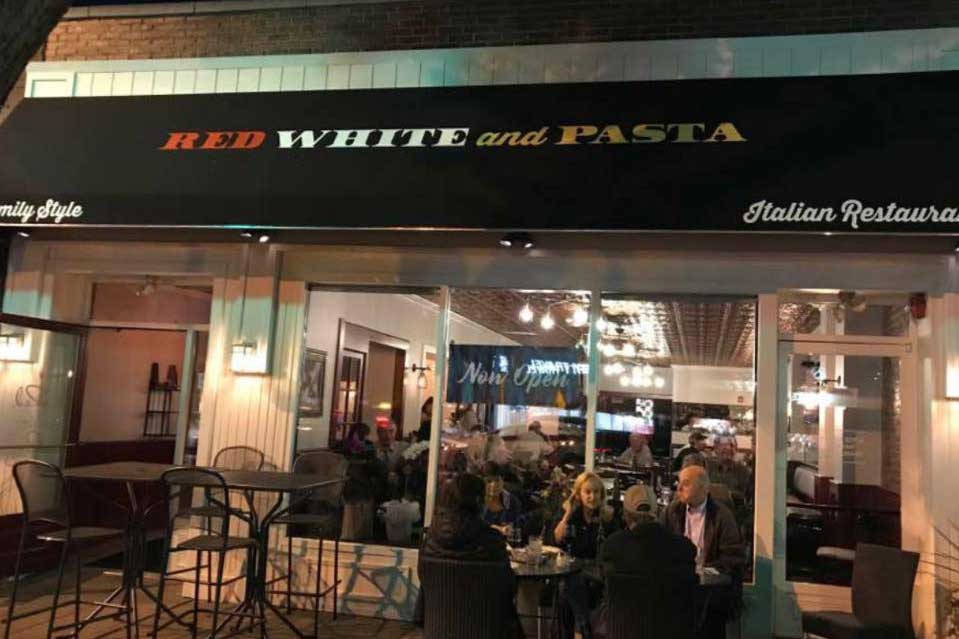 The next best thing to eating food is talking about it, and there is plenty good to say about Red, White and Pasta, the new family-style Italian restaurant that's creating a buzz in downtown Englewood. There is no shortage of dining options in the city, but you're instantly drawn to this eatery—large windows allow passersby to feel the energy and see what's cooking in the dining room. But don't think you can just walk in—reservations are highly recommended if you hope to score a seat, especially if you want to enjoy dinner on a Saturday night.
Everything inside the restaurant is pleasing, from the décor to the food. The dark hardwood floor and a copper-tiled ceiling are warm and welcoming, while three large flat-screen TVs—though not what one would typically find in a traditional Italian restaurant—provide extra visual interest. Despite its name, there is no vino on the menu; Red, White and Pasta is a BYOB establishment. Luckily, there are several wine and liquor stores within walking distance, so be sure to grab a bottle (bring any wine, vodka, beer, etc.) before you dine.
But the food is why you're there, and there is plenty of it. My dining companion and I began with a half-order of arancini, risotto rice balls stuffed with cheese. Smaller than usual arancini, which can be made as a literal handful, these bite-size balls were filled with a flawless mix of rice and cheese, the flavor combination enhanced when the morsels are dipped in the accompanying sauce. The sauce, which my Sicilian friend noted tasted like it was Grandma's recipe rather than something mass-produced, also complemented the mozzarella and ricotta in our second appetizer, a hearty and delectable Eggplant Rollatini.
For our entrees, we decided to share half-orders (whole plates feed about three to four people, they suggest) of Rigatoni Bolognese and Chicken Marsala. Both were authentic and delicious. The tender pieces of chicken perfectly picked up the flavor of the Marsala sauce—a stock and wine combo blended to the ideal in-between of thick and thin. The dish also came with a generous heap of mushrooms, much to the delight of my friend, who noted that other restaurants are sometimes shy when adding the key ingredient to the sauce.
Not to be outdone, our pasta dish was close to perfect. The rigatoni was cooked just right—the al dente we strive for when playing chef at home—and the Bolognese sauce was a joy to the taste buds. We savored the mix of finely chopped pork and beef with each forkful, and the zest of the cheese helped make the plate one of our favorites. Pasta is notorious for filling bellies, and our stomachs were no exception. Still, I mustered the strength and somehow found space in mine to order and enjoy a mini cannoli for dessert—a difficult choice considering the restaurant also serves the famed Mikey Likes It ice cream. And no Italian meal is complete without a cappuccino, which my companion and I each enjoyed. A return visit to Red, White and Pasta is a sure bet, but we can't guarantee that we'll save room for dessert—there are too many good options here. The buzz on the street about the restaurant was spot on, and we're thankful we listened and dined.