Restaurant Review: Seak
The only thing to top the riverfront view at this new Edgewater hot spot is the Thai-Vietnamese fare.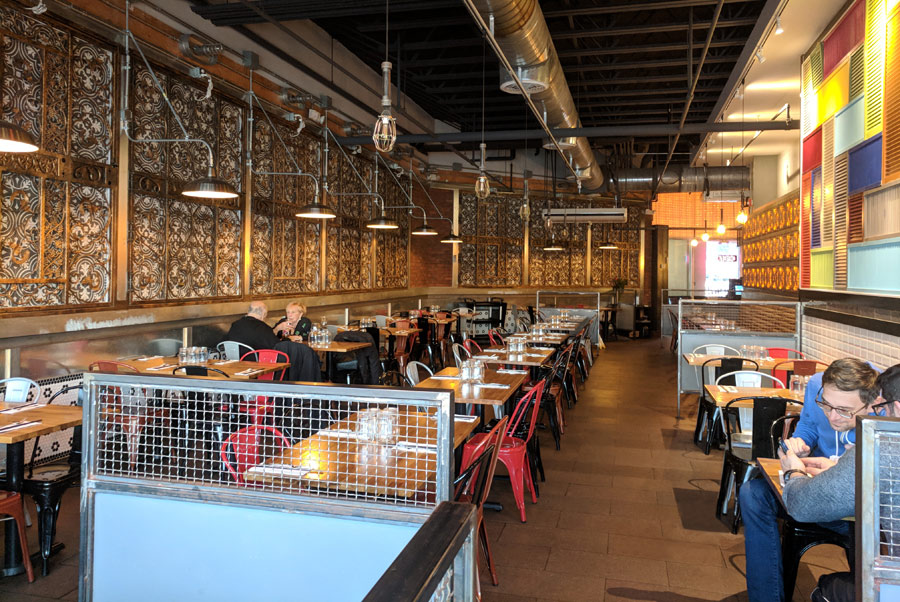 The roster of Bergen County restaurants specializing in Asian fare had long been dominated by Chinese, Japanese and Indian joints. But recently, discerning diners from all corners of the county helped spur the popularity of "other" Asian cuisines. Today, countries like the Philippines, Korea, Thailand and Laos are well represented in Bergen's dining landscape. In towns like Fort Lee and Edgewater, for example, new Vietnamese restaurants and pho noodle houses are opening faster than we can count.
Seak (once known as Phorage on the Hudson) combines the flavors of Vietnam and Thailand, offering traditional and fusion dishes in an elegant setting along the Hudson River.
My dining companion and I are of Asian descent, so we've had more than our fair share of soups as well as noodle and rice dishes. We were skeptics. Our thinking when we sat at our table: How different could this restaurant be from others we've tried? Well, Seak quickly humbled us and our cavalier culinary attitude.
The appetizers included beef and chicken satay as well as a variety of Vietnamese spring rolls. But we started with Banh mi frites—a bowl filled with double fried waffle fries topped with the fillings of a traditional Banh mi sandwich (crumbled pork, pickled carrot and daikon, cilantro and sriracha aioli sauce). We were delighted by the sweetened pork and tanginess of the veggies, which complemented the savory fries. I never thought I'd be recommending the "fries" at an Asian restaurant.
Our second appetizer, Banh xèo (SAY-oh), hit the mark for presentation but just missed in other areas. The beer-battered crepe was filled with shrimp and lemongrass pork and served with beansprouts, scallions, lettuce and other vegetables. The combo was a flavor explosion, and the accompanying fish sauce gave it a rich sweetness, but the crepe itself was soggy and retained too much oil for our tastes.
Before we ordered entrees, our waiter patiently answered our questions and explained the various sauces and spices used in Seak's dishes. His details almost sold us on every plate: It wasn't easy passing over the selection of noodle soups, stews and curries—even the different versions of Banh mi sandwiches were tempting. Alas, I ordered the Sesame Soy Chilean Seabass. At market price on this night, this fish was one of the most expensive offerings, but it was worth every bite. The seabass was cooked to perfection, the meat clean and delicate. My friend, who took a forkful of my meal, noted that the flesh "melts in your mouth like butter." Of course, there was no butter on my plate (unlike the 2-lb. lobster option, perhaps)—the fish was coated with a zesty ginger, scallion and soy glaze and rested on a fluffy bed of sauteed bok choy. My dinner partner, meanwhile, chose Bo Luc Lac or Vietnamese filet mignon cubes. The surprisingly large portion could have been shared by three or four diners, but we tackled it ourselves. The tender cuts of beef were soft and juicy, each soaking up the flavors of the soy sauce, caramelized onion, garlic and other spices. We split the accompanying bowls of white rice and mixed our portions with the meaty and memorable dish.
Our stomachs almost filled to the brim, we pushed forward to the dessert menu. And sweets were clearly on our minds. I had the Coconut Banana Tempura, which featured a tempura-covered banana and "warm" ice cream that I likened to the fried variety typically found in Tex-Mex restaurants. My friend went with the Mango Guava Cheesecake, a generously sized guavaflavored slice topped with mango mousse, mango syrup and toasted almonds.
After our last bites, we finally (and happily) called it a night. Seak's menu and execution taught these two Asian foodies that indeed this Edgewater establishment is different from the rest and just as good as the best. —Darius Amos