Restaurant Review: Sedona Taphouse
Named after an Arizona town, this new eatery captures the flavor of America.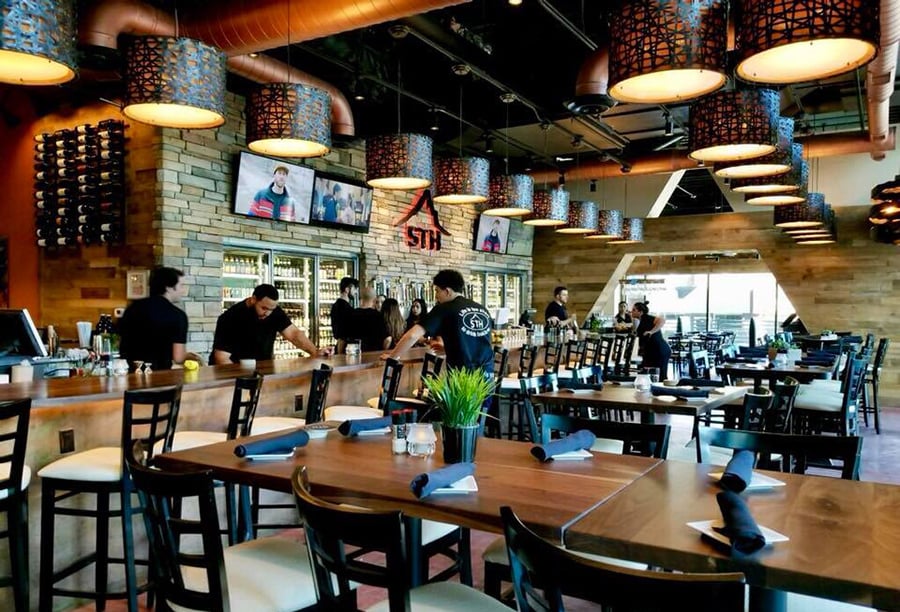 A frequent traveler to the Grand Canyon State—where I visit my recently retired parents—I now have certain expectations when seeking the flavors of America's West. So when headed to Sedona Taphouse in Cliffside Park, which stretches an image of iconic Antelope Canyon across the front of its menu, I envisioned something Southwestern or Tex Mex. Not quite so: Taphouse boasts New American cuisine, pulling inspiration from American steakhouses, Italian bistros and Mexican taquerias.
Off the bat, Taphouse has several pluses going for it. The eatery is part of the Towne Centre, a brand spanking new high-rise complex (it's a mixed-use, residential and commercial, facility) in the middle of the downtown's resurgent restaurant row. Second, visitors don't have to search for metered street parking, as there are plenty of free spots in the garage beneath the complex. Repeat: free garage parking.
As for the restaurant itself, inside you'll find several big-screen televisions mounted over an L-shaped bar with an astonishing number of beers on tap (I lost count at 33, but there are plenty more), and even dozens more bottles stashed away in nearby refrigerators. For nonbeer drinkers, the racks of wine and list of artisan cocktails are just as impressive. Surrounding the bar are booths and tables for families, friends and the after-work crowd.
My guest and I visited on a busy Friday night and were seated at the last available table—right next to the open kitchen. Though not the best location, our server Desiree made up for it with her attentiveness and knowledge of the menu. I started with the roasted stuffed mushrooms, three bite-size button caps filled with lump crabmeat. I imagine the app's crab comes from the same batch used to mold the restaurant's popular crab cakes that I glimpsed on the entrée menu—the meat is that good. My friend opted for Australian Kobe beef sliders, a pair of mini burgers (you can also get it as an order of three) topped with Vermont cheddar and caramelized onions and served with fresh blue potato chips. With respect to the sliders found at Hackensack's White Manna—recently named by Thrillist as one of the 31 Best Burger Joints in America—Taphouse's version might come in a close second.
Now, on to the mains! Though some options are given "western" names (Red Rock Shrimp, Devil's Pass Pasta, Chuckawalla Chicken), rest assured they are all New American cuisine. A sucker for red meat, I ordered the Filet Fontina Marsala, a 7-ounce filet mignon covered with a thin layer of melted fontina cheese, house-made Marsala sauce and portabella mushrooms. This time around, I'll admit, that it was the fontina, not the Angus beef, that drew me in. The rich aroma of the cheese amplified the flavor of the tender meat, which was cooked to a perfect medium, while the Marsala had a curious but satisfying peppery kick that put the plate over the top. My friend's mahi mahi, from the daily specials, wasn't a catch like my dish, but she still happily filled her tummy. The meat was firm, not as flaky as other mahis I've tried (I took a few forkfuls off my friend's plate), but it still had the rich flavor one expects from this fish. Her sides, meanwhile, might've stolen the show: A light squash couscous and savory bacon succotash, she notes, were a pleasant surprise.
With just four choices on the menu and one on the specials, dessert clearly isn't Taphouse's concentration. My friend's dish, chocolate decadence, was a flourless cake brimming with, well, chocolate as well as a tangy Grand Marnier and raspberry sauce. I kept my afterdinner treat tame, opting for the warm apple tart with vanilla ice cream from the evening specials list.
With the name Taphouse, it's no wonder that craft beers and cocktails are the star. But don't overlook the menu—it's chock full of surprises and new takes on some old favorites. Like the natural wonders in Arizona, it will take several trips to try everything at the Taphouse, and we're looking forward to our next visit. —Darius Amos