Restaurant Review: T & Thai
You'll taste the difference at this new Cliffside Park spot.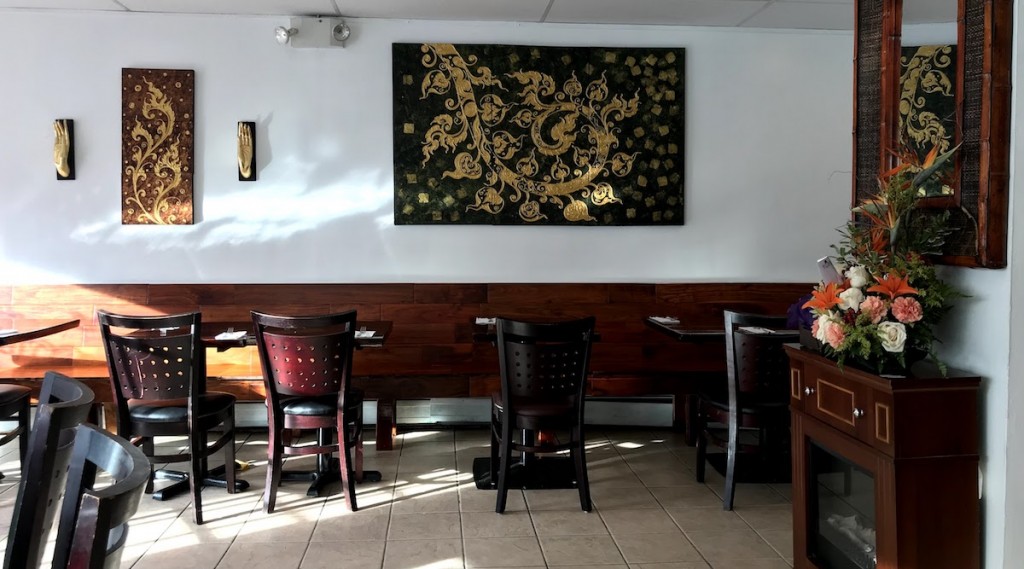 Towns like Edgewater, Englewood and Ridgewood have long been the go-to destinations for Bergen foodies, and rightfully so—the downtowns there are filled with a diverse mix of dining options. But the restaurant renaissance underway in Cliffside Park has quickly pushed the county's most densely populated municipality near the top of the ranks.
After a short stroll along bustling Anderson Avenue, the borough's main retail drag, my friend and I squeezed inside T & Thai, a cozy space whose dining area is no larger than a snug Manhattan loft. In a way, however, the size recreates the warm atmosphere of many Asian homes, and that's exactly what we sought, eating in on the first full day of fall.
T & Thai's menu isn't unlike other Thai restaurants, and I've tried many of the selections, from pad Thai and fried rice to panang curry and whole snapper, in dining rooms across the county. But there is something different here, an intangible that goes into every dish. We're told Chef T (as he's simply and fondly known) prepares food the way his grandmother did in—as I can only imagine—the family's kitchen decades ago.
We immediately tasted the difference when sampling our first appetizer, chicken satay. Satay is a popular Southeast Asia dish, its flavor and preparation varied from country to country. T & Thai's iteration comes with four marinated chicken skewers, each with perfect grill marks and seasoned ever so lightly. Much of the flavor punch of this app comes from the sweet peanut sauce, meant for dipping (or slathering, if you choose). Our second starter was a pair of summer rolls, fresh (neither fried nor steamed) rice-based wraps stuffed with shrimp, thin rice noodles, veggies and a heaping pile of cilantro. The ingredients alone stimulate the taste buds in a pleasant way, but the accompanying tamarind dipping sauce neutralized the distinct taste of the cilantro.
Though convinced that we could have ordered a table full of appetizers—the curry puffs, chicken dumplings and Tom Yum soup were calling our names—my friend and I ordered a trio of mains to share. The pineapple cashew fried rice with shrimp isn't presented in a halved pineapple the way many restaurants do serve it, but the portion is still enough to feed a family. Even better, it's filled with fresh vegetables and, of course, plenty of pineapple. The jumbo shrimp, which we added to the order, come with tails on, requiring us to pause between bites to discard the shells.
Our second plate was drunken noodles, a dish that's quite the opposite of the lighter Thai noodle dish, pad Thai. This broad noodle is thick and chewy, almost as "meaty" as the delicious cuts of beef we added to the entrée. I was pleasantly surprised by the high quality of the meat, which was unlike the thin, flimsy cuts used at many Chinese restaurants. This dish has an extra kick thanks to the Thai hot chili but is not overwhelmingly spicy.
We also shared a bowl of Hawaiian pineapple curry with chicken, a concoction of coconut milk, pineapple, red bell peppers, chili peppers and basil. The broth was on point in terms of taste—sweet, not spicy—though it was a tad runnier than I expected. I also didn't anticipate having to order a separate bowl of jasmine rice (curries at T & Thai do not come with a side of rice).
Loaded with carbs and protein, we reluctantly passed on dessert. But I'll be certain to try the mango with sweet sticky rice and the restaurant's seasonal dish for fall—pumpkin and taro custards—during my next visit.
What T & Thai lacks in fancy decor and floor space, it certainly makes up with its service and cuisine. And isn't that what makes grandma's kitchen so memorable?
T & Thai Restaurant, 644 Anderson Ave., Cliffside Park, 201.941.0099; tnthai.com