Restaurant Review: Takaichi Ramen
This new Ho-Ho-Kus eatery will satisfy your noodle fix.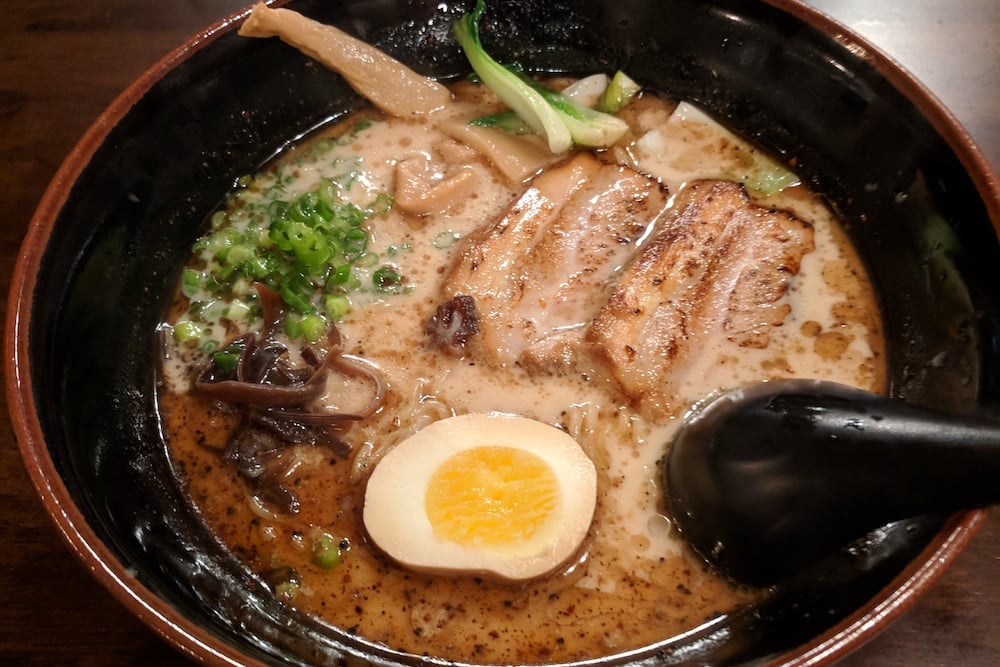 'Tis the season for pumpkin spice, apple pie and cider doughnuts, but autumn is also the perfect time of year for piping hot soup. And when the soup's on in the traditional Asian household in which I grew up, that meant a big bowl of ramen was on the table. No, I'm not talking about the packages of instant noodles that so many of us (myself included) lived on during our college years—I mean a home-cooked meal with real veggies and cuts of meat.
The Japanese noodle soup in recent years has grown in popularity and now has a diverse following. Made with fresh ingredients, the chef-prepared version is preferred by many cultures and backgrounds, not just those of an Asian descent. That's one of the reasons why restaurants specializing in ramen are popping up throughout Bergen County. Takaichi is the latest to emerge, opening in a Ho-Ho-Kus storefront in October.
For the first brisk weekend of fall, my friend and I found Takaichi the ideal dinner option. The restaurant was filled with families and couples, creating a warm and intimate vibe that I often associate with eating soup. The menu isn't extensive like many chain ramen establishments, but it is suitable for those who'd rather not overcomplicate an order. We started with a plate of gyoza, wonton wrappers filled with pork, cabbage and other vegetables. Each of the six pieces was fried ever so lightly, giving the morsels a crisp yet chewy bite. The dipping sauce, a combination soy sauce, rice vinegar and spices, gave the pork an extra kick. Our second starter was shrimp shumai, a wonton wrapper typically stuffed with a creamy blend of pork and prawn, but Takaichi sticks solely to shrimp. (The "creamy" part comes from the egg whites and potato starch.) Shumai is steamed, making it lighter and more delicate than gyoza, and just as scrumptious. I had a hard time passing on other appetizers like grilled squid and Kurobuta sausage, but we were thoroughly pleased with our selections.
In addition to the fresh ingredients, one of the other things I appreciate about ramen is its value—you get a whole lot of food for a relatively inexpensive price tag. (Bowls at Takaichi range between $11 and $15, and add-ons like greens and extra meat or noodles are priced from $1.50–$3.50.) For dinner, I had a bowl of white ramen prepared with a mix of pork, egg, dry seaweed, veggies and a blend of pork and chicken broth. Unlike the packaged instant noodles and their "flavor pack," these bowls aren't overly salty and get their taste when ingredients interact with one another. For instance, the white miso broth turns extra creamy when mixed with the yolk from the soft-boiled egg. And then there's the pressure-cooked pork belly, the slabs of tender white meat and fat that give the broth extra flavor.
The ingredients list of my friend's black ramen was almost identical to my dish, but her bowl included mayu oil—a type of garlic oil—to give it a dark color. Curious about whether the oil would overpower the pork flavor, I sampled a few spoonfuls of broth and detected just a subtle hint of garlic. In fact, I preferred the overall aroma and taste of the black over the white.
Though both of our bowls included pork belly, Takaichi also offers chicken, ground pork, spicy and vegetarian ramen varieties. For those not in a noodle mood, fried chicken and mouthwatering fried pork cutlet platters are also available. Both are on my must-try list.
Just a few weeks old, Takaichi has yet to add any desserts to its menu. My friend and I were already filled to the brim with meat and noodles, so sweets at the end of the night were probably out of the question. Of course, that might all change if there's a mochi or green tea ice cream on the menu during our next visit. —Darius Amos
Takaichi Ramen, 5 Franklin Tpke., Ho-Ho-Kus, 201.857.8467