Ridgewood Orthopedic Group
Andrew A. Brief, M.D., F.A.A.O.S.
Umer R. Dasti, M.D.
Anthony J. Delfico, M.D.
Ismar Dizdarevic, M.D.
Mark M. Pizzurro, M.D.
Kevin Roenbeck, M.D.
Lauren Terranova, D.O.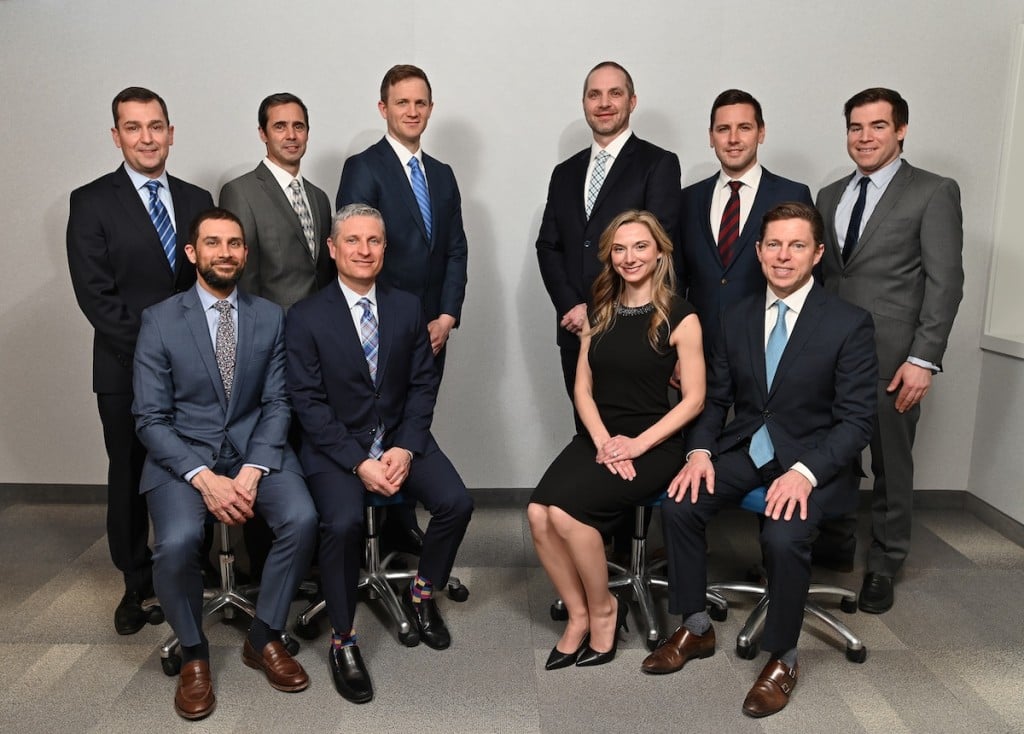 85 South Maple Ave., 2nd Floor, Ridgewood, NJ 07450 • 201.445.2830 • www.ridgewoodortho.com
Ridgewood Orthopedic Group is a full-service orthopedic practice that has been serving patients in New Jersey for over 35 years. This year, they have proudly partnered with six of the state's largest and most prestigious orthopedic practices to form OrthoNJ. As a division of OrthoNJ, Ridgewood Orthopedic Group has expanded its reach – Ridgewood to Cape May – as well as its access to the very best minds and resources in orthopedic care. In helping to create this entity, Ridgewood Orthopedic Group has furthered its philosophy in bringing world-class care to patients right here in Bergen County.
At Ridgewood Orthopedic Group, patients of all ages receive technologically advanced medical care for conditions that involve sports medicine, hip and knee replacement, back and neck ailments, arthritis, and bone fractures including foot and ankle and hand and wrist surgeries. All 10 physicians are fellowship-trained, differentiating and advancing their skill set to develop expertise in a specific orthopedic sub[1]specialty.
As leaders in their field, the surgeons stay one step ahead of the evolving research and emerging developments always with their patients' best interest at heart. Their initial approach to treat a variety of conditions, injuries and diseases and to mitigate pain is conservative, however, when necessary each surgeon has the skills to handle the most complex procedures. Ridgewood Orthopedic Group is recognized for their groundbreaking work in robotic total joint replacement surgery. Dr. Anthony J. Delfico, the practice's managing partner, performed the first robotic knee replacement in Bergen County. "I am extremely proud of the team we've built and the many "firsts" that we've accomplished. But, I am most proud of our commitment to quality care and our dedication to continuously learn and advance our skills, always practicing with integrity, vision and the highest standards of professionalism," says Dr. Delfico.
Ridgewood Orthopedic Group is also highly experienced in the practice of pain management. Dr. Lauren Terranova, fellowship trained in diagnostic and therapeutic musculoskeletal ultrasound, has received awards for her work in pain management ultrasound guided injections. She believes in a holistic approach and uses conservative measures to restore function, relieve pain and maximize the quality of life of her patients.
The experienced doctors at Ridgewood Orthopedic Group are assisted by over 60 caring and compassionate staff who work together with Valley Hospital to educate patients and provide efficient, patient-centered care. In an effort to better serve patients during this difficult time, the practice is scheduling telemedicine appointments for new and existing patients at the discretion of the physicians.
The seven Top Doctors are humbled by this recognition and pledge to remain devoted to their field, promote good health and return their patients to an active, full life.