Ridgewood Revisited
New developments, restaurants and more continue to enhance this Bergen County favorite.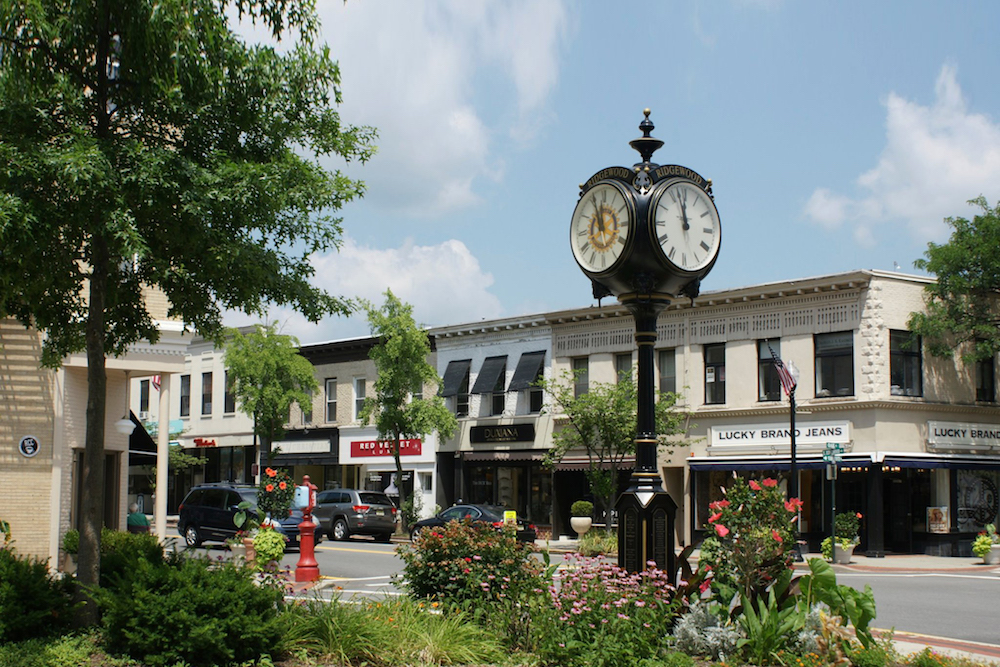 ESTABLISHED: 1894
POPULATION: 25,675
WEBSITE: RIDGEWOODNJ.NET
Ridgewood celebrates its 125th anniversary in 2019, but it has a whole lot more going for it. This community-driven, well-off suburban village has been dubbed the best place to live in Bergen County on niche.com's 2018 list of "Best Places to Live in New Jersey" and has two schools on the same website's ranking of the top 200 schools with the "Best Teachers in New Jersey." Not bad for just under 6 square miles, huh? A bustling downtown area, gorgeous homes and tons of recreational activities round out the appeal of Ridgewood.
DOWNTOWN TO-DO'S
After a stroll along the main strip of East Ridgewood Avenue, where restaurants, clothing boutiques and coffee shops abound, take in the sights at Memorial Park at Van Neste Square, catch a movie at Bow Tie Cinemas Warner Theater, read up at celebrity-adored book store Bookends, or show off your creative side at Color Me Mine or Pinot's Palette—all without getting back in your car!

NEW AND IMPROVED
Some major changes are coming to Ridgewood's downtown area in the very near future. Beginning in early 2020, 85 new smart parking kiosks will replace traditional metered parking on the village's streets, upping parking fares to $1.25 an hour. This increased pricing also will help pay for the new parking garage, expected to open in June 2020 on Hudson and South Broad streets.
HOME SWEET HOME
Thinking about buying or selling a home here? The median home value in Ridgewood is $715,900, up 0.9 percent from last year, according to Zillow. Home values are expected to rise 0.3 percent within the next year.

PARKS & RECREATION
There are also plenty of recreational activities to be had here. Veterans Field and Citizens Park are turf for home games of all kinds, while the sandy Graydon Pool and its nearby skate park draw large crowds in the warmer months. The
Ridgewood Duck Pond is a year-round family-favorite hot spot, featuring biking and walking trails, picnic areas, a dog park, a playground and more.

HISTORICAL SIGNIFICANCE
Ridgewood is home to a whop-ping 13 sites that are listed on the National Register of Historic Places, proving it's more than just a hub for dining and shopping. A few of these landmarks include the Ackerman House, Ridgewood Station and the Old Paramus Reformed Church (pictured).
DINING OUT
Ridgewood has an eatery for every craving and price point. If you're looking for fine dining, make a reserva-tion at Village Green, Latour or newest additions Felina and No. 12, each with its own renowned culinary team and innova-tive menu. The self-explanatory Country Pancake House and East Coast Burger Company are perfect for more casual meals, while newbies Green Fusion and Wild & Hearty (previ-ously known as Samba Bowls) are great spots for a healthier, light lunch. Finish off your Ridgewood food tour at the clas-sic Van Dyk's Homemade Ice Cream or with a

FAMOUS FACES
Ridgewood is basically a who's-who of Hollywood, as authors, singers, actors and more all have lived here at some point or another. A few examples: Malcolm in the Middle star Frankie Muniz was born here as was another Frankie, Frankie Jonas, aka the "bonus Jonas" to the Jonas Brothers; American Idol winner Jordin Sparks (pictured) grew up in
Ridgewood while her father Phillippi Sparks played for the New York Giants; Broadway star Ali Stroker, the first wheelchair user to be nominated for and win a Tony, graduated from Ridgewood High School; and there's also Michael Zegen, starring as Midge's estranged husband Joel on The Marvelous Mrs. Maisel, who spent much of his childhood in Ridgewood.
WHAT'S IN A NAME?
Ridgewood was originally named Godwinville after a hero of the Revolutionary War. But by the late 19th century, when a railroad station was built here and business was booming, the village's name was changed to Ridgewood to appeal to more people in New York City. From there, the Godwinville Station changed its name to Ridgewood Station and the rest, as they say, is history.