Rooms Made Magical
How do they do it? Bergen designers share their secrets for transforming three key spaces in a home.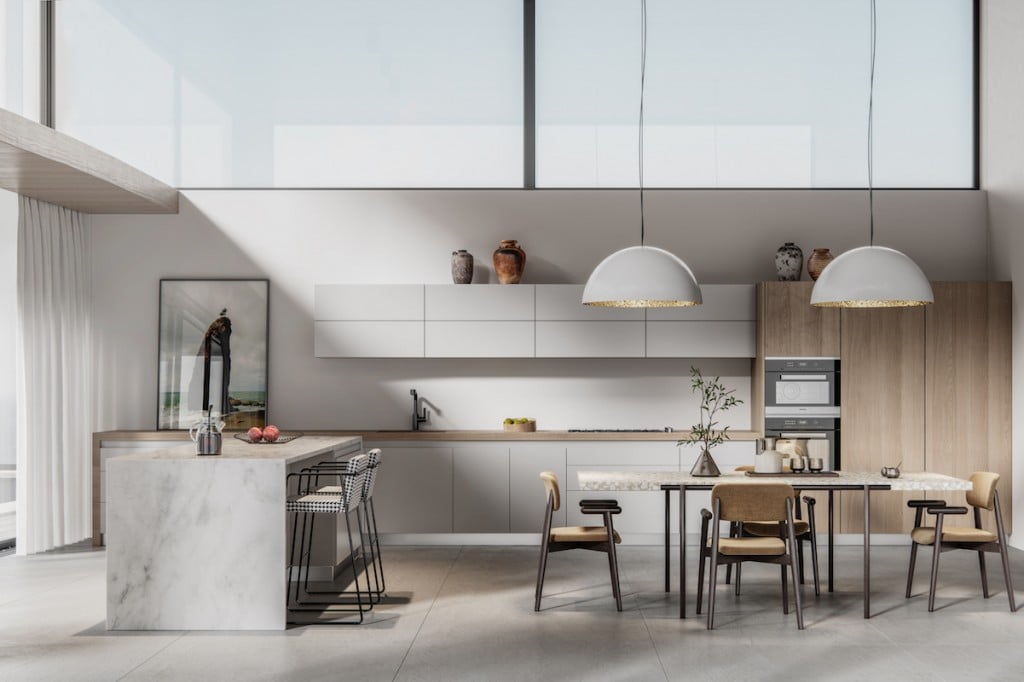 Any homeowner who's started a DIY design project knows it's easier said than done. An apparently infinite number of choices must be made, from the latest furniture finds to a huge array of paint hues differentiated by the tiniest increments of nuance or blush. Just refining one's vision is a design job in itself.
For pro designers, that's where the mood board comes in. Whether it's created on old-fashioned corkboard or on a site such as Pinterest, it's a visual collage of styles, textures, furniture and fixings that is used to define and illustrate a room's aesthetic and thus help a client visualize it—while it's not too late to change things up.
Unable to sneak a peek at top designers' mood boards for key rooms in a home—which in any case vary dramatically from project to project—BERGEN settled for the next best thing. We asked four designers to put into words their approaches to three key rooms in a home: the kitchen, a bedroom and the living room—what they favor and why. Here's what they told us.
Hot In The Kitchen
It's typically the most trafficked room in any house, so balancing practicality and style is always the key to designing a kitchen. Matching or contrasting counters and cabinets, modern or farmhouse vibe—where to start?
Christie Adams typically thinks about lighting first. "When working on a kitchen, I love to pick a stunning light fixture over the island and table," she says. "Lighting really elevates a space, and gorgeous light fixtures will always be noticed and appreciated." In fact, Kristen Sawyer says go big with your lights to add instant visual interest. "When it comes to kitchen lighting, scale up, not down—especially when choosing pendants," Sawyer says. "Oversized fixtures add drama and are a quick way to help update a dated space."
Fine details, meanwhile, are posted on Jaclyn Isaac's board. She's been using polished nickel hardware in several of her recent projects. "It's our new favorite finish," she says—specifically the "classic yet edgy" Andrex Knurled cabinet knob. Isaac also has been installing porcelain countertops to cater to "the messy cook." Though they're easy to clean and design, that's far from the best part. "The slabs are all digitally printed, so you never have to worry about losing the slab you love or picking a new slab if the material breaks on arrival," she says.
Living The Life
To escape the busy kitchen, most families retire to the living room for rest and relaxation. Because we all have different preferences for our living spaces, creating the ambience can come in a variety of ways. Some prefer a luxurious leather Chesterfield sofa, while others are fans of plush sectionals. To ensure that her clients get the right vibe, Rina Capodieci-Quinn goes through a checklist when designing a living room. "I tend to love a cozy living room with high ceilings, natural light, a place to play family games, a fireplace and a deep couch perfect for movie-watching," she says. "We are about creating experiences, not just spaces, so whatever the experience clients want is what they are going to get."
Fostering figurative warmth is important in any of Sawyer's projects, and she goes beyond using shades like red and orange to accomplish that. "Rather than bringing in different colors to create interest, consider layering textures," she says. For instance, she recently paired textured wallpaper with woven wood blinds in a white sand color. "Wallpaper, window treatments, throw pillows, bedding, decorative accents and area rugs are all great places to introduce texture." And finding balance between those pieces—from material to shape to color—is imperative to Jennifer Pacca when she puts together a mood board. "It's like a puzzle, and the pieces need to fit together," she says. "For example, if the soda has a straight arm and is fully upholstered, we may look for a chair that is not fully upholstered and has a curve. If we use a wood cocktail table, we may use a metal and glass side table to complement it."
Bedroom Bliss
You begin and end every day in the bedroom, so it should be nothing shy of beautiful. Of course, beauty is in the eye of the beholder, so be sure a design showcases personality—whether you're upholstering your headboard with Moroccan-style fabric or painting your child's dresser the bright yellow Pantone hue Illuminating. Sawyer tends to start with wall colors; she notes that shades like white and beige, while clean, don't necessarily scream individuality. "Don't shy away from dark walls," she says. "A deep green, navy or black can create the perfect backdrop for your bed. Check out Studio Green, Hague Blue or Paean Black by Farrow & Ball."
Adams has similar ideas, saving the more vanilla hues for linens and blankets. "I like to select timeless and classic white bedding," she says, "and then add color and interest with the pillows, which can easily be changed out."
Once colors are in place, Capodieci-Quinn focuses on larger items, especially when she is thinking of ideas for bigger bedrooms. "Some must-haves for me in a master suite, if space allows, are a beautiful chandelier for ambiance, separate walk-in closets, a cozy sitting area and a master bath attached with his-and-hers vanities."