Root for the Home Team at These 6 Pubs
Not going to the stadium this fall? Head to one of Bergen's sports bars to show your team spirit.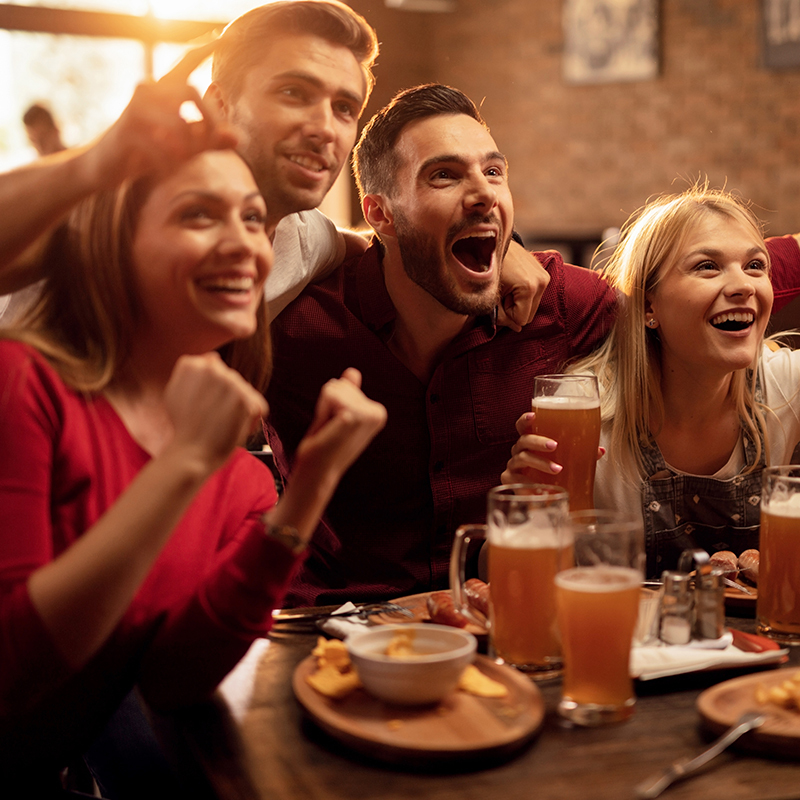 If you haven't been to a live sporting event since 2019 and you're still wary about the coronavirus, huddling with 82,500 fans at MetLife Stadium might not be an ideal viewing situation. But if you prefer smaller crowds and are game for going out to watch, Bergen County is home to a seemingly endless number of sports bars that safely distance their customers so they can see the big screens, down a bucket of wings and cheer for their teams without much worry. Here are six can't-miss places where the vibe is just as good (maybe even better) as the actual game.
The 101 Pub, Bogota. Generations of families from Bogota, Teaneck, Hackensack and the surrounding towns come to this neighborhood bar to watch the big game and enjoy good eats like chicken parm sandwiches on garlic bread and steak fajitas—all while catching up with old friends.
101 Queen Anne Rd., Bogota, 201.343.9802
Allendale Bar and Grill, Allendale. You might come here for dinner on any given weeknight, but it's a go-to spot every Sunday. Guys and gals in Jets and Giants garb show their spirit while enjoying a brew or two and noshing on snacks like chili and pretzel sticks to burgers and steak sandwiches.
67 W. Allendale Rd., Allendale, 201.327.3197
Biggie's, Carlstadt. In the shadow of MetLife Stadium is this popular stop, known for its showstopper burgers and wings. But fans can also dine on an assortment of seafood dishes (Thai coconut shrimp or pepper and caper calamari, anyone?) while watching the action on the big screens.
430 Rte. 17 S., Carlstadt, 201.933.4000
The Cornerstone Restaurant & Bar, Hillsdale. TVs are scattered throughout the bar area and main dining room, so you and your pack will never miss a snap wherever you're sitting. We can't guarantee, however, that you won't be focused on the enormous chicken fingers, sliders or pizza that are on the menu.
84 Broadway, Hillsdale, 201.666.8688
Miller's Ale House, Paramus. A true haven for sports junkies and beer lovers, this spot never has a shortage of team spirit. Even on weekdays, when families come for dinner, fans will always end up cheering for whichever games end up on the TVs.
270 Rte. 4 E., Paramus, 201.342.4800
Redd's Restaurant & Bar, Carlstadt. Like Biggie's, this longtime favorite of Jets and Giants fans is a stone's throw from MetLife Stadium. Big screens (there are 35 of them!) fill the dining room, giving ample opportunity to see every play, even when you're by the bar trying to select a cold one from the many brews on tap.
317 Washington Ave., Carlstadt, 201.933.0015