Root For Your Team At These 7 Bergen Sports Bars
Cheer on your squad—and enjoy great food and drink—at these neighborhood hangouts.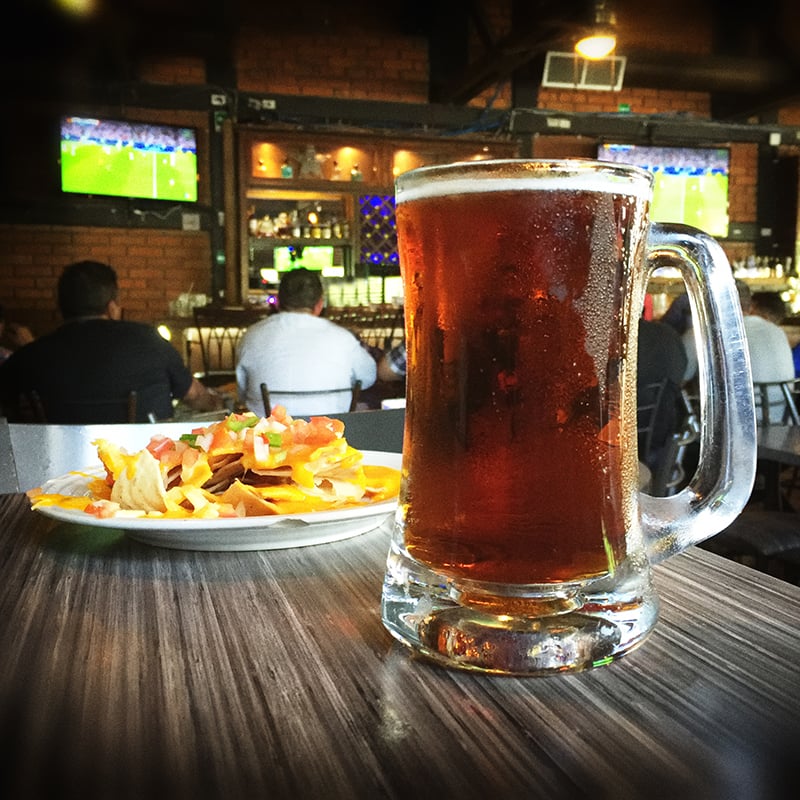 It's the most wonderful time of the year for local sports fans! The Mets and Yankees are both vying to win their respective division titles. On the gridiron, the Giants have started the season with two straight wins, and the Jets are showing promise after their victory last week.
With so much excitement, the big games are best watched with a crowd and other fans. But if you can't score a ticket to see the action in person, head to one of Bergen County's best sports bars to witness every play—and nosh on some good grub too. We all know about Biggie's in Carlstadt, Miller's Ale House in Paramus and The Cornerstone in Hillsdale—voted the top 3 sports bars in the 2022 Best In Bergen readers' choice poll—but you'll also win big with the fun and food at the 7 places below.
Blackjack Mulligan's, Garfield. If there's a game, this 10-year-old pub is probably showing it on one of its many TVs. Game-day food includes burgers and wings as well as fancier bites like sausage and broccoli rabe sandwiches and shepherd's pie croquets.
*279 Passaic Ave., Garfield, 862.238.7578
Blue 42 Restaurant and Bar, Elmwood Park. Though this bar is a haven for Green Bay Packers loyalists, you'll find fans of every team here on game day. While cheering on your squad, be sure to try one of several dozen wing sauces offered here (PB&J, anyone?).
*158 Market St., Elmwood Park, 201.773.0970
Davey's Irish Pub, Montvale. Sports fans have been coming to this neighborhood favorite since 1974, where the biggest games in baseball, football, basketball, soccer and more are shown throughout the spacious area. Enjoy traditional game-day food like burgers and chicken fingers or go for Irish fare like shepherd's pie or bangers and mash.
*5 Park St., Montvale, 201.391.9356
Midland Brew House, Saddle Brook. Known for its food and nightlife, this multi-level bar is also a destination for watching Sunday afternoon football and other sports. With dozens of beers on tap and a menu that runs the gamut (wings, steamed clams, coal-fired pizza, 16 oz. ribeye, for instance), fans might be tempted to spend an entire day here.
*374 N. Midland Ave., Saddle Brook.
River & Henley, New Milford. Recent renovations to this establishment gave its neighborhood a destination for great food, drinks, nightlife—and a spot to watch the big game. Big-screen TVs are scattered throughout the space, where visitors can sip craft cocktails and nosh on burgers, flatbreads and more.
*704 River Rd., New Milford, 201.262.0391
Rockafellas Sports Bar, East Rutherford. When all you want is the game, good friends and a beer, this bar in the shadow of MetLife Stadium always shines. You'll find about one dozen craft brews and a no-nonsense, delicious menu with wings, quesadillas, burgers and sandwiches.
*443 Paterson Ave., East Rutherford, 201.842.0777
The Straphanger Saloon, Hackensack. Support your favorite teams here while chowing down on elevated pub grub—recent offerings included fried ravioli baskets, chipotle chicken salad sliders, boneless Asian wings and more.
*126 Anderson St., Hackensack, 201.487.9704
Where do you watch the big game? Let us know your favorite sports bars on Instagram @bergenmagnj.