Round and Round
Roller derby has evolved from fishnets and fake fighting. And thanks to a dedicated group of local women, you can play—or watch—right here in Bergen County.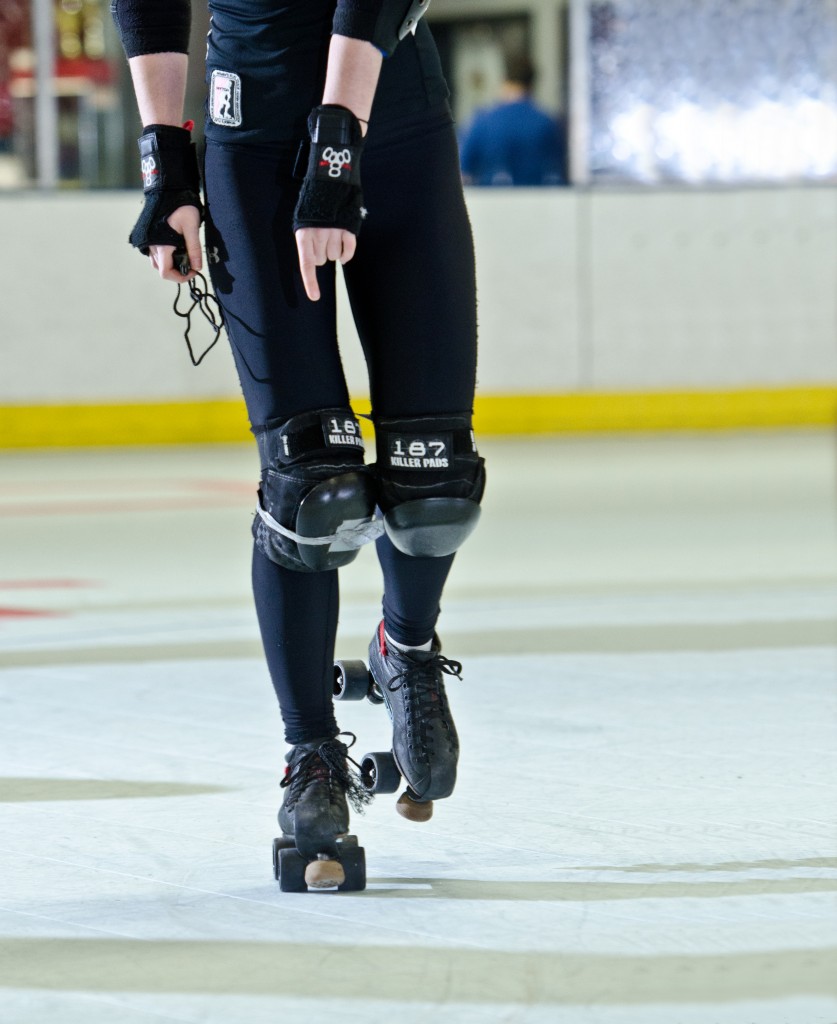 Fishnets, booty shorts and helmets covered with stickers—this was the version of roller derby I discovered back in 2010 as a photographer for the Garden State Rollergirls, an all-women, flat track roller derby league that practices in North Arlington. It was a world of big hits, bigger personalities, and women looking to win on the track as much as at the afterparty. Players skated with banged-up gear and damaged bodies, believing duct tape was often good enough to hold both together for their 60-minute game.
As each year went by, though, this counterculture carnival I had stepped into became more sports-focused, more mainstream. Late nights at the bar were exchanged for long sessions at Crossfit. "Boutfits," the uniform skaters would wear, changed from mismatched punk ensembles to athletic capris and jerseys made of the latest breathable, sweat-wicking fabrics.
Roller derby has seen a resurgence in the past few years, boasting around 1,200 leagues worldwide, and Garden State now has about 40 players across five teams.
Games are divided into two 30-minute periods. Each period consists of a several "jams," plays that can last up to two minutes. During a jam, each team puts five players on the track: four blockers and a jammer, the point-scorer, who attempts to earn points by lapping the pack and successfully passing the other team's blockers.
While the sport has become more serious and less "camp" over the years, what hasn't changed is the tight-knit community it offers, a community that supported me as I transitioned from photographer to coach in 2014. As a coach, I have seen roller derby call out to women of all backgrounds, sizes and lifestyles. In a single line-up, you might find a librarian, pharmacist, stay-at-home mother, office manager, and young-adult author, ranging in age from 18 to 40-something. All different body types have advantages in this sport: Petite skaters may slip through the tiniest holes between blockers, while women of size use their power to halt any skater who may try to pass them.
Even with all of their differences, players share a hunger to carve out this time just for themselves, where they are no one's boss or subordinate, partner or parent. Garden State player and Mahwah resident Suzy Ross, who skates under the name Double Tuf Oreo, reflects, "I started derby shortly after I had my son. I needed some time away to relieve stress, make some new friends and definitely get back into shape. Derby gave all of that to me. I have made some amazing friends I can talk to about everything." Ross and her husband felt such a sense of community that they held their wedding during halftime of one of Garden State's games. Vows were said, the bouquet was tossed, and the game resumed.
Fitting roller derby into busy lives can be a challenge. The Rollergirls practice three times per week from January through November, with only a small break in July, so the commitment is great. The league's two travel teams play between eight and 13 games per year, half at home, and the other half at opponents' venues, generally one to four hours away by car. The charter team for Garden State, the Ironbound Maidens, also travels to tournaments, sometimes as far away as Colorado. While costly for the skaters, these events have allowed the Ironbound Maidens the chance to play against teams from all over North America as well as teams from Australia, New Zealand, Ireland, Sweden and Finland.
Garden State Rollergirls host a First Skate every three months, giving potential new skaters a chance to join the league's "Fresh Meat" program. For more information, go to gardenstaterollergirls.com.