Royalty Reborn
After a $100 million restoration, Bermuda's Hamilton Princess is looking—and feeling—more splendidly regal than ever.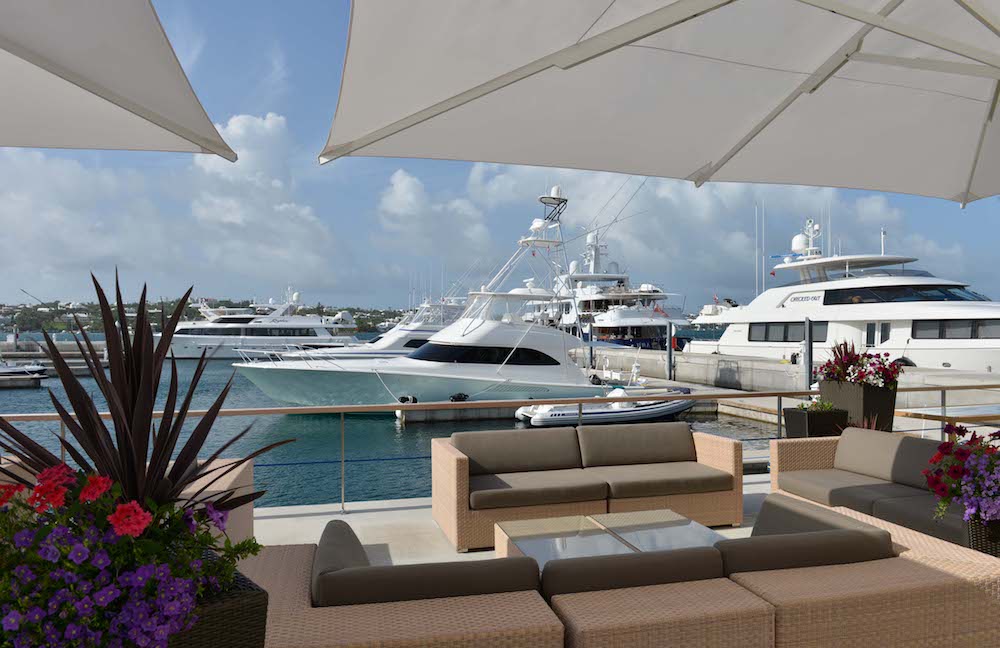 Isn't it every girl's dream to be a princess? It was almost as nice, I can report, to spend a few days living like one—at the Hamilton Princess on the beautiful island of Bermuda.
I'd stayed at Bermuda's other "Princess"—the Fairmont Southampton, formerly the Southampton Princess—decades ago and vowed to check out her sister urban luxury resort someday. What better time than after a comprehensive restoration?
The Hamilton Princess sits on the outskirts of Hamilton, Bermuda's capital and financial center, and first welcomed guests in 1885, two years after a real-life princess, Louise, a daughter of Queen Victoria, was enchanted by the island. It was Louise who inspired the five-star resort's name. No doubt she'd be equally pleased with its recent $100 million facelift. Only the best for royalty!

The Pink Palace, as the hotel has been called, does not disappoint. While I was still awed by its classic exterior, there, suddenly, was a contemporary lobby with jaw-dropping, museum-quality pieces by noted artists. Lots of hotels have fine art, but this one makes you feel as if you've walked into a world-class gallery.
Any old dame is sure to feel like young royalty feasting on cuisine by celebrity chef Marcus Samuelsson or taking a curated art tour, ogling the more than 60-piece collection by the likes of Andy Warhol, Jeff Koons, Damien Hirst and Tom Wesselmann, or lying semisubmerged on beach hammocks suspended over vibrant blue waters, or unwinding at a new Exhale-branded spa, a sprawling—8,200- square-foot—yet serene spa and fitness center overlooking the harbor. Less than two hours from the U.S. East Coast, Bermuda is part of a 21-square mile, 180-island archipelago in the middle of the Atlantic. It's perfect for those craving prim-and-proper British civility (think afternoon tea and cricket matches) amid gorgeous beaches and friendly people clad, of course, in the shorts that share the island's name.
It's no wonder the resort is popular among both vacationers and businesspeople: It's amazingly well-run; soon after arriving I felt that here all my needs would be met. Rooms and suites come with harbor, garden, pool or city views. Ours overlooked the harbor, and I must admit that sipping a cocktail on the balcony above the 60-berth marina and watching the comings and goings of superyachts can be hypnotic. Bathrooms are modern marble marvels with a lovely line of Le Labo Rose 31 toiletries.
When it's time to dine, the Hamilton Princess offers choices that put to shame the cookiecutter eateries at many resorts. The 1609 Bar and Restaurant, named for the year the first colony was established here, is the only one at the new marina and offers fresh-from-theboat seafood, salads, sandwiches and burgers.
We loved the charred octopus, crispy conch fritters and fish tacos for lunch. For breakfast, the Crown & Anchor boasts a huge buffet (a la carte choices too), and you can dine alfresco. The hotel's crowning culinary glory is Marcus', Chef Samuelsson's ode to island fare. The "Ol' Man's Shrimp & Grits" was lick-yourplate good; the "Steak Frites" a carnivore's delight. We ate there twice, and both times were wonderful: fresh, delicious food (think multilayered flavors), great service and perfect people-watching.
While you can easily lounge around the hotel and feel completely content, a playground beckons. For one thing, Bermuda is a golf lovers' dream, with more courses per capita than anywhere else in the world. One awardwinning course, Robert Trent Jones' Port Royal, has stunning views of the ocean. In fact, the 16th hole requires a 235-yard shot over the Atlantic.
As one would expect, Bermuda is one of the best places to sail (no wonder the island played host to the 35th staging of America's Cup last summer, beating out respected sailing venues like Newport and San Diego). You don't need to be a professional contender to enjoy the sport: The island's Great Sound, with warm water and perfect wind—usually around 10–15 miles per hour—makes it ideal for an afternoon of zipping along the sea.

Lazier types will delight in one of the pinktinged sand beaches (the hue comes from crushed coral from the nearby reef) that line the 75 miles of coastline. Most of the action is at sea level, of course, but if you want to see everything, head underground too. The Crystal & Fantasy Caves in Hamilton have beautiful natural rock formations that are reflected in the caves' 55-foot-deep pool, giving it an otherworldly feel.
History buffs will rejoice in the maritime heritage of this British naval stronghold. Some 91 old forts dot the island and many are open to the public. The Royal Naval Dockyard (it's been there since the 17th century) is interesting but a tad touristy, as it's close to the cruise ship port. Check out Fort Hamilton in Pembroke Parish for a less crowded look at old military might. Another fine choice, Fort St. Catherine, is located in St. George, a UNESCO World Heritage Site, which was founded in 1612. You'll be exploring on foot, as no car rentals are allowed. If you must have wheels, rent a scooter (remember to "drive" on the left). Or, better yet, buckle up in one of the Hamilton Princess's two-seat Renault Twizy electric vehicles. The narrow, four-wheel Twizy, a compound of "twin" and "easy," was designed by Renault's Formula One racing team and can travel up to 50 miles on a single charge. We found it perfect for touring St. George and drove it to Gibbs Hill Lighthouse, one of the oldest cast-iron lighthouses in the world.
All that exploring is sure to make you hungry again. Why not try the fish chowder, which is about as close to a national dish as you'll find? It's a Manhattanchowderesque number prepared with tomatoes and onion and seasoned with black rum. Should you get thirsty, every bar proudly serves the Dark 'n Stormy, the island's signature cocktail. Made with dark rum and ginger beer, the tipple is trademarked by Gosling's Rum, the oldest and largest export business on the island. It's a refreshing concoction that in no way resembles the cloyingly sweet rum punches we've all tried on other islands.
Raise your glass to offer a royal toast—not so much to this delightful visit, but perhaps, to your next.