Run For Your Health
A local cardiologist and marathon runner gives the hows and whys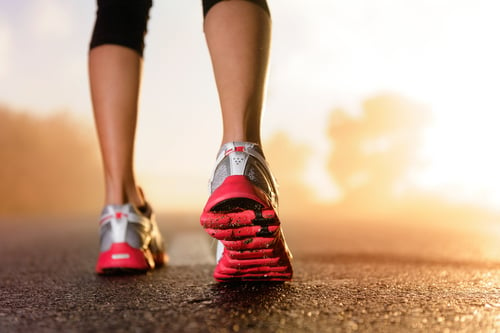 In the past 30 years, Joel Hacowitz, M.D., has run almost 85,000 miles, including five marathons (26.2-mile races) with a personal record of 2:35 in the Chicago marathon. But when he's not leaving other runners in the dust, he's a cardiologist at Cardiacedge in emerson, where he uses state-of-the-art assessment tools to help patients reach their full athletic potential. here Dr. jacowitz answers questions about road running from the perspectives of both a doctor and a competitive athlete.
Why is running beneficial?
It's something you can do almost anywhere and anytime with minimum experience and equipment. even as a beginner, you're likely to see rapid improvement and to miss the activity on the days you don't run. There's no other experience that makes me feel as free.
Is it better to run on a treadmill or outdoors?
Fitness-wise, it's a personal preference. I think running on a treadmill is exceedingly boring, but some people like the camaraderie of being in the gym. If you're doing road races, however, you must train outside so that your muscles can get used to pounding the pavement.
Why do some people prefer to run barefoot or in minimalist shoes?
The principle is that we should run the way our early ancestors did. But people back then didn't live past the age of 25. I don't know if barefoot/minimalist runners' careers will have the same longevity as those of traditional runners— we don't have data on the long-term effects of that type of running.
How can runners protect themselves from injury?
First of all, be sure to wear proper footwear. Go to a running store where the salespeople are familiar with running patterns. Also, you should be close to an ideal weight. If you're 300 pounds and want to start running, you should probably lose 50 to 75 pounds on a different program first because the excess weight would be too traumatic on your joints. Finally, start slowly. The biggest mistake beginning runners make is doing too much too soon. Pace yourself, pay attention to your body and know when to back off.
What precautions should runners take in hot or cold weather?
In extreme heat, you run the risk of hyperthermia, which is potentially fatal. When you're in the danger zone, you might stop sweating, get goose bumps, have a headache and feel dizzy or experience more extreme symptoms such as disorientation or collapse. Those symptoms indicate that your body needs to cool down. You can help prevent this by training in the heat—your body will become acclimated to those conditions in about two weeks—and by staying hydrated. The risk in cold weather is hypothermia, when the body temperature drops below 95 degrees. The most common symptom is a feeling of lethargy. The best protection against hypothermia is layering—always cover your head and hands.
What should runners eat before a race?
I like to eat a combination of protein, fat and a little bit of carbohydrates (for example, scrambled eggs with half an english muffin topped with a dab of butter). It is a matter of personal preference and what works best for each individual.
Should runners cross-train?
If you're running short-distance sprints, it's important to do upper-body strengthening exercises, which will increase your speed. Long-distance runners don't necessarily need to cross-train unless they're prone to injuries while running, in which case low-impact activities like swimming and biking may be helpful.
UPCOMING LOCAL RACES:
July
7/7 ROCKAWAY ROTARY 5K RUN, 10am, Rockaway Borough, 973-625-5056,(s#169)(C)(NBGP-500pts)
7/11 WOODBRIDGE RUN FOR PIZZA, 4 MILES, 7pm, Woodbridge, 732-549-9440,(s#292)(C)(NBGP-500pts)
7/12 LAWYERS FOR KIDS 5k, 7:15pm, Ginty Field Complex, Morris Township, 908-902-8587, (s#020)(C)(NBGP-500pts)
7/12 21st RWJ UNIV. HOSPITAL STRIDES FOR STROKE 5K and 2k Health Walk, 6:30pm-2k, 7:30pm-5K, RWJ University Hospital, Hamilton, 609-890-8343,(s#257)(c)(NBGP-500pts)($)
7/14 5K FOR CANCER, 9am, Buccleuch Park, New Brunswick, (s#144)(NBGP-500pts)
7/15 AMBER PIZZO MEMORIAL 5K, 9:30am, Berkeley Heights, 908-322-3322,(s#120)(C)(NBGP-500pts)
7/15 EDEN FAMILY 5K, 9am, Princeton Forrestal Village, Princeton, 609-987-0099,(s#231)(C)(NBGP-500pts)
7/17 Party With Purpose 5k and Kids Run , 7pm, Pier A Park, Hoboken, 973-687-0463,(s#237)(C)
7/19 Verizon Wireless Corporate Classic 5k, 7:30pm, Headquarters Plaza, Morristown, 973-898-1261,(C)(#064)
7/19 JCC 5k Run/Walk, 7pm, JCC Bridgewater, (C)(#234)
7/21 TETERBORO AIRPORT 5K, 8:30am, Teterboro Airport, Teterboro, 908-902-8587, (s#025)(c)(NBGP-500pts)
7/21 FRANKFORD 5K, 9am, 358 Route 519, Frankford Park, 973-948-6590, (s#236)(C)(NBGP-500pts)
7/22 8th Annual AYC Run From the Sun 5k, 8:30am, Avalon Community Center, Avalon,(s#091)($)
7/25 DOWNTOWN WESTFIELD 5K, 7pm, Elm & Quimby Streets, Westfield, 908-902-8587,(s#026)(c)(NBGP-500pts)
7/28 LYNDHURST EMERGENCY SQUAD 5K RUN, 9:30am, Meadowlands Commission, Lyndhurst, 201-804-2469,(s#241)(NBGP-500pts)
7/28 Belmar Chase 5k, 8:30am, Belmar, 877-849-8722,(s#235)($)
7/29 TRINITAS REGIONAL MEDICAL CENTER RUNNING WITH THE BALLOOS 5K & Family Fun Run, 8am, Solberg Airport, Readington, 978-882-5464,(s#119)(NBGP-500pts)
7/29 4th ANNUAL JFK MEDICAL CENTER MILES FOR MINDS 5K, 9AM, Roosevelt Park, Edison,(s#123)(C)(NBGP-500pts)
7/29 AC Mackler Cancer Foundation Race, 5k; 1 mile run; 1 mile walk, 7:30pm, Atlantic City Boardwalk, 609-601-2509,(s#262)
---
August
8/2 TOYS FOR TOTS 5K RUN, 7pm, Evergreen Center, 400 Inman Ave, Colonia, 732-499-9199,(s#264)(C)(NBGP-500pts)
8/4 River to Sea Relay, 92 miles, 6am-10am handicapped start, Starts Milford, Ends Manasquan,(s#265)
8/5 JASON'S 5K MEMORIAL RUN, 9am, Hillsborough,(s#269)(C)(NBGP-500pts)
8/12 RUM RUNNER 10K / 5K, 8am, 96th St, 1st Ave, Stone Harbor, 609-465-3535 x6,(s#149)(C)(NBGP-500pts-Both Races)
8/26 THE WILD HALF-HALF MARATHON AND 8K, 7:30am, Wildwood Convention Center, Wildwood, 856-308-7522,(s#074)(C-Half; 8k-pending)(NBGP-500pts-BOTH RACES)
---
September
9/1 OVARIAN CANCER FEAT FOR HOPE 5K, 9am, Veterans Park, 2206 Kuser Road, Hamilton, 609-213-9508,(s#090)(C)(NBGP-500pts)
9/1 Life Center Academy / Run for God, 5k, Life Center, Burlington, 609-499-4800,(s#284)
9/2 THE JIMMY D. MEMORIAL 5K, 9am, Memorial Stadium, Joyce Kilmer Ave, New Brunswick,(s#233)(C)(NBGP-700pts)
9/4 CROSSROADS OF NJ, 5K, 10K, 9am, Main St, Woodbridge, 732-549-9440,(s#293)(NBGP-500pts-both races)
9/3 VERONA LABOR DAY CLASSIC, 1 mile-9am, 5k-9:30am, Verona Park, Verona, 973-239-7976,(s#266)(C)(NBGP-500pts)
9/8 FALLEN HEROES 5K MEMORIAL RUN, 9:30AM, Bar "A", Lake Como, (s#189)(C)(NBGP-500pts)
9/8 THE 4 MILER AT GARRET MOUNTAIN, 9AM, Garret Mountain Reservation, Woodland Park, 908-902-8887,(s#190)(C)(NBGP-500pts)
9/8 SUSSEX COUNTY SHERIFF'S CRIMESTOPPERS 5K/10K, 9:30am, Sussex County Fairgrounds, Augusta, 973-222-8748,(s#275)(C)(NBGP-500pts-both races)
9/9 NETCONG DAY 5K Street Fest, 10:30am, Borough Hall, Netcong,973-347-7307 x145 (s#142)(c)(NBGP-500pts)
9/15 Run so The Kids Don't Have To, 5k, 9am, Campus Dr, Sylvan Rd, Parsippany, (s#256)(c)
9/15 "Don't Fall, Let's Run!", 5k, 10am, Duke Island Park, Bridgewater, (s#286)(c)(NBGP-500pts)
9/16 CHESHIRE HOME 5k RUN, 9am, Madison HS, Madison, 973-377-9531, (s#195)(C)(NBGP-500pts)
9/16 BERKELEY HEIGHTS 5K, 9:30AM, Memorial Field, Berkeley Heights, 908-464-8899,(s#255)(C)(NBGP-500pts)
9/16 JLMN RUN 4 CHILDREN AT RISK, 4 miles & kids races, Woodman Field, Montclair, 973-746-2499,(s#291)(C)(NBGP-500pts)
9/22 HAWORTH 5K, 9:30am, Haworth, 201-314-8656,(s#122)(C)(NBGP-500pts)
9/22 CARNEGIE CENTER 5K FOR THE PARKINSON ALLIANCE, 9:30am, Carnegie Center, Princeton, 609-688-0870, (s#124)(c)(NBGP-500pts)
9/22 6th Annual FNA 5k and Fun Walk, 10am-walk; 10:30-run, Thompson Park, Monroe Twp, (s#276)
9/23 NEWPORT LIBERTY HALF MARATHON, 8:30am, Newport Town Square, Jersey City, 908-902-8587,(s#045)(c)(NBGP-700pts)($)
9/23 BRIAN'S RUN FOR TCF, 5K, 10K, Terhune Elementary School, Wayne, 973-650-7998,(s#243)(c)(NBGP-500pts-Both Races)
9/23 MAYOR'S RUN/WALK TO BREAK THE SILENCE, 5k, 10am, 66 Main St, West Orange, 973-325-4109, (s#251)(NBGP-500pts)
9/23 JOHN'S RUN, 5k, 9am, Washington Twp, 201-681-2327,(s#267)(c)(NBGP-500pts)
9/29 SEAN HANNA FOUNDATION 5K, 10am, Duke Island Park-Lot B, Bridgewater, (s#212)(C)(NBGP-500pts)
9/29 Del Payne Memorial 5k Run / Walk, 8am, Millcreek Park, Willingboro,(s#259)
9/29 Beat the Clock Against Breast Cancer, 5k, 9am, 96th & 1st Ave, Stone Harbor, (s#279)
9/30 STEEPLE CHASE DISTANCE RUN, 25k, 5k, 8:30am/25k, 9am/5k, Hillsborough, 908-902-8587, (s#175)(C)(NBGP-500pts-Both races)
9/30 1ST ANNUAL JON YOUNG MEMORIAL 5K, 5pm, Roselle,973-960-5493,(s#178)(NBGP-500pts)
9/30 2ND ANNUAL SPRINT FOR SPRINGFIELD SCHOOLS 5K RUN/Walk, 9am, Springfield,(s#203)(C)(NBGP-500pts)