Runway Repast
Dining in doesn't have to be dull. BERGEN tapped Michelin-starred Ben Pollinger, chefowner of The Hill in Closter, to create this delicious three-course menu, exclusively for our readers. A meal like this is as cutting edge as anything you'll find at fashion week.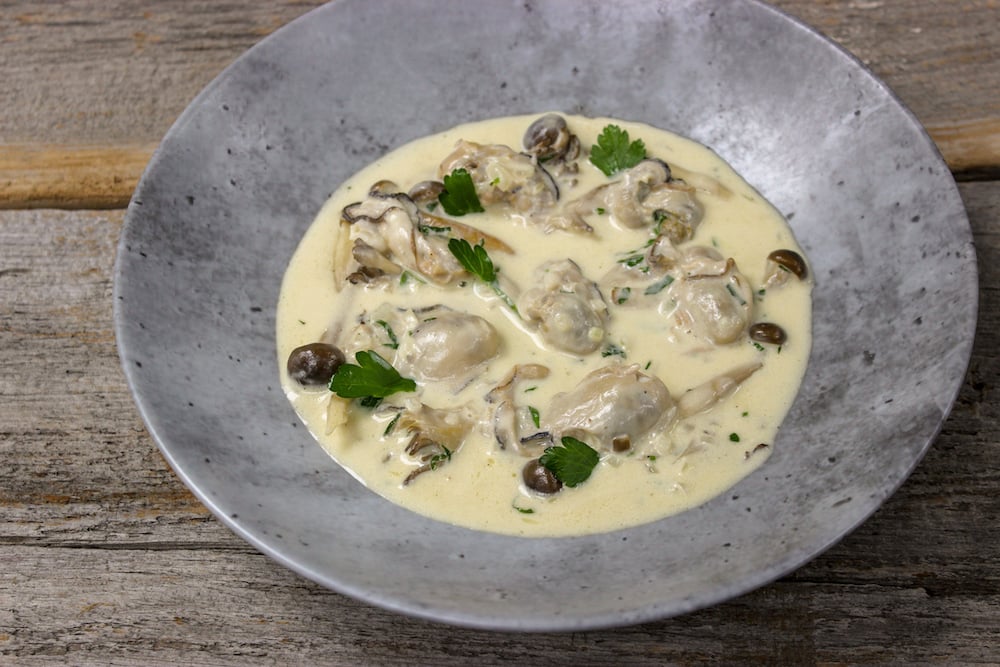 OYSTER PAN ROAST WITH MUSHROOMS AND TARRAGON
Yields: 2 servings
INGREDIENTS
2 Tbs. butter
3 oz. beech/Hon Shimeji mushrooms, base trimmed and mushrooms separated
3 oz. hen of the woods/ maitake mushrooms, base trimmed and mushrooms separated
1 shallot, finely minced
4 sprigs parsley
1 sprig tarragon
1 cup chicken stock
½ cup mascarpone, crème fra

î

che or sour cream
1 tsp. Dijon mustard
12 oysters, shucked and removed from shell, liquor reserved
DIRECTIONS
Melt 1 tablespoon of butter in a sauté pan. Add mushrooms and season lightly with salt. Sauté mushrooms until cooked and lightly golden, about 3 minutes. Add half the shallot, turn off heat and toss. Reserve mushrooms in pan.
While cooking mushrooms, pick and chop leaves from 3 sprigs of parsley and reserve leaves from 1 sprig. Pick tarragon leaves, chop and add to chopped parsley. Melt 1 tablespoon butter in a separate pan. Add shallots and sweat 1 minute. Add chicken stock, bring to boil and reduce by half. Whisk in mascarpone and mustard and simmer gently for a minute to thicken slightly.
Add oysters and reserved oyster liquor. Cook gently for about 30 seconds until oysters warm and edges begin to curl. Taste and adjust salt as desired. Add chopped parsley and tarragon. Divide mushrooms, oysters and then the sauce among the two bowls.

ROAST DUCK MAGRET WITH ROASTED BEETS AND SPINACH
Yields: 2 servings
INGREDIENTS
1 breast of duck magret, about 1 lb.
1 lb. beets, all one type or a mix of red, golden and candy cane
4 Tbs. extra virgin olive oil (EVOO)
1 Tbs. red wine vinegar or sherry vinegar
4 oz. bag of baby spinach
A few yellow leaves from the heart of a head of celery
DIRECTIONS
Wash beets, pat dry. Drizzle with 1 tablespoon EVOO and toss with salt and pepper. Place in a glass baking dish, add 2 tablespoons water, cover tightly with foil and bake in oven at 350ºF until tender (beets can be pierced easily with a paring knife), about one hour to one and a half hours, depending on size. Let cool to room temperature. Once cooled, remove foil and slip skins off beets. Rinse glass dish and wipe dry. Cut beets into half inch pieces, return to glass dish and toss with 2 tablespoons EVOO and vinegar. Season to taste with sea salt. Reserve.
Trim any cartilage or sinew from duck breast. Remove tenderloin and reserve for another use.
Make light incisions in skin about ⅛-inch-deep, at a 45-degree angle to the breast, about ¼ inch apart. Turn breast and make same cuts to produce a crosshatch pattern.
Season meat side of breast with kosher salt and black pepper. Preheat a heavy cast iron pan or heavy skillet over very low heat. Place breast in pan fat side down and cook until most of the fat has been rendered out and breast has tightened slightly, about 15-20 minutes.
Turn off heat, carefully tilt pan back and baste meat side of breast with the rendered duck fat in the pan. Use a large spoon and do this for about 30 seconds. At this point duck should be about medium-rare. Remove to a grate and let sit 5 minutes. While duck is resting, warm beets in oven until heated through. Heat a large skillet over high heat, add 1 tablespoon EVOO and spinach, and season with salt and cook until spinach is wilted. Place spinach on plate. Arrange beets on spinach. Cut duck breast in half lengthwise and then cut each half in half again lengthwise on an angle.
Arrange duck over beets and spinach. Garnish with celery leaves.
NOTE: Magret is a duck breast that has been raised for the production of foie gras. It is meatier and more steak-like than regular duck breast. Regular duck breast may be substituted with a reduction in cooking time of about 5 minutes due to less exterior fat. In either case, this cooking method renders almost all the fat from the skin, leaving a lean, meaty duck "steak." Once cooled to room temperature, save the rendered duck fat in a plastic container in the refrigerator almost indefinitely. It is an amazing cooking fat for many things, particularly potatoes.
The beets can be roasted and seasoned up to a few days ahead and reserved in the refrigerator. Reheat prior to serving.

CHOCOLATE GANACHE-FILLED MERINGUES WITH RASPBERRY SAUCE
Yields: 4 servings
INGREDIENTS
FOR THE GANACHE:
7 oz. chocolate, either chips or chopped into small pieces
1½ Tbs. butter
¾ cup heavy cream
1 Tbs. raspberry liqueur (optional)
FOR THE RASPBERRY SAUCE:
2 6-oz. containers raspberries
2 Tbs. sugar
FOR THE MERINGUE:
3 large egg whites
1 cup superfine sugar, also known as bar sugar
½ tsp. vanilla extract
a pinch of salt
chocolate for grating
DIRECTIONS
Place chocolate and butter in a medium mixing bowl. Place bowl over a pan of simmering water, allow to melt. Put heavy cream in a small pot, bring to a simmer. Pour over chocolate. Let sit one minute.
Remove bowl from pot, whisk well to combine into a smooth mixture. If using raspberry liqueur, add to mixture and whisk well. Reserve. Once it is cooled to room temperature, store in refrigerator. This can be made days in advance. Place raspberries and sugar in small pot. Bring to simmer over medium low heat, allow to cook until raspberries fall apart. Place in blender and blend smooth, or do so with hand mixer. Chill and reserve. This can be made days in advance. Allow egg whites to sit at room temperature for 30 minutes. Place in bowl of countertop stand mixer. Whisk on high speed until soft peaks are reached, about 3 minutes. Add salt and vanilla.
Slowly pour in sugar and continue to whisk until meringue is smooth and glossy and stiff peaks are reached, about 4 more minutes. Place meringue into pastry bag with round tip or place into gallon-sized zipper bag.
TO ASSEMBLE:
Preheat oven to 275ºF. Line baking sheet with parchment paper. Scoop 4 medium-sized balls from chilled ganache with medium size ice cream scoop. Reserve cold.
If using zipper bag, cut one corner at a 45-degree angle about . inch from corner. You will use the bag as the pastry bag. Pipe the meringue into 4 circles about 4 inches in diameter. Gently lay a ball of ganache in center of each.
Continue to pipe meringue around and on top of ganache, completely covering, until meringue is about 4 inches high and roughly "kiss" shaped. Feel free to smooth outsides as desired with back of a spoon. Meringues can be made ahead at this point and stored in refrigerator uncovered for a few hours, or baked immediately.
Bake at 275ºF for 22 minutes, turning tray halfway through. Remove from oven and let cool 10 minutes. Using a fine grater, grate chocolate over meringues. Place a generous spoonful or two of raspberry sauce just off center of plate. Place meringue just next to sauce. Garnish with a few raspberries or a halved strawberry.