Sandwiches Go Sassy
Thought you knew this lunchtime staple? Think again. Surprising things can happen between two slices of bread—and that's no baloney!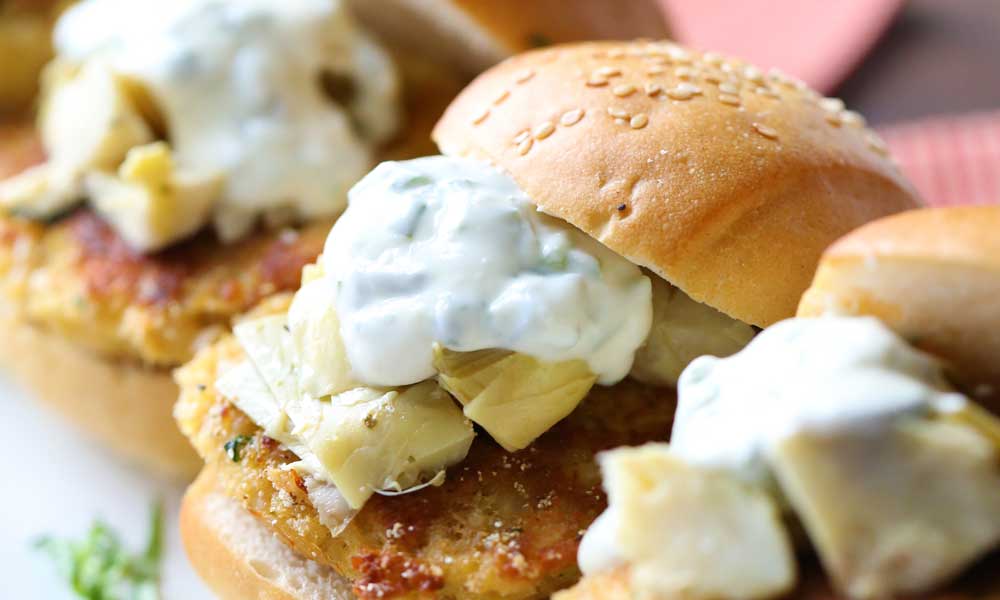 Crab cake sandwich with artichokes and crème fraîche
The problem with crab cakes is that you never get enough. So here's a version that offers dependable crab-cake satisfaction whenever the craving strikes.
Ingredients
8 oz. lump crab meat
¼ cup mayonnaise
1 egg, lightly beaten
1 tsp. lemon juice
¼ tsp. salt
1 Tb. parsley
¾ cup panko Japanese bread crumbs
1 Tb. butter
4 small sandwich rolls
4 Tbs. chopped marinated artichoke hearts
¼ cup crème fraîche
2 tsp. fresh tarragon
Directions
In a bowl, combine crab meat and mayonnaise. Stir in egg, lemon juice and salt. Add parsley and panko and stir until combined. Do not overmix. Refrigerate mixture for 1 hour.
In a large skillet, melt 1 tablespoon butter over medium heat. Shape crab mixture into 4 patties and cook for 5–8 minutes per side, or until golden brown.
Place one crab cake on the bottom of each sandwich roll. Top with 1 tablespoon chopped artichokes and 1 tablespoon crème fraîche. Sprinkle ½ teaspoon of fresh tarragon over each crab cake. Top with roll top.
Keep reading
Poblano, brie and cherry grilled cheese »
Kale and brussels sprouts stuffed pita sandwich »