Sandwiches Go Sassy
Thought you knew this lunchtime staple? Think again. Surprising things can happen between two slices of bread—and that's no baloney!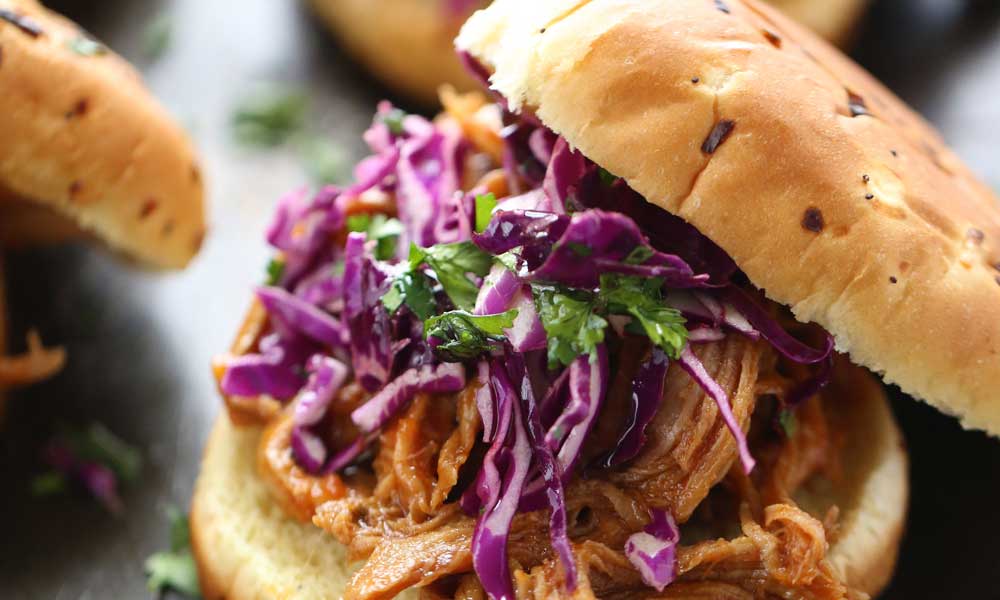 Spicy apricot pork sandwich with honey lime slaw
This smoky sweet pork and zesty slaw will be requested at every BBQ!
Ingredients
Apricot pork
3 lb. pork tenderloin
2 tsp. olive oil
2 cloves garlic, minced
1 cup ketchup
¾ cup apricot preserves
½ cup brown sugar
¼ cup cider vinegar
¼ cup cayenne pepper sauce
1 tsp. cumin
½ teaspoon salt
1 Tb. Worcestershire sauce
Slaw
2 cups shredded red cabbage
1 Tb. chopped cilantro
1 Tb. honey
1 large lime, squeezed
¼ tsp. salt
8 onion rolls
Directions
Place pork tenderloin in a slow cooker. In a bowl, combine olive oil, garlic, ketchup, preserves and next 6 ingredients. Stir and pour over pork. Cover and cook pork on high for 3 hours. Shred fully cooked pork.
For the slaw, place cabbage in a bowl. Add cilantro, honey, lime and salt. Toss to coat.
Divide pork among each roll and top with slaw.
Keep reading
Poblano, brie and cherry grilled cheese »
Kale and brussels sprouts stuffed pita sandwich »