Sandwiches Go Sassy
Thought you knew this lunchtime staple? Think again. Surprising things can happen between two slices of bread—and that's no baloney!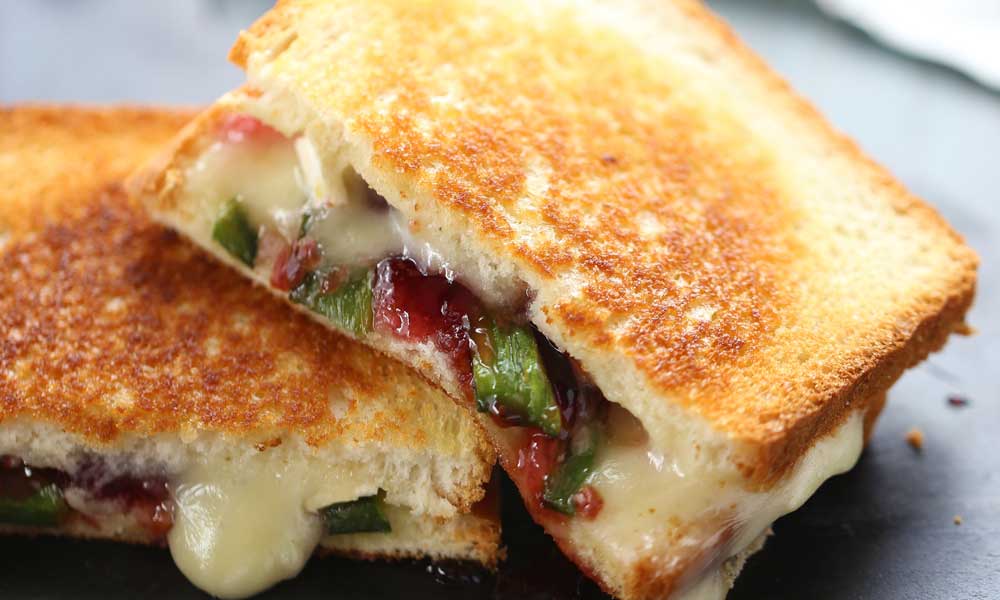 Poblano, brie and cherry grilled cheese
Smoky poblano peppers are the perfect counterpart for sweet cherry preserves. The creamy brie brings them all together.
Ingredients
½ tsp. olive oil
1 whole poblano pepper, sliced
1 clove garlic, minced
1/8 tsp. salt
2 tsp. butter
4 slices hearty white bread
4 slices brie cheese (rinds removed)
2 generous Tbs. cherry preserves
4–6 slices poblano per sandwich
Directions
Heat olive oil in a skillet over medium heat. Add poblano peppers.
Cook peppers for 3 minutes. Add garlic and salt. Cook an additional minute. Remove from heat. Spread ½ teaspoon of butter on one side of each piece of bread. Place two slices of bread buttered side down on a hot grill pan. Top with two slices of brie and a tablespoon of preserves on each sandwich, followed by pepper slices. Cover with remaining bread, buttered side up.
Cook sandwiches for 4–6 minutes per side or until toasted.
Keep reading
Kale and brussels sprouts stuffed pita sandwich »
Crab cake sandwich with artichokes and crème fraîche »