Sassy Salads
You heard as a child that eating your greens was important. But they didn't mention that it could be this much fun.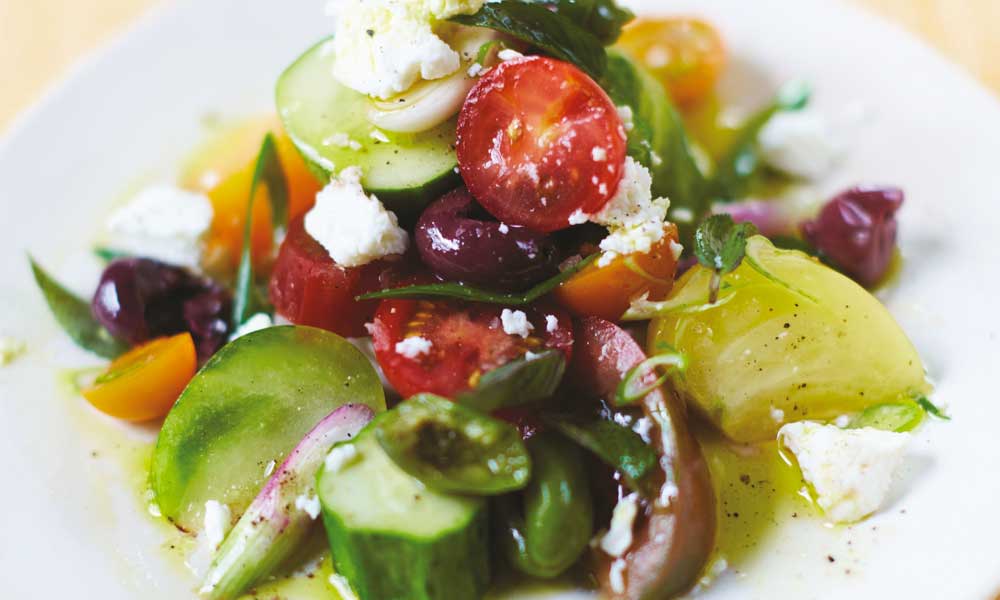 Greek Salad
Serves 4–6 as a side.
Ingredients
¾ lb. crunchy cucumbers without big seeds (preferably a few varieties), peeled and cut into irregular ¾-inch pieces
1 lb. mixed heirloom tomatoes, halved, cored, trimmed of any pale bits and cut into irregular 1-inch pieces
¼ lb. cherry tomatoes (about ¾ cup), halved through the stem end if large
2 slender spring onions, green tops and root ends trimmed, bulbs cut into ¼-inch-thick rounds and separated into rings (about ½ cup)
2 Tbs. Banyuls vinegar (available at specialty shops and online)
4 Tbs. extra-virgin olive oil
Maldon or another flaky salt
1 Tb. lemon juice
20 or so Nicoise olives, firmly pressed with the flat of a knife and pitted
A 5-finger pinch of mint leaves
5 oz. creamy
Directions
Put the cucumbers and tomatoes in separate bowls and pop them into the fridge just until they're cold, about 30 minutes.
Meanwhile, add the onions to a small bowl. Add the vinegar, 2 Tbs. of oil and a healthy pinch of salt, and mix well with your hands. Let the onions sit just until they get pickly, a few minutes.
In a separate bowl, stir together the remaining 2 Tbs. of oil, the lemon juice and a good pinch of salt until the mixture looks creamy. Combine the tomatoes and cucumber in one bowl, pour the lemon dressing and toss gently but well.
Grab a large platter (or 4 or 6 plates) and make a pretty layer of cucumbers and tomatoes, so the colors and types of vegetables are well divvied up. Give the onions one more toss, then use your hands to add them (reserving their pickly liquid) here and there over the cucumbers and tomatoes. Scatter on the olives and mint. Use your hands to crumble the feta into pieces of large, medium and small as you scatter it on top. Finally, drizzle on the liquid remaining in the
onion bowl. Eat straightaway.
More Recipes
Steamed and Raw Radish Salad with Kimchi and Sesame »
Roasted and Raw Fennel Salad with Blood Orange and Bottarga »