Sassy Salads
You heard as a child that eating your greens was important. But they didn't mention that it could be this much fun.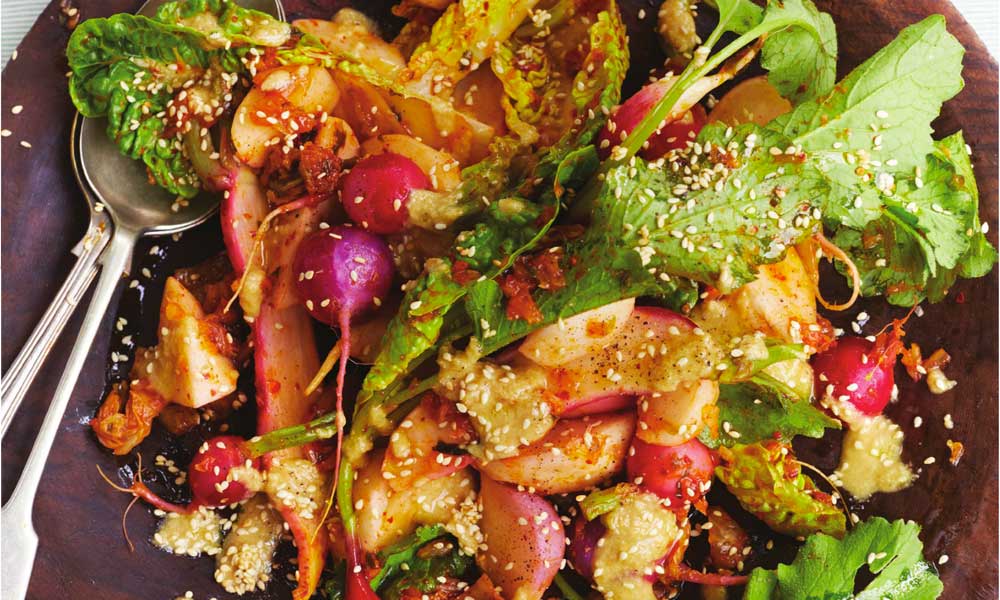 Salads have a well-deserved reputation for being healthy. But these three selections—made from garden-fresh ingredients and each featuring a delightful explosion of colors, shapes, tastes and textures—are good enough to be a wicked indulgence. So prepare and enjoy one today as a family treat. Rarely has being "sensible" been such a pleasure!
Steamed and Raw Radish Salad with Kimchi and Sesame
Serves 4–6 as a side.
Ingredients
¾ pound daikon radishes (each
no thicker than 1½ inches), peeled,
topped, tailed and cut into 1-inch
irregularly shaped pieces
1 lb. mixed small radishes (some with
pert greens left on), halved lengthwise
if larger than 1 inch in diameter
2 Tbs. plus 1 tsp. sesame seeds
Maldon or another flaky sea salt
4 Tbs. neutral oil, such as safflower
or grapeseed
¾ cup roughly chopped drained
kimchi (preferably homemade), plus
2 Tbs. of the kimchi liquid
1 tsp. toasted sesame oil
1 head Little Gem lettuce, root end at
floppy outer leaves discarded, leaves
separated
Directions
Put a steamer insert (or a colander, so long as the pot's
lid can still close) in a large pot with a lid. Add about a half
inch of water to the pot, pop on the lid and bring to a boil
over high heat. Add the daikon radishes to the insert, cover
again, and let them steam until they're fully tender, but not
mushy, 12 to 15 minutes. Remove the daikon and let it cool.
Put the steamed and raw radishes in the fridge to chill for
about 15 minutes.
Meanwhile, put the sesame seeds in a small skillet. Set it
over medium heat and toast, stirring and tossing frequently,
until they're a few shades darker, 3 to 5 minutes. Transfer
them into a bowl to cool. Set 1 tsp. of the seeds aside and
pour the rest into a mortar, along with a pinch of salt. Thoroughly
pound the seeds, add 1 Tb. of the neutral oil, and stir
until smooth.
Pulse half of the drained kimchi in a small food processor
until you have a coarse puree. Transfer it into a bowl and mix
in the rest of the kimchi, the kimchi liquid, the sesame oil, the
remaining 3 Tbs. of the neutral oil and 1 tsp. of salt.
Combine the kimchi mixture, steamed radishes, raw
radishes and Little Gem leaves in a large bowl and toss well.
Season to taste with salt and transfer the vegetables to a
plate in a heap. Drizzle the sesame paste mixture over the
vegetables, then sprinkle on the remaining sesame seeds.
More Recipes
Green Salad »
Roasted and Raw Fennel Salad with Blood Orange and Bottarga »
From A Girl and Her Greens by April Bloomfield. © 2015 April Bloomfield.
Recipes reprinted by permission of Ecco, an imprint of HarperCollins 66 Publishers.