Save that Food!
Nearly half of our edibles end up in landfills, but some Bergenites are finding creative ways to combat this epidemic of food waste.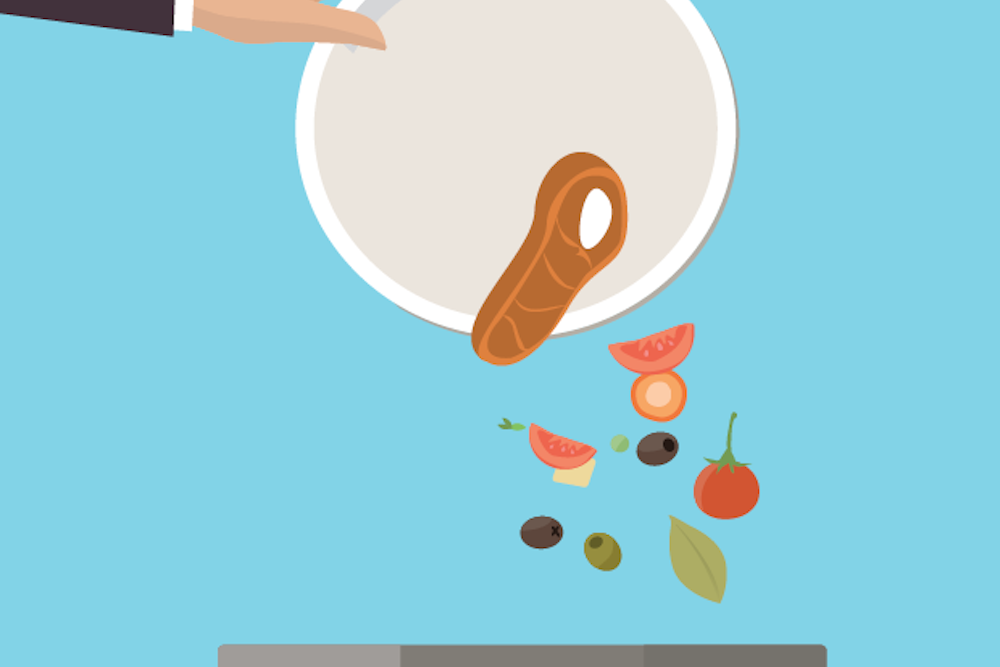 If you were inclined to dig into your Hefty bags on trash collection day, you'd likely be surprised to discover just how much of your garbage is wasted food. In fact, Americans toss out about 40 percent of all the food they buy, or some 20 pounds per person every month. Of course, for most of us food is plentiful and relatively cheap: On average, we Americans spend just under 10 percent of our per capita income on food, while 60 years ago, food represented nearly one-fifth of the average household budget. And food biodegrades relatively quickly, unlike plastic, which can persist in the environment for hundreds of years. Still, more and more environmentalists, policymakers, legislators and consumers have made reducing food waste a priority.
WHY WASTE IS A WORRY
One of the most compelling reasons to address food waste is its environmental impact. There's a dark side to food's easy degradability, namely the emission of methane, a green-house gas that's even more potent than carbon dioxide. And the amount of methane emitted by food consigned to landfills is staggering: If food waste were a nation, it would rank third, after China and the U.S., in its contribution of methane to the atmosphere. Wasted food also is filling up our landfills far faster than it can biodegrade.
But beyond its environmental consequences, food waste has become a moral issue in a time of growing income inequality. Suzanne Brown is president of Table to Table, a nonprofit based in Bergen County that retrieves food—which would otherwise be discarded—from restaurants, supermarkets and other facilities and distributes it to people in need. She notes that 42 million Americans, including 11 percent of all New Jersey residents, experience food insecurity; even in Bergen County, the state's fourth wealthiest county, more than 70,000 residents, or 7.5 percent of the population, regularly face the prospect of hunger. Under these circumstances, says Brown, "to have so much food wasted when it could be used to feed people is unconscionable."
On a more personal level, food waste costs us all money. On average, a family of four in Bergen County spends about $10,000 a year on food. If that household found a use for just half of the food it jettisons, it could save $2,000 annually.
WAYS TO WASTE NOT
There's no single solution to the problem, because there's no single cause. But all the answers come down to the same thing, an aphorism from our grandparents' era: Waste not, want not.
Using the whole food item. In the restaurant industry, waste is easy—and some would say necessary. At The Hill in Closter, for instance, chef and owner Ben Pollinger bakes bread daily and, he says, "I have to overproduce it—I can't say, 'Sorry, we ran out of bread.'" That goes for other menu items as well. And it's not just Pollinger. "Every restaurant that serves bread," he notes, "has to buy or produce too much every day." Plating an attractive meal also adds to the problem of waste. When Kevin Portscher was in culinary school, he studied the classic cutting techniques—julienning, dicing, brunoise—that make food beautiful. But when he opened his own restaurant, Village Green in Ridgewood, he realized that in making beautiful food "you end up with a lot of scrap." As a business owner he was bothered by that, so he started devising ways to put that scrap to good use.
Today Portscher is celebrated for his approach to reducing food waste: essentially, making use of every part of the food he works with. Because restaurants buy food in bulk, he tends to "cross-utilize" it. Rather than incorporate a different vegetable in every dish, for instance, he'll use the same one in different ways. He might serve the same variety of mushroom as an appetizer, as part of a pasta dish, and in an entrée as well. He'll freeze the mushroom stems and use them later in a risotto, a soup or a broth. While his approach began as a way to save money, over time it's morphed into a full-blown philosophy of cooking. "When you see how hard everybody works to grow the vegetables, get them to market, get them into the restaurant," he says, "you develop a respect for the product you're using."
Feeding the hungry. Before Pollinger opened The Hill, he was executive chef at New York's celebrated Oceana. But it was in the position of sous chef at Manhattan's Tabla that he got his first lesson in food waste. "I made a mistake in the kitchen," he says, "and cooked a tremendous amount of rice, way more than the restaurant needed." He admitted his error to the chef, who told him to call City Harvest, the New York City nonprofit that, like Table to Table, works with restaurants to feed those in need. It was a revelation that sparked what he calls "a very fruitful relationship" with the organization, so it felt natural, when he opened The Hill, to strike up a similar relationship with Table to Table; today he sits on its executive board. "I cook for a living, to feed people," he says. "But my career has been spent cooking for people who have a choice—food security isn't an issue for them." Like many chefs, he uses leftover food to feed his staff, but there's almost always more to spare, which inevitably goes to Table to Table—and on to those in need.
As the organization's president, Brown finds it mind-boggling "in a country of affluence, to have such incredible food insecurity."
She notes that Table to Table serves some 200 food pantries, soup kitchens and other entities that help feed the hungry in northern New Jersey and has a waiting list of between 60 and 80 more on any given day. The need, she stresses, is actually growing. Five years ago, Table to Table was feeding 500 families; this year it might feed 1,300 in just one of the 200 locations it serves.
The organization gets its food from some of the largest grocery chains in the state, including ShopRite, Wegmans, Whole Foods and Trader Joe's, as well as restaurants and other food retailers and wholesalers. (In fact, Trader Joe's has instituted a policy that prohibits throwing out any food items.) Table to Table offers something most food pantries have a dearth of: fresh produce. The food its drivers pick up doesn't always look perfect—sometimes the berries are bruised and the root vegetables are misshapen—but it's always fresh. And sometimes it is perfect, but it just didn't move: No one at the restaurant ordered the eggplant; shoppers shied away from the white radishes.
Feeding the hungry doesn't always mean feeding people. As Portscher notes, there are scraps that can't easily be reused—things like corncobs and vegetable ends and parings. So he and a group of other chefs send their bottom-of-the-food-chain castoffs to TeVaLand, a sanctuary farm in Hillburn, N.Y. near the Mahwah border, to feed the pigs, chickens, goats, rabbits and other farm rescues. "It helps me," says Portscher, "because it's less garbage that's taken away, and that means less money I have to pay my dumpster company. It helps the farm because it's less money they have to spend on food and more money they have available for vet services and other needs."
Mandating "waste not, want not." Increasingly, government is recognizing the need to reduce food waste and passing legislation to make it mandatory. Clinton Calabrese, assemblyman for Bergen County, is a sponsor of a bill, aimed at retailers, that was designed to reduce food waste throughout New Jersey. "With businesses accounting for over 50 percent of all food waste," Calabrese notes, "shifting the burden of responsibility onto large food waste generators is a significant piece of the issue." As originally written in 2018, the bill required businesses and other organizations that generate large amounts of food waste to divert it from landfills and incinerators through composting and other methods. But during the legislative process, amendments were added that would have allowed some food waste to go to landfills and incinerators. Because of that, the bill was conditionally vetoed by Governor Phil Murphy, who has promised to sign it into law if it includes a new amendment overturning the allowances.
Calabrese also sponsored legislation, signed into law by the governor in May, directing the Department of Agriculture to establish a public awareness campaign focused on food waste. "I believe crafting strategies that allow us to approach the issue from both the consumer and retail levels is integral," he says, "if we hope to make progress toward our 2030 food waste reduction goals." He's referring to a bill signed in 2017 by then-Governor Chris Christie. The plan is designed both to cut methane emissions and to address food insecurity.
REDUCING FOOD WASTE STARTS AT HOME
While businesses and other large organizations generate much of New Jersey's food waste, notes Brown, "a significant amount of waste happens in individual households." Stacey Antine, a registered dietitian and founder of HealthBarn USA in Ridgewood, a center that teaches children about cooking and healthy eating, notes that individuals can make a significant dent in their food waste by changing some ingrained approaches to food preparation and disposal. "At HealthBarn," she says, "we cook with more than 100 children per week, so reducing food waste is economically and environmentally important to us." While most households feed a somewhat smaller group, the principles are applicable to families of any size.
Designate a special bin or shelf for leftovers. "Before we set the menu for the upcoming week," says Antine, "we always check for what's left over and still edible." She recommends visiting the leftover bin for weekend lunches as well. "Quesadillas, tacos and pasta," she says, "are great uses for leftover produce mixed with cheese."
Freeze it for next time. "We don't buy individually wrapped servings of meat or seafood because it's just more packaging garbage," Antine notes. "But if we buy the family size of chicken or ground meat, we immediately use what we need and freeze the rest."
Use your senses instead of "use by" (or expiration) dates. Those dates are approximate and don't necessarily mean the food has spoiled. "Always check the integrity of the food before getting rid of it," Antine advises.
Make soup. It's the way our grandparents dealt with food castoffs, which can add flavor and texture to a variety of soups and stews. If you don't like the way they look, purée the soup before serving.
Freeze fruit that's starting to brown. Use frozen berries and bananas in smoothies.
Invest in a dehydrator. "It transforms aging fruits: grapes to raisins, bananas to banana chips, cherry tomatoes to 'sundried' tomatoes," says Antine.
Store food items "oldest out." "Line up your food in the refrigerator, freezer and cabinets with the open items up front, so you don't end up with multiple open bottles and packages of the same thing, which creates unnecessary waste," Antine advises.
If you absolutely can't use it, then compost it, share it or donate it. As more and more of us are discovering, unused food can be a prob-lem, or it can be a useful resource.