Save the Date: Fashion and Beauty Week in October
Fashion and Beauty Week is taking place October 3 and 4 at the Pleasantdale Chateau in West Orange, NJ.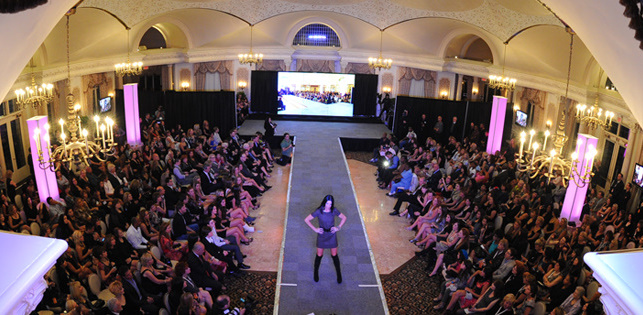 SAVE THE DATE:
October 3 and 4, 2011
The Pleasantdale Chateau in West Orange, New Jersey
The 2011 Fashion & Beauty Week showcases New Jersey as it really is – a beautiful state with high-fashion people, places and style. This grand event brings together top fashion designers, jewelry designers, hair stylists and make-up artists and will also raise money and awareness for the Diabetes Research Institute (DiabetesResearch.org), the largest and most comprehensive research center dedicated to curing diabetes.
Featuring a runway show where high fashion and beauty unite, the 2-day event also offers attendees a full cocktail dinner, wine tasting, beauty bar, silent auction and access to a VIP/Press lounge. A select number of participating designers and stylists will be unveiled at a press and public event on July 28th, but already more than 2 dozen fashion and beauty editors, celebrity stylists, athletes and famous personalities are lined up to attend this year's main events, including:

Pamela Dennis

, designer and Fashion & Beauty Week board member

DMC

, recording artist and producer

Jonathan Cheban

, Spin Crowd

Melissa Gorga, Kathy Wakile, Kim DePaola and Caroline Manzo

from "Real Housewives of New Jersey"

Alina Leshiner,

celebrity stylist & runway show producer

Cast of "Jerseylicious"

Derek Saathoff

, 'The A-List'

Ariane Duarte

, celebrity chef

Kerry Schwarz

, VH1

David Diehl

, New York Giants' All-Pro Offensive Tackle & Super Bowl Champion

Mike Devito

, New Jersey Jets' Defensive End

Ken Danyko

, New Jersey Devils 3-Time Stanley Cup Champion, hockey & sports analyst

Ilya Kovalchuk

, New Jersey Devils

New Jersey Nets Dancers

Alisa Maria

, celebrity stylist

Anna Demidova

, Dancing With The Stars

George Ortiz

, celebrity hairstylist, "Project Runway" key stylist

Claire Pavlinec

& the Ladies of the Mrs. New Jersey Organization

Deborah Hall

, celebrity stylist

Joe Piscopo

, actor, comedian and entertainer

Martha Byrne

, actress, TV writer/producer, singer/songwriter
More than 50 local, national and global sponsors are signed-up to participate, including The Inserra Family, Lord & Taylor, Rolls-Royce Parsippany, Remy Cointreau, Yanina & Co., Oribe, Grey Goose, Bentley Parsippany, Bright Rize, Fabulous Foods, Sojourn, Bacardi, 3d, Ambrosio & Tomczak, Qream, Calmistry and The Lash Doctor.
Founded by beauty veteran, Jack Panico, President and CEO of Panico Salon and Spas in New Jersey and South Beach, FL, last year's Inaugural Fashion & Beauty Week made a huge splash with media coverage on a regional and national scale from The Today Show, Style Network, WWD and New Beauty Magazine to The Star-Ledger, New Jersey Monthly, The Record, News 12, and more.
"I am thrilled by how the New Jersey fashion and beauty community, along with the residents and media. have embraced this event," said Panico. "Not only is it a powerful public platform for showcasing the many talented designers and stylists, it benefits a cause that touches the lives of nearly everyone." Tickets range from $150 – $350 and can be purchased online at fashionandbeautyweek.com
For more information on attending or to become as a sponsor, featured designer/stylist, model or volunteer, please visit the Fashion and Beauty Week's official site.
---
Wainscot Media is a media sponsor for this event.