Saving a baby
Devoted care and smart decisions help a premature infant survive—and thrive.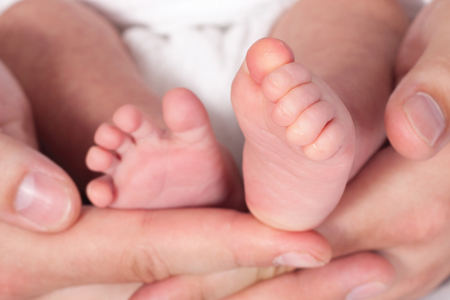 Lillian Chou, a school guidance counselor, thought her pregnancy was going smoothly. She felt fine, but in her 25th week her secretary noticed that Chou's feet were swollen. "She told me that wasn't normal so early in a pregnancy," recalls Chou, 41. What happened next was frightening.
Chou saw her ob/gyn to ask about the swelling, and the exam revealed that her blood pressure was high—150/90—and she had protein in her urine. Both are signs of preeclampsia, a pregnancy complication that can lead to eclampsia, in which seizures can threaten the lives of both mother and child.
She was admitted to Saint Barnabas Medical Center. By Thursday her blood pressure had leveled off, but on Friday it spiked again, to about 200/100. "My condition went to full-blown eclampsia very quickly," she says.
"By Monday they said I was about an hour short of a seizure or a stroke, and they had to get the baby out," says Chou. In an emergency C-section procedure on November 14, 2011, her son Maximus was delivered at just 26 weeks and 2 days of gestation, weighing just 1 pound, 5 ounces. As is typical with eclampsia, the mom's blood pressure quickly returned to normal following the delivery. Max, however, had serious continuing health issues and was in the Neonatal Intensive Care Unit for 80 days.
His main problem was patent ductus arteriosus (PDA ), a heart defect that affects many preemies. In PDA , there is abnormal blood flow between two of the major arteries connected to the heart because a blood vessel called the ductus arteriosus hasn't closed yet, as it has in full-term babies. This condition affected Max's blood oxygen levels.
Chou and her husband, Yu Chou, 41, an insurance broker, call the nurses and doctors in the NICU "a godsend." A cardiologist recommended surgery to repair the heart, but the NICU team had seen this condition repair itself on its own. "The NICU doctors were smart enough to say, 'Let's wait—he's not pushing our hand yet,'" Lillian recalls. At the same time, the NICU team carefully monitored Max's oxygen levels. "We went through a learning curve in this process and learned that too much oxygen, just like too little, is bad for him at this age," Yu says. "At one critical point a nurse had two babies to watch, and she looked at the two monitors for hours. It was just amazing."
Sure enough, after several weeks Max's heart did heal on its own. At that point, he also had to learn how to breathe by himself, without the nasal cannula that had sustained him until then. "The nurses didn't baby him, they challenged him," Lillian says. "As the mom I would say, 'Take it easy on him!', but they knew the right time to remove the cannula, then remove the feeding tube. They know what they're doing."
The father agrees. Says Yu: "I jokingly told them, 'You've made so many good decisions on our behalf, I'll be back to pick Max up after he finishes medical school—you can raise him!'"
But it wouldn't do to miss the childhood of Max, who at almost 2 is meeting all of his developmental markers. "He is very friendly and social," his mom reports. She also says he's starting to speak—and loudly at that. "Now his lungs work fine," jokes Yu.
Adds Lillian with feeling: "I truly owe my son's life to the NICU ." —david levine