'Scarless surgery' has arrived
Thanks to today's robotic technology, no one will see that you've had your gallbladder removed.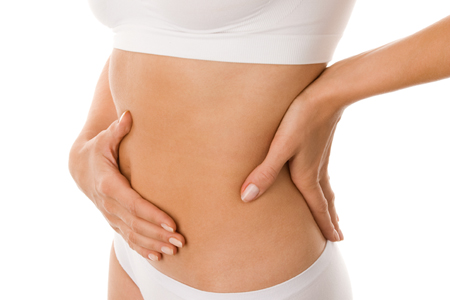 Nearly 1 million Americans undergo gallbladder removal surgery each year, making it the most widely performed operation in the nation. And now Saint Barnabas Medical Center is leading a handful of New Jersey hospitals by offering patients a single-incision robotic procedure that achieves the long-sought goal of "scarless surgery."
This novel gallbladder removal method, known formally as robotic single-incision cholecystectomy, extracts the pearshaped gallbladder through a small cut in the patient's belly button, which ends up invisible to the eye.
"I think that in a very short time robotic single-incision cholecystectomy will emerge as the standard operation for gallbladder removal, driven by patient request and improved postoperative recovery," explains Ronald Chamberlain, M.D., chairman and surgeon- in-chief of the Department of Surgery at Saint Barnabas. "Until the mid-1990s, traditional gallbladder surgery required a 6-inch incision under the rib cage on the right side. We then made the transition to laparoscopic surgery using four half-inch incisions placed at intervals across the abdomen. Now it's just a small incision in the navel. After the procedure, it won't be apparent from looking at the patient that he or she has ever had the surgery. And the procedure can be done safely, quickly and with minimal discomfort."
The risks of undergoing singleincision robotic gallbladder removal are similar to the risks of any surgery, including bleeding and infection, Dr. Chamberlain says. However, these hazards are minimal, and the use of a single incision typically means minimal bleeding, less pain and a quick recovery.
"Patients love it," he says. "Just two weeks afterward, people can't even tell they had an operation. Women outnumber men in having gallbladder removal by about seven to one, so particularly for younger women—especially those who still want to get pregnant or are significantly concerned about cosmetics—this has been phenomenally well received. But interest in this safe operation is growing among men too."
This new technique may soon be approved for other types of single-incision surgery through the belly button, such as hysterectomy, appendectomy, nephrectomy (kidney removal) or tubal ligation, Dr. Chamberlain says.
"It depends on how big an organ you're removing," he adds. "For the first time, the goal of scarless surgery has been reached, and reached in a safe way that allows patients to heal quickly. Saint Barnabas has more than 20 surgeons who are trained in robotics surgery. That makes ours the largest robotics group in the state."
—David Levine