Searching For a Spark
With custom chairs, smart TVs and a fireplace, Ridgewood's Davidoff Lounge is the ultimate man cave. The clincher? You can enjoy a cigar indoors.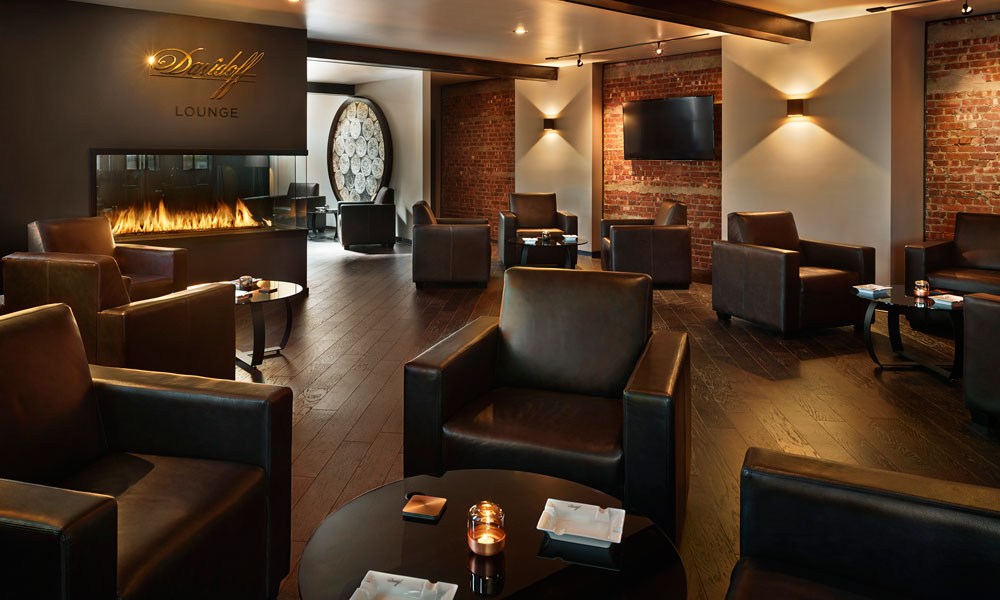 Dapper gentlemen today have realized that fine fellows a long time ago were on to something: tailored clothing, daily shoe shining, careful grooming. Indeed, what's old is new (and trending) again.
But what hasn't wavered through-out time is man's desire to unwind either on his own or among friends. Welcome to the Davidoff Lounge, the posh cigar-smoking clubhouse in downtown Ridgewood, where businessmen and doctors, ageless Baby Boomers and overachieving Gen X'ers—and just about anyone—gather for peace and peace of mind.
"That's what it's all about," says Gary Kolesaire, who, along with his wife Barbara, owns and operates the elegant third-floor lounge as well as The Tobacco Shop on the ground level. "Cigars are a reason to get together, to chill out.
"Why chill out at this lounge? For starters, it's backed by Davidoff, the upscale Swiss company known for its luxurious tobacco products and goods. The company partners with high-end cigar shops worldwide to create lounges that follow the brand's standards and cater to their sophisticated clientele. There are only a few dozen Davidoff lounges in the United States.
The Ridgewood lounge, the only Davidoff in New Jersey, is located inside a repurposed building from the 1930s, its exposed original brick surrounding plush leather armchairs, shapely tables, natural gas fireplace, wall-mounted smart TVs and subtly-placed air ventilators. Soft recessed lights and wall sconces soothingly illuminate the 2,400 square feet of space, which also includes custom artwork and a private boardroom.
Ready to light up? The lounge is open to both members and nonmembers—though membership has its privileges (unlimited use, cigar lockers and more). Nonmembers and drop-in customers can purchase day-passes. "We have plenty of guys who come in for business. They have lunch in town then come here afterward to cap their meetings," Kolesaire says.
The lounge isn't exclusively for men, but fewer than a handful of its 50 or so members are women. In addition, most regulars are in the 30-to-60 age range, but Kolesaire is anticipating a surge, particularly among 19-to-30-year-old smokers.
"Once Cuban cigars are available, they'll want to try them and discover what they're all about," he says. "It will be a whole new world.
"Of course, Kolesaire believes, it's not necessarily the cigar that ultimately continues to lure patrons back to the Davidoff (though the taste and aroma certainly help).
"You don't get hooked on the cigar or the nicotine like you do a cigarette," he says.
"You get hooked on the time relaxing and bonding with others."
The Davidoff Lounge at The Tobacco Shop, 10 Chestnut St., Ridgewood, 201.447.2204; tobaccoshop.com
Other Cigar Stops
Ruben's Smoke Stack
4 Bergen St., Hackensack, 201.498.0332; rubenssmokestack.com
Jr Cigar
184 Rt. 17 North, Paramus, 201.261.7988; jrparamus.com
Smokin Eagle Cigar Lounge
185 Madison Ave., New Milford, 201.483.9300
Brick House Cigar Shop
85 Crescent Ave., Wyckoff, 201.485.8488; brickhousecigarshop.com
Cigar Shack
20 Essex St., Lodi, 201.845.7833; cigar-shack.com