Secrets Of A Style Pro
Celebrities have stylists telling them what looks good. Now thanks to a Hillsdale resident, Bergenites can too.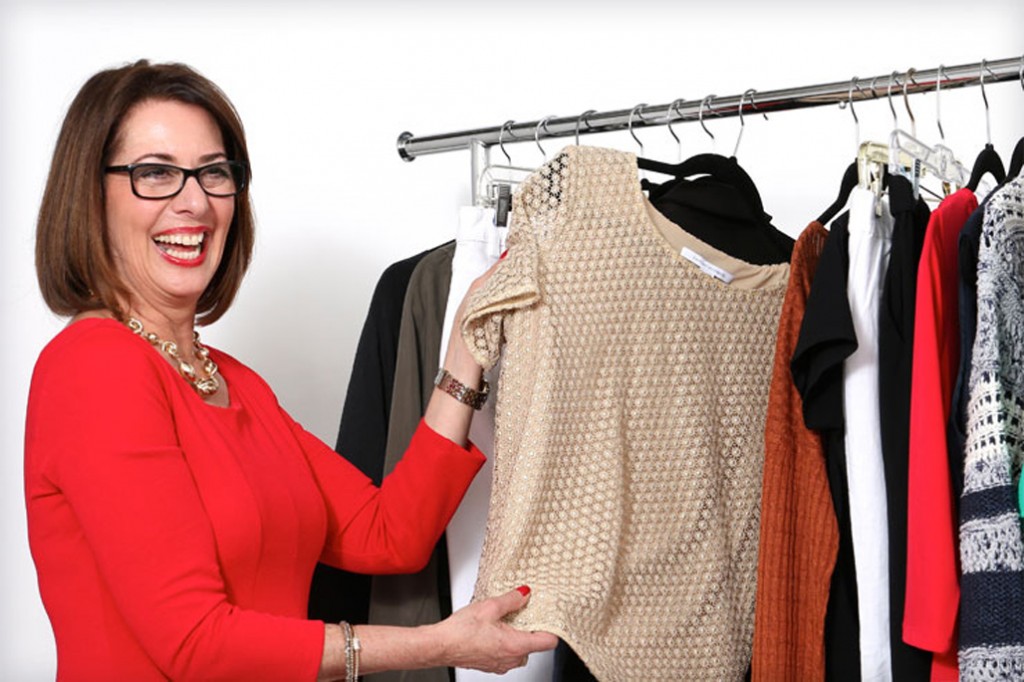 You wouldn't think that being a personal wardrobe stylist would be a dangerous job, but you'd be wrong: When Pamela Etzin opened one client's closet, a giant pile of things fell out, including a suitcase that hit her in the head! "There was blood," remembers Etzin. "The client was mortified."
Talk about suffering for fashion. It was just another day in the trenches for Etzin, of Hillsdale, who owns a personal styling business called An Eye for Detail. During a "Closet Edit and Style Assessment," Etzin goes to clients' homes and in three to four hours, evaluates their current wardrobe. "We take everything out, and you start trying things on," she says. "We take an honest look at what works, what no longer fits, what can be recreated or what needs to go." Then she helps the client organize what is left. She'll also help put together outfits and photograph them so clients can remember what goes with what. Finally, she'll suggest clothing and accessories for future purchases. Cost? $495 within Bergen County (she charges more if she has to travel).
Etzin starts the process by getting to know her client's likes, dislikes, style choices, wants and needs. "I want to know what their goals are, and I want to know what they are dressing for," she explains. "Are they in an office, do they work from home? I really want to know what's going on with them. Are they feeling frumpy? Do they want to change or elevate their look?" She helps people figure out what colors and styles look good on them so they can build a wardrobe around those basics.
Etzin also offers personal shopping services ($175/hour or pay $995 for a two-hour closet edit and four hours of shopping) where she will take clients to stores to find exactly what they need, whether it's the perfect pair of black pants, a special occasion outfit or a whole new wardrobe. "I took a gentleman shopping last night who is 32, he's in IT, and shopping is just not his thing," she says. "We were at Banana Republic, and we must have tried on 18 of the same style shirt, but they were all made in different places and they all fit differently. Finally we found one that was perfect on him. The look worked for business and casual and happened to be 40 percent off, so he bought nine."
Having always loved clothing, Etzin began working in the garment district in New York City at the age of 20, first in showroom sales and later for wellknown designers such as Oleg Cassini, Abe Schrader and Kasper. "My favorite part was doing trunk shows and going to stores because I loved seeing customers," she remembers. "That's when I really developed my love of putting clothes on women." After moving to the suburbs and having kids, Etzin worked in retail sales for stores like Ann Taylor, Talbots and White House, Black Market before deciding to start her own personal styling business six years ago.
Now she enjoys helping clients get organized and love how they look, even if she does have to contend with the occasional kooky closet. "I had one client who was just a clothes hoarder—she saved everything," Etzin remembers. "She still had her high school clothes, like monogramed sweaters, kilts. I can understand it. People have stories about every item. In the end, I did persuade her to get rid of things."
Stylist Pamela Etzin of An Eye for Detail offers expert advice for every closet:
How should a closet be organized?
"Everything should be facing one direction on the same type of felt or velvet hanger, categorized by item type and light to dark." What's worth investing in?
What's worth investing in?
"Black pants, a few good jackets, highquality shoes, a nice dress or two, a few good handbags and some accessories like earrings, statement necklaces and scarves."
Should I give up on my "skinny" clothes?
"Yes—or at least move them to another closet or place in the house if you really are serious about losing those 10 or 20 pounds. Only have things in your closet that fit you and that you can wear and feel great in."
If I haven't worn it in a year, should I get rid of it?
"No, not if you can recreate it. If you like it, update it with a great necklace or a great scarf. It's knowing what to do with what you have."
Where should I donate things that no longer work?
"I like Dress for Success or the Women's Rights Information Center in Englewood where low-income job seekers can shop for clothing and accessories that are donated to their Career Closet."
How should I organize accessories?
"The key is to be able to see everything. If you can see it, you will wear it. Hang necklaces, put bracelets on a black roll and put earrings in stackable trays."