Seduced by Capri
La Dolce Vita was practically invented on this beautiful Italian isle, famous as the world's oldest resort.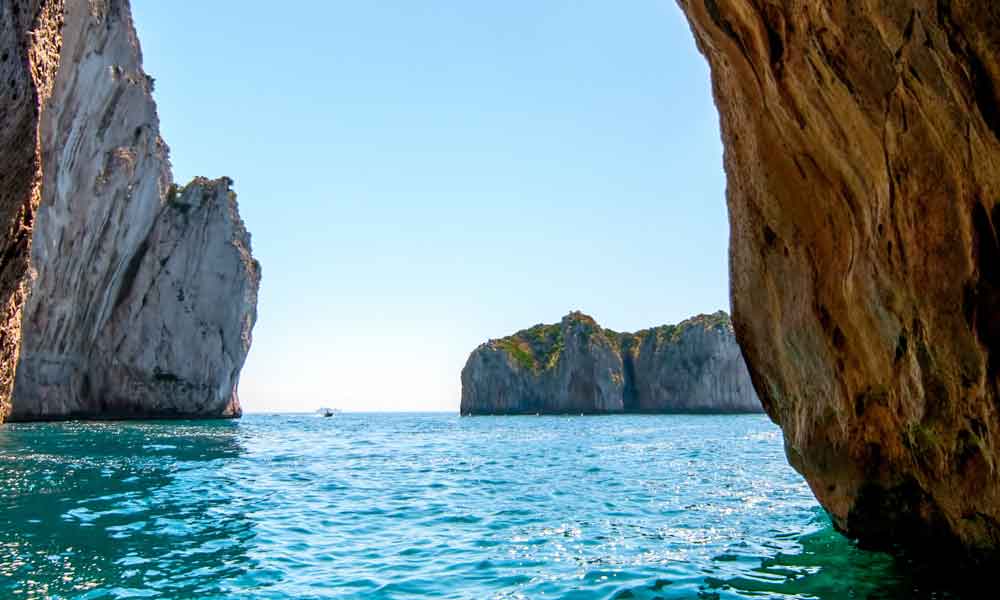 It's hard to say exactly when I fell In love with Capri. Was it when I first spied the cinematic white cliffs looming before us as the waves from the hydrofoil's wake sprayed my face like a teasing taunt from Neptune? Was it when I realized that much of the island is blessedly free of cars? Was it when I glided 450 feet above the harbor in the funicular past lemon groves, reed-thatched roofs and swaths of wisteria? Or when I explored its caves and grottoes, knowing that this is where Homeric sailors, Roman emperors, A-list celebrities, artists and novelists, industrialists and intellectuals had romped?
On Capri, the world's first resort, anything is possible. No one seems to be in a rush to get anywhere. But this isn't necessarily a lazy man's trip either: Because Capri is small and steep (four miles long and two miles wide) with so few roads, it's a walker's island (cheating is allowed — you can rent a Vespa to explore some byways). In fact, Capri is a geological castoff from the peninsula of Sorrento in the southern par t of the Bay of Naples. Limestone cliffs separate the two main towns: laid-back Anacapri and the more populated Capri (the town) in the east. Anacapri boasts Monte Solaro, 1,900 feet high, while Monte Tiberio, its somewhat shorter sibling, is topped by the ruins of the Emperor Tiberius' palace, Villa Jovis.
While a few main streets connect key points, most streets are really narrow twisting lanes or paved paths that criss-cross what is still a surprisingly wild, rocky island, home to goats and lizards, maritime pines and oleander. (The word Capri comes from the Greek word kapros, meaning wild boar — but I didn't encounter those!)
The island's beauty is fit for a king. In fact, it was the Roman Emperor Augustus and his successor Tiberius who set their greedy eyes on Capri two millennia ago. Tiberius built the Villa Jovis, where he spent his last decade. There he could carouse in orgiastic debaucher y without fear of repercussion. And if someone displeased him, legend contends he hurled that someone from the Salto di Tiberio, a cliff 1,000 feet above the sea. It seems a combination of his murderous and lecherous ways got him into trouble. (Talk about a lusty history: No wonder the island earned a reputation for decadence and hedonism.) Like so much that is worth seeing on Capri, visiting Villa Jovis requires a trek — it's an hour's climb. But it's worth it. The bluff-top view is spellbinding: Sorrento and Vesuvius to the east; a panorama of Capri to the south and west. After seabirds halt their crying, there's a profound silence, leaving only tranquility — that and an eerie sense that the ghost of Tiberius might just be about to sneak up behind you.
It seems the hellion was on to something. In the 1950s, then – exiled King Farouk of Egypt found himself at the Hotel Caesar Augustus, an idyllic spot with some of the island's best views. His apartment, today known as the Farouk Suite, is one of 55 elegant rooms and suites. Original antiques and two oversize bathrooms, one with a large Jacuzzi, the other a mega shower, both luxuriously outfitted, are highlights of the suite. Though grand, the interior pales by contrast with the terrace: Its Doric columns frame 180-degree views. (Capri is no place for people with a fear of heights. In most places, you'll be peeking over railings, balconies and alcoves down, down, down to the azure waters below.)
A wealthy German built the hotel in the 1850s, but traces of previous structures dating back to the 9th century can be seen. Prince Emmanuel Bullak of Russia bought it in the 1900s and commissioned the life-size statue of Caesar Augustus pointing out to the sea. The prince believed that Augustus played a larger role in bringing Capri to the world's attention than Tiberius (or perhaps he thought him better behaved). Thirty years later, the Signorinis bought the resort and turned it into one of Italy's most stylish small hotels. It's a member of the Relais & Châteaux and Virtuoso hotels, and they epitomize graciousness: Upon arrival, you're whisked away from the marina's crowds, given a fresh-squeezed glass of lemonade (the hotel has its own lemon trees) and immediately ensconced in your room or suite.
No visit to Capri would be complete without swimming in the sea (and seeing the Blue Grotto — yes, it's a big tourist attraction, but worth visiting if only once). Banish notions of islands you may have visited in the Caribbean: beautiful beaches there ain't — most of these tend toward small and pebbly, and the few sandy swaths you'll find are awash with people and umbrellas. But what they lack in sand they more than make up for in scenery and scenes.
La Fontelina on the southern coast is one of the best lidos, or beach clubs, with a good restaurant tucked into the rocks that serves pasta and seafood galore. And it sells day passes. You can slip into the water from the rocks and have a lemon granita waiting after your swim. If images of Poseidon and Neptune don't make you feel buoyant, then the salinity of the water certainly will. (Nowhere have I felt more aloft, except perhaps in the Dead Sea.) It seems you can float forever.
Back on terra firma, it's a toss-up as to what will captivate you more: heart stopping views of the sea and the three iconic Faraglioni rocks — named Stella, Mezzo and Scopolo — or the beautiful people whose comings and goings make the dock a sor t of catwalk. Of course, it can't be reached by taxi. You either go by private boat or walk down a ver y steep hillside (which means you'll have to climb back up at day's end).
When it's time for dinner, you will be tempted to overindulge, no doubt scarfing down plates of homemade pastas, just-caught fish and bowls of fresh figs and washing it all down with bottles of fine wine. After all, this is southern Italy, where everyone has some manner of garden growing zucchini, tomatoes and potatoes, not to mention olive trees, lemon trees and even cactus trees — the kind that grow prickly pears (delicious — but swallow, don't chew, the seeds). The Caprese grow their own herbs, fruits and vegetables. They buy seafood directly from the fishermen and make pasta at the kitchen table. It doesn't get fresher than this.
Whether you eat at the hotel's La Terrazza di Lucullo (try the orange-scented risotto) or one of several nearby ristoranti, you won't be disappointed. Try Aurora for pizza, or Da Paolino if you'd like to dine in the middle of a lemon grove. And don't skip the dolce. While many think of cannoli as the quintessential Italian dessert, I recommend the not-too-sweet sfogliatella, a Neapolitan specialty consisting of crispy pastry crust filled with creamy ricotta. It's best when it's eaten warm from the oven.
Still, no one will look askance if you decide to eat only the famous Caprese salad — vine-ripened tomato, basil and mozzarella drizzled with extra virgin olive oil — and a glass of prosecco. There's something about the cool bite of the bubbles and the gentle breezes in an open-air café that soothes the soul. and, of course, the people-watching is first-rate too. You'll see two types of gente on Capri: typical tourists whose gaudy clothing makes you wince; and everyone else — young and old alike — clad in their Sunday best. I'm not talking shout-from-the-rooftop obvious here. no, the natives dress with finesse (they're Italian, after all)—the quality of their garments unmistakable; their style, seemingly effortless.
That's one reason why you simply cannot miss taking a passeggiata, or nocturnal stroll. This daily rite is practiced all over Italy, but here in Capri partaking of it is akin to having front-row seats to the latest runway show in Milan. No sensible shoes for these fashionistas — cobblestone streets, be damned. only strappy, high-heel sandals will do for the women. And as with any great parade, you've got to be both spectator and participant in order to experience it fully. Luckily, it's not a once-in-a-blue-moon event but a nightly spectacle. Your reward: at the end of the night, you too will be an espresso-sipping bella donnaor gentil'uomo. What could be better?
Now that's amore.