Sensational Summer Sips
These hot-weather drinks from popular local watering holes are perfect for serving at your next backyard bash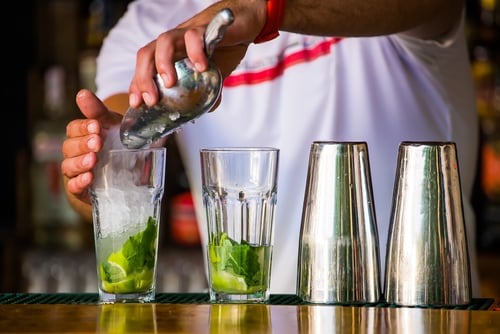 Freshly swept patios, perfectly coiffed cushions and vibrant umbrellas dot the outdoor dining landscape. It's officially summer and time for serious summer sipping. but if you're expecting garden-variety umbrella drinks, you've come to the wrong place. master mixologists at these local hot spots have turned it up a notch (or two) with enticing elixirs that include an elderflower cocktail from Varka, Ho-Ho-Kus Inn's sweet passion fruit mojito and Stony Hill Inn's sassy sangria. best of all, they're letting us in on their secret recipes to make them pitcher-perfect to share with friends. cheers!
Varka Elderflower Smash
"The hint of cucumber in Hendrick's gin and the essence of elderflowers in the St. Germain are complemented by tart lemon and fresh mint, making for a great summer drink."
—Stavros Angelakos, General Manager, Varka Estiatorio
Ingredients
1 lemon, sliced
1 bunch fresh mint
16 dashes angostura bitters
6 ounces (¾ cup) Hendrick's gin
4 ounces (½ cup) St. Germain liqueur
In a pitcher, place 4 large lemon slices, 16 mint leaves and 16 dashes bitters. Muddle or press the mixture together. Add ice, gin and St. Germain liqueur. Stir well. Strain and evenly divide among four chilled martini glasses. Garnish each glass with mint leaves.
Yields 4 ServIngs
Stony Hill Inn Sangria
"A cool, refreshing drink filled with delicious fresh fruit. Perfect for enjoying on a nice summer day or evening out on your patio."
—Wilson Cuji, barback, Stony Hill Inn
Ingredients
½ bottle cabernet sauvignon
3 ounces sprite soda
2 ounces (¼ cup) triple sec
2 ounces (¼ cup) pineapple juice
2 ounces (¼ cup) orange juice
1 ounce (2 tablespoons) brandy
2 packets splenda sugar substitute
2 oranges, sliced
2 apples, cored and sliced
Pineapple, cored and sliced
In a pitcher, combine the cabernet sauvignon, soda, triple sec, pineapple juice, orange juice, brandy and sugar substitute. Add the fruit to the pitcher and stir. Pour into ice filled glasses and serve with a cherry.
Yields ½ pitcher
Passion Fruit and Mango Mojito
"Fresh tropical fruit puree blended with Cruzan mango rum produces a smooth and fantastically flavored drink to enjoy on a hot summer night. For the summer I like to incorporate fresh fruit and/or purees whenever possible. Fruit purees work just as well as fresh fruit if that is easier for home use—and they can be found in most upscale markets."
—Robert Lipkin, Wine and Beverage Director, Ho-Ho-Kus Inn
Ingredients
1 bunch fresh mint
½ cup simple syrup (equal parts sugar and water
heated until sugar is dissolved and then cooled)
8 ounces (1 cup) Cruzan mango rum
8 ounces (1 cup) passion fruit puree
4 ounces (½ cup) peach nectar lime, cut into wedges for garnish
Muddle or press 4 to 8 sprigs fresh mint in the bottom of a pitcher with a generous splash of simple syrup. Fill the pitcher with ice, then add the rum, passion fruit puree, peach nectar and 1/4 cup simple syrup.
Evenly divide the mixture among 4 glasses and garnish with a lime wedge and fresh mint.
Yields 4 servIngs
RELATED READ: Lighter-Style Summer Cocktails