Serenity Now
Our editor takes a much-needed trip to Kripalu Center for Yoga and Health.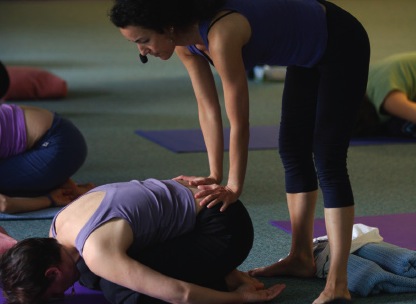 With two young children and a full-time job, I don't have a lot of down time. Lately, "stressed" has become my regular state of mind. So when I had a chance to visit Kripalu Center for Yoga & Health in the Berkshires of Massachusetts in August, I knew it was the perfect opportunity for me to get away from the responsibilities of everyday life and focus on me for a change.
A friend of mine had been going to Kripalu for years and had raved about everything from the serene setting in the mountains to the healthy yet delicious food, not to mention the yoga classes and educational seminars on topics like nutrition, so I was excited as I hastily packed my bag for the trip.
As I pulled up to the large, unassuming brick building in Stockbridge, just down the street from the Tanglewood Music Center, it was easy to see why it had been a Jesuit seminary: The setting felt spiritual. Kripalu is located on a hill overlooking Lake Mahkeenac, surrounded by mountains. It's a real contrast with busy Bergen County.
Those expecting spa-like luxury won't find it here. The building once built for the Jesuits is dorm-like, and many people stay in shared rooms in the main building with bathrooms down the hall. But just last year Kripalu built the Annex, a LEED-certified "green" building adjacent to the main structure that offers private rooms with private baths—and ice cold air conditioning, a welcome amenity in summer, as the rest of the place can get very warm.
I was there on a Retreat and Renewal package that allowed me to choose from a variety of yoga and movement classes each day, in addition to educational workshops and outdoor activities like guided hikes, bike rides and kayaking on the lake. I was told to check the board in the lobby to see what was on tap for the coming days, and there was so much to do, I was slightly overwhelmed pondering how I would try it all.
After dropping off my things in the Annex, I was eager to take my first yoga class that afternoon. Given the choice of gentle, moderate and vigorous, I chose to start slow and took gentle, which was held in what was the seminary chapel, with a soaring ceiling and an altar up front. My class was filled with men and women of all ages and sizes, and the teacher was fantastic, gently leading us through easy postures. She never criticized and was very enthusiastic and encouraging. Off to a good start.
Dinner followed in the dining hall. It's served buffet style, with one line for vegetarian food and one line for offerings that may contain poultry or fish. The Kripalu kitchen is known for its all-natural meals made with fresh, locally grown or produced organic ingredients, and I found myself wanting to try everything. I strove to practice some restraint, telling myself that this was only my first meal!
After dinner came an evening workshop on something I'd always been curious about but never tried: meditation. I listened as an instructor talked about the practice of meditation, offering practical suggestions on how to focus and quiet the mind. Then we tried it. I left so relaxed, it was easy to sleep that night.
I awoke the next morning and went to what Kripalu calls "silent breakfast." The idea is that silent dining helps support conscious eating. I was extremely conscious of how delicious the homemade bread was, that's for sure. It was a very peaceful way to start the day. (Lunch and dinner in the main dining room aren't silent, but a silent dining room is available.)
I filled my remaining time at Kripalu with kayaking, YogaDance (an aerobic workout that combined stretching, yoga and dance set to great music), a guided hike through the woods, more yoga classes and a drum circle. (Research has shown that drumming circles reduce stress and boost the immune system.) Kripalu offers "healing arts" spa services, and I also enjoyed a 50-minute Restorative Massage. The treatment rooms aren't anything to write home about (they are former dorm rooms), but the music was soothing and the massage loosened my overworked muscles.
By the time I left, I was refreshed and refocused on living a healthier life. I felt a little like I'd been to summer camp for adults, and it was exactly what I needed.
---
Related Read: Sweat! It Does a Body Good