Setting The Scene
Nestled in the Catskills, a Ridgewood family's vacation home invited a redesign that would showcase nature in all its glory, from apple orchards to majestic mountains.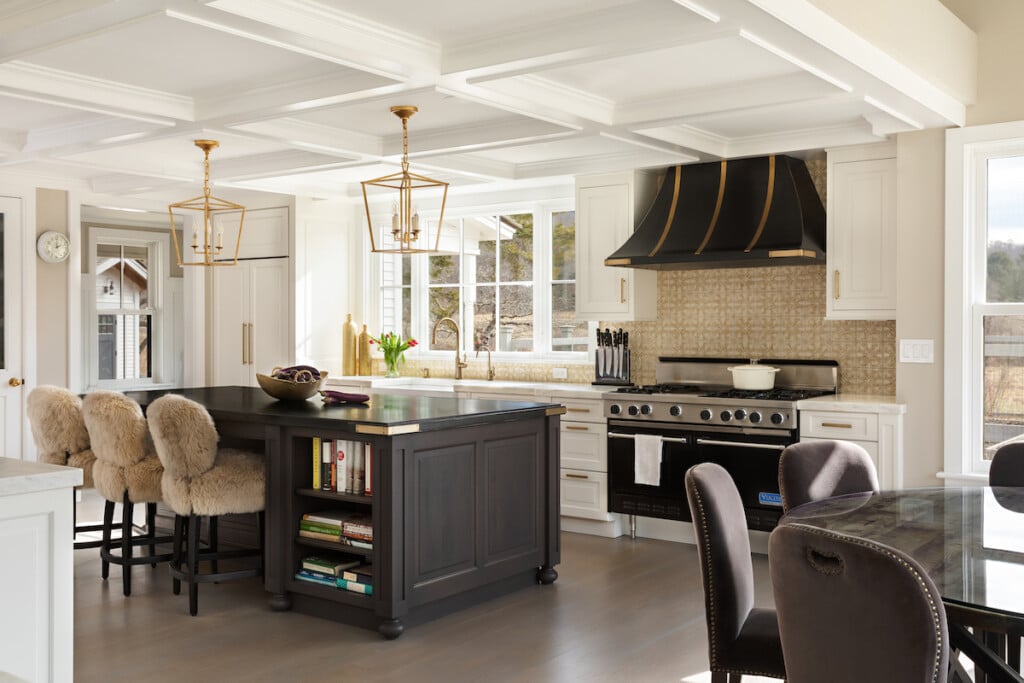 Design by Jeannie Fulton, Ulrich Inc.
Photography by Dove Photography
Text by Donna Rolando
Even a masterpiece of a home design would find it hard to compete with the view of an eagles' nest from the kitchen window, or hundred-year-old apple trees perfect for cider. But fortunately for designer Jeannie Fulton of Ridgewood-based Ulrich Inc., her mission at a Ridgewood family's vacation home in Hardenburgh, N.Y., was not to compete but to let the rustic flavor of an early-1900s farmhouse, its accompanying barn and its tranquil setting take the spotlight.
In this relaxed environment, where the family has savored opportunities to detox from technology since 2014, Fulton took on a renovation that would preserve the farmhouse vibe, enhance space for cooking and entertaining and, at every opportunity, max the view.
"We wanted better views of the scenery," the wife in the homeowning couple explains. "I think the goal was to keep it a farmhouse because that's what it was originally. We didn't really want to change the aesthetic of what was there."
Wherever possible the redesign, completed in July 2022, brought the outside in. As the husband notes, they took pains not to obscure ancient forests with first-floor window treatments. "The whole idea was for the outside— you know, the trees and mountains and all of the stuff going on—to be center stage," he says.
Committed to a healthy lifestyle that includes canning what they grow, the family wanted their kitchen to support the effort with top appliances like Wolf and Sub-Zero, all new except for the refurbished retro black Viking stove, which Fulton says they brought "back to life." Because vacation homes nurture family, the kitchen has a 10-seat wood table as well as an island with fuzzy chairs by Restoration Hardware that epitomize comfort. Both the custom hood and the island top offer handcrafted finishes on stainless steel and brass accents, which "will age naturally over time," she says. In fact, this patina finish makes the hood by Custom Steel the focal point of the room's design.
True to the home's farmhouse roots are a white porcelain farmhouse sink, coffered ceilings and generous mullioned windows, says Fulton. Classic kitchen cabinets in Nordic white contrast with the dark stain of the island's base for a style statement enhanced by glass-free light fixtures. In addition, Fulton blanketed most of the first floor, including the kitchen, with stained gray hardwood as a common thread.
It's no surprise that this nature-centric home would thrive on natural touches, such as the slabs of statuary marble on perimeter counters. But Fulton found room for nostalgia, as reflected in the tin ceiling texture of a gold-toned backsplash by Mediterranean Tile. Functionality reigns as well with a walk-in pantry and the new beverage center boasting two refrigerators—one serving up drinks for kids, the other chilling wine for the bar.
Before this redesign, Fulton says, "It looked like a 100-year-old kitchen. The whole idea was to open it up for entertaining, for cooking—for gatherings."
The entryway powder room is a marriage of old-world and new-world styles—simplicity and sophistication. It features a treasure trove of diverse brass accents, such as that reflected in the sconces. "We do have a lot of live brass here, which means that it's not plated, and it will naturally oxidize over time," Fulton says.
Another statement maker is the pedestal sink, which Fulton describes as "airy yet substantial." Again, marble is right at home with geometric flooring. Of the wallpaper, Fulton says, "It's busy and yet it's quiet and peaceful." After all, a woodland refuge set in serenity must stay true to its character.
This family's getaway is even more the haven they envisioned now that redesign has succeeded in balancing modern amenities, an open, airy aesthetic and farmhouse charm.
"I love all of it," says the wife. Yet, true to the spirit that brought this family to the Catskills, she loves the dining room most for windows that blur the line between indoors and the great beyond. She embraces the way the home puts them in the middle of it all, from skiing to fly fishing. "Our yard," she says, "is basically the mountains."