The AjMadison experts tell all…how to select a dishwasher that really delivers
SPONSORED CONTENT−Share your chores, sit back and relax with an upgraded dishwasher.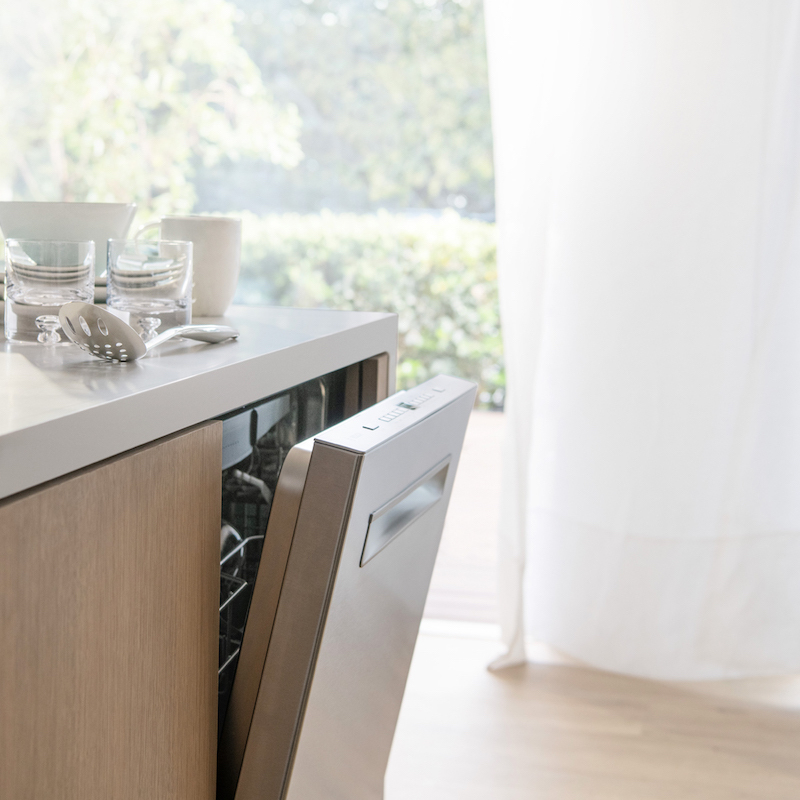 Take the dirty work out of doing dishes with a new dishwasher. Today's dishwashers are easy to load and operate, and use less water and energy, yours included. With so many innovative cycles and features available, there's no need for you to work hard to get dishes spotless.
A new dishwasher will deliver sparkling clean dishes in style. Whether you prefer shiny stainless steel, cabinet-panel ready, or a pop of color, the smallest details make all the difference. The style of a dishwasher is determined by the location of the controls. It's a personal preference based on how it looks and what you find most convenient. Fully integrated controls are the top choice for a sleek, modern appearance.
You'll find that many new dishwashers hardly make a sound. The sound rating for dishwashers is measured in decibels. The rating considers the noise made by the motor while running and the water circulating while it's on. The optimal quiet level is between 39 and 45 decibels. This will allow you to have a conversation or what your favorite TV show without interruption while the dishwasher runs. The lower the decibel number, the better.
Choose a dishwasher with several wash cycles to meet your everyday dishwashing needs. You'll find machines with 4 to 16 cycles.
Today's dishwashers are load sensing, meaning that use as much water and energy as they need to. Most dishwashers use between 3-5 gallons of water per cycle. If you're washing your dishes by hand, you're wasting more than just time. Washing dishes in a new ENERGYSTAR®-Certified dishwasher rather than hand washing can cut your utility bills by about $111 per year and over 230 hours of personal time. That's almost 10 days!
Keep in mind on average, ENERGYSTAR®-rated dishwashers are 10 percent more energy efficient and 20 percent more water efficient than standard models. So you'll save money and resources choosing a dishwasher that has the Energy Star.
Most Exciting Dishwasher Innovations in 2021
GE Profile Series Dishwasher with Microban® Antimicrobial Technology
GE Profile was the first dishwasher brand to incorporate Microban® Antimicrobial Technology into high usage touchpoints to help prevent bacteria growth. This model also features an UltraFresh System, an exclusive technology that uses smart algorithms add clean air to reduce moisture, and sensors to refresh the wash system with clean water to help prevent the growth of odor-causing bacteria. Plus, a Steam + Sani cycle loosens tough soils before the wash cycle begins, so you get a complete wash with no pre-rinsing or soaking necessary.
LG Smart Dishwashers with ThinQ
LG recently updated several models in their collection with more advanced capabilities than ever before. New models offer three options for auto replenishment services so you can auto order based on how much detergent and rinse aid you use. LG dishwashers incorporate QuadWash™, four multi-motion spray arms power-clean dishes from multiple angles to get dishes clean every time. Select models offer an adjustable third rack, and True Steam® cleaning technology for optimal washing and drying results.
Miele 7000 Series Dishwashers with Automatic Dosing
Miele 7000 series smart dishwashers offer a new feature, Automatic Dosing. This new feature is the industry's first automatic detergent dispensing dishwasher. Each PowerDisk® will dispense the optimal quantity of detergent per load for perfect results every time. All you need to do is load and unload the dishes.
Blomberg Energy Saving Dishwashers
Blomberg dishwashers are feature packed, affordable, and energy efficient. Blomberg dishwashers are engineered with three layers of noise-suppressing insulation, with quiet noise ratings as low as 45 dBA. An included high-pressure power zone targets heavily soiled pots and pans. You can also expect versatile racking, and space for cutlery and small items.
Bosch Dishwashers with Crystal Dry ™
Select Bosch 800 and Benchmark Series Dishwashers have a new innovative feature – CrystalDry. Bosch innovated this energy efficient feature to get dishes 60% drier by using a natural mineral compound, Zeolite. When wet, the crystal compound creates heat. CrystalDry is a new healthier way of drying dishes without any added chemicals.
Learn More about the Latest Dishwashers: https://www.ajmadison.com/dishwashers