She Cared About Kids
More than a quarter-century after her passing, businesswoman Dorothy B. Hersh goes on helping children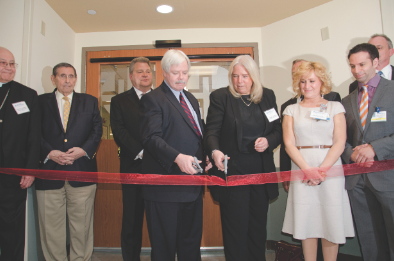 Pictured at a ribbon cutting are Saint Peter's Healthcare System President and CEO Ronald C. Rak, J.D.; Robert Donnelly Jr.; Harriet Donnelly; Heather Veltre, nursing director of Emergency Services; and Michael Hochberg, M.D., chairman of Emergency Services.
For a girl born in 1899, petticoats and pinafores loomed in the likely future, but a business career, not so much. That didn't stop the late Dorothy B. Hersh.
"She grew up in a man's world," recalls Harriet Donnelly, owner and president of e5 Marketing Inc. and administrator of
 the Dorothy P. Hersh Foundation. "She became a businesswoman when most women were not, and she had a strong personality. She was ahead of her time."
A native of Elizabeth, Hersh was the only female director of the United Counties Trust Co., a bank her father had helped to found. (It's now owned by Wells Fargo.) The powerful and somewhat prickly businesswoman "did better with men than women," says Donnelly. Hersh never married, but had a soft spot for children.
Donnelly's father-in-law was a co-owner of the bank, and her husband, Robert Donnelly Jr., founding director of the foundation and a senior partner with the law firm of Dughi and Hewit, was "like the grandson she never had. When he graduated from high school in 1973, she went to the ceremony and let him drive her Mercedes home," Harriet Donnelly says. "That was the biggest thrill of his life at the time. And there are many stories like that. She was a really nice woman, very high-class."
Anyone in this part of New Jersey who has been involved with helping children 
has come across Hersh's name. It's especially prominent at The Children's Hospital at Saint Peter's University Hospital, where the Dorothy B. Hersh Regional Child Protection Center provides crisis intervention, child abuse assessments and referrals to community resources in seven counties 
in the central portion of the state. And this spring, Saint Peter's opened the Dorothy B. Hersh Pediatric Emergency Department, its new and expanded, 14-bed pediatric ED, the largest of its kind in a region that takes in Middlesex, Somerset, Hunterdon, Union and Monmouth counties.
When Hersh died at 80 in October 1979, her will stipulated that a foundation be established to provide for a milk fund for orphans in the Elizabeth area.
 But by 1981 New Jersey had disbanded 
all orphanages. The Donnellys decided to use the foundation to provide grants for handicapped, underprivileged and special-needs children. These initiatives began locally but quickly expanded to fund projects throughout New Jersey and in New York and Pennsylvania.
If all this is news to you, that's just how the foundation wants it. "We take a back seat in this," Donnelly says. "We don't market ourselves—even though I run a marketing company." The group was willing to make an exception in the case of Saint Peter's new pediatric ED because of the size of its commitment to this project—$1 million—and its importance.
And what would Dorothy think of all this?
"I'm sure she's up there very pleased —and maybe amazed—at what her bequests have created over the past 30 years," says Donnelly. "And they'll continue in the years ahead." —D.L.