She's A Lady
Actually, there are two ladies—twins, in fact. And a former church became the spectacular venue for a Sweet 16 party for the Mahwah duo. Their parents put their faith in a local event planner to create an affair to remember.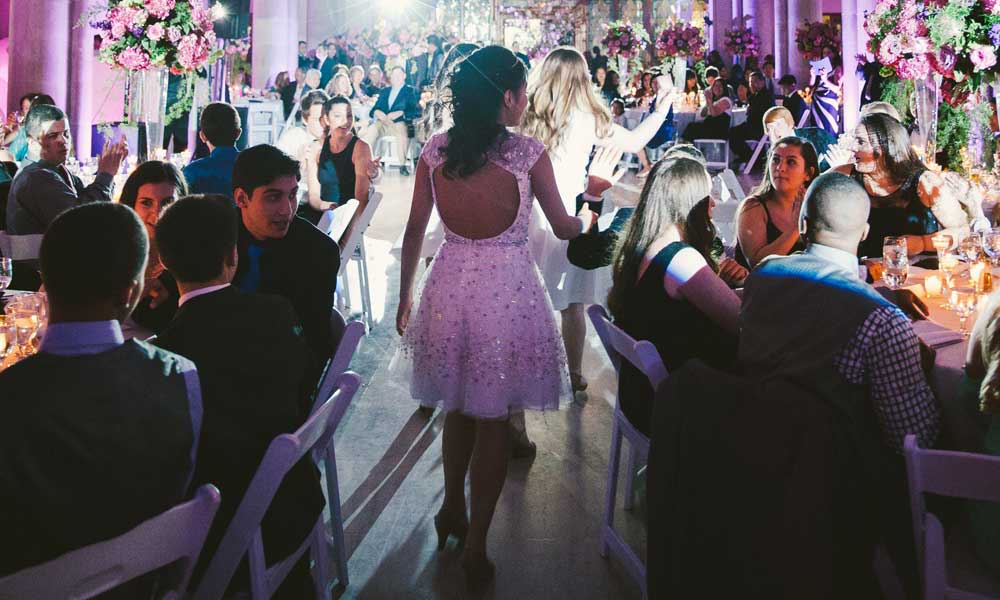 Every young girl dreams about her Sweet 16, a coming-of-age milestone long heralded in song and film. But for Mahwah twins Therese and Jane, turning 16 was sweeter than they could have ever imagined—their parents spared no expense throwing them a party they'd forever remember.
Nearly 150 family and friends came together to celebrate the girls at the Rio Vista Clubhouse in Mahwah. The unforgettable evening was orchestrated by interior designer and party planner Gerald Charles Tolomeo. The Clifton and New York City-based "producer," head of his eponymous company, conceptualized—and brought to fruition—everything from decor to the dresses worn by the guests of honor.
Tolomeo admits he's very picky when selecting new clients. "I don't do anything glitzy. What you see on TV, shows with the Kardashians and other reality stars, that's not what I do," he says. "I want parties that are simple and understated, elegant and tasteful."
That's why Tolomeo jumped into ac-tion when given the opportunity to plan the Sweet 16 celebration for the twins. The girls' parents gave Tolomeo complete control of the arrangements (he even de-signed the dresses for Therese and Jane as well as the one worn by the twins' mother, Liz), but one of their few requests was the party's location.
"The Rio Vista Clubhouse is a vacated Gothic church that sits on top of a hill above the homes in the neighborhood," he recalls. "It has magnificent land, with gardens and fountains. It's such a beautiful place to have a party, and it's perfect when you make it look and feel comfortable.
"Though the property and building lent the perfect backdrop for the event, Tolomeo and his team faced several design challenges. A church, after all, isn't intended or designed as a venue for teenagers' parties. "You do have to get over the fact that you have all these religious figures looking down at you," he says.
Most catering halls and other popular event locations can't compete aesthetically with the architecture of the old church and its high ceilings, but decorating presented the biggest obstacle. Tolomeo's solution? Fill the cavernous spaces with sofas and 500 Japanese paper lanterns underlit with pink lighting. The effect, he says, was "incredible and economical." The limestone columns were also treated with lighting, as were the church's original stained-glass windows. They also wheeled in four 25-foot-tall birch trees to add height to the overall design.
Tolomeo employed La Promenade in Tenafly to cater the celebration, which designed and made the birthday cake and also handled the cocktail hour (nonalcoholic drinks for the kids, of course!) and buffet dinner. He also hired a DJ and emcee from Manalapan to keep he action going on the dance floor.
"This party was off the charts—no one sat still," Tolomeo says. "When I caught up with the girls' father, Nestor, at the party, he couldn't believe how great it was. He was just so happy that his girls had a magical time that they'll always remember. As a planner, that's the best thing you can hear from a client."
Sources:
LOCATION
Rio Vista Clubhouse, Mahwah
PLANNER/DECORATIONS
Gerald Charles Tolomeo Ltd., Clifton/New York City
CATERER
La Promenade, Tenafly
CAKE
La Promenade, Tenafly
MUSIC/ENTERTAINMENT
Extravagant Entertainment, Manalapan
FLOWERS
Joe Richinelli, West Nyack, N.Y.