Shop Local 2012: Best Food Co-ops, Markets and CSAs
Food, local produce and natural markets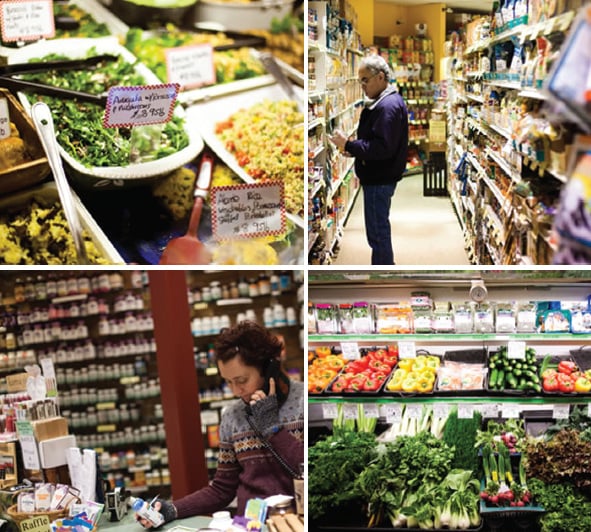 Shop Local 2012: The best of Independent Morris and Essex Counties
The best food cooperatives, community-supported agriculture (csa) programs and natural markets
TOP PICK: GRASS ROOTS NATURAL MARKET
20 1st Ave.
Denville
973.627.5440
grassrootsnaturalmarket.com
This modest neighborhood market offers a surprisingly varied selection of organic produce and other grocery items (including organic dairy and grass-fed beef), as well as gluten-free baked goods, organic pet foods and a variety of supplements, health and beauty aids and homeopathic remedies. And if shopping here whets your appetite, there's also a juice bar and an eat-in deli offering vegan, vegetarian and gluten-free options.
BLOOMFIELD-MONTCLAIR CSA
Bloomfield-Montclair area
973.744.3474
bloomfield-montclaircsa.org
BOXED ORGANICS
Montclair area
boxedorganicsnj.com
CSA NEWARK
85 Hamilton St., Newark
csanewark.com
THE HEALTH SHOPPE
207 Route 206, Chester
908.879.7555
66 Morris St., Morristown
973.538.9131
thehealthshoppes.com
MILLBURN/SHORT HILLS CSA
Millburn–Short Hills area
millburnshorthillscsa.blogspor t.com
MONTCLAIR COMMUNITY FOOD CO-OP
108 Orange Rd., Montclair
201.264.3658, montclaircsa.org
PURPLE DRAGON CO-OP
289 Washington St., Glen Ridge
973.429.0391, purpledragon.com
STARBRITE'S MORRISTOWN ORGANIC CSA
Morristown area, 973.984.2432
The best farmers' markets
TOP PICK: Morristown Farmers' Market
Spring and Morris streets, Morristown 973.455.1133, morristown-nj.org
There's a reason some 1,000 visitors throng this 20-year-old market every Sunday from June through November. Host to seven family-owned farms and dozens of specialty vendors, the market offers an extraordinary variety of fresh and locally grown products, including organic fruits and vegetables, poultry and pot pies from Griggstown Quail Farm, fresh flowers, honey from Tassot Apiaries, small-batch cheeses, artisanal baked goods and freshly caught fish from the Jersey Shore. Even more to love: Each week, farmers donate surplus produce to Morristown's Community Soup Kitchen.
Boonton Farmers' Market
Upper Plane Street parking lot
Boonton
973.257.9107
boontonmainstreet.org/markets.php
Chatham Borough Farmers' Market
Railroad Plaza South and Fairmount Avenue, Chatham
973.635.0674 x588
chathamboroughfarmersmarket.org
Chester Farmers' Market
Perry Street, Chester
908.705.7968
chesternjfarmersmarket.org
Denville Farmers' Market
Bloomfield Avenue parking lot
Denville
denvillefarmersmarket.com
Long Valley Green Market
20 Schooley's Mountain Rd.
Long Valley
908.672.2458
longvalleygreenmarket.com
Main Street South Orange Farmers' Market
Sloan Street parking lot
South Orange
973.763.6899
mainstreetsouthorange.org
Millburn Farmers' Market
Essex and Main streets, municipal parking lot #1
Millburn
973.379.2341
downtownmillburn.org
Montclair Farmers' Market
Walnut Street station
Montclair
973.228.2466
montclairnjusa.org
Roseland Farmers' Market
Roseland and Harrison avenues
Roseland
973.477.0949