Shore Eats
See the garden state in all its glory in these highlights from the "cawfee"-table book Jersey Girls: The Fierce and the Fabulous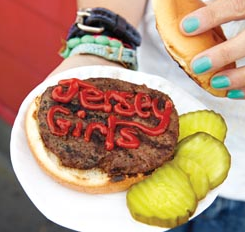 Dear New Jersey, oh my sweet petite peninsula! We love you for your high and low tide, your curvy coastline, your fields of sweet corn and ripe tomatoes. We adore your miles of malls, your Red Oaks and purple violets, your grit, your glamour. Love you for letting us in on the art of crabbing and the how-tos for eating a bucket of steamers … for the sand between our toes from Memorial Day 'til Labor Day … for the joy of winning the biggest prize on the pier.
Adore you, New Jersey, for introducing us to the Boss, big hair and beauty parlors, for the global get-together of our neighbors and neighborhoods and for apple cider donuts, drive-ins and diners.
Thank you for making us feel like we were born under a lucky star, for a parkway ride with the windows rolled down, for being brave enough to choose Manhattan as our backyard, knowing we would always find our way back home.
Most of all, thank you for your larger-than-life attitude, for being the real deal and for your count-on-me authenticity.