Show Stopper
In a River Vale colonial, a designer created a delightful TV room that'll stand the test of time—and withstand the busy family's use.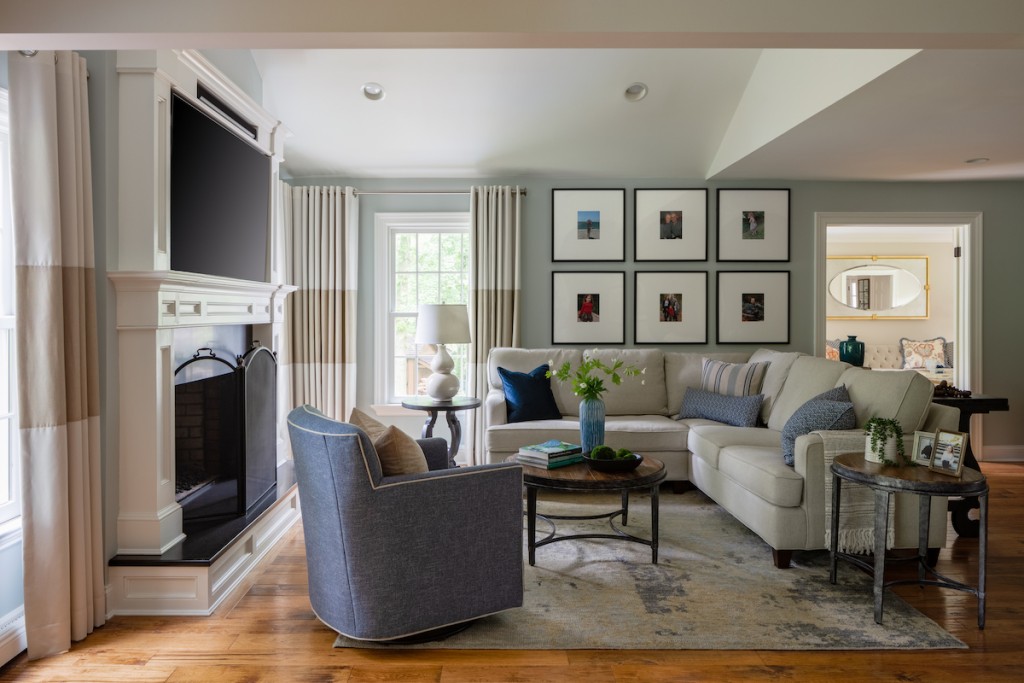 You know it's a good fit when even the dog loves your designer. That's what a River Vale homeowner learned when he connected with Jennifer Vreeland of JV Design. "She gets to know you, your family and your style, your likes and dislikes, and it makes everything so easy," he says.
The family was introduced to Vreeland back in 2018 by their builder, Bill Keller of Cedar Cliff Construction in Harrington Park, who was hired to build a kitchen addition and open up the first floor of their center-hall colonial in River Vale. Vreeland was tasked with designing a serene TV room off the kitchen, which quickly became the go-to spot for the couple's two girls, now 10 and 7.
Previously the room sported a large, red-brick fireplace, so Vreeland's first order of business was to update it with black granite and a custom TV surround, resulting in a more modern, clean feel.
Next up? Creating another focal point in the room with a gallery wall featuring framed family photos. "I wanted to add something else to the room so that the TV wasn't dominating the space," Vreeland says.
For the three windows, she sought to create a linear effect with the drapery, wrapping it around the corner of the room. "It gives it a dramatic, unified look," she explains.
Vreeland chose a durable, long-lasting sectional from Bassett to stand up to the typical wear and tear of a family with kids, and added a swivel chair in a high-performance denim fabric, which would also wear well.
The homeowner was so pleased with Vreeland that he had her redo the living room two years later. Today, plans are already underway for the designer to work on the first-floor bathroom, so the family—and Charlie the Bolognese, her canine fan—will happily be seeing her again.
Text by Marisa Sandora Carr
Design by Jennifer Vreeland
Photography by Kyle Caldwell