Sitting Pretty
A design-savvy furniture store helps these entrepreneurs live happily: Everafter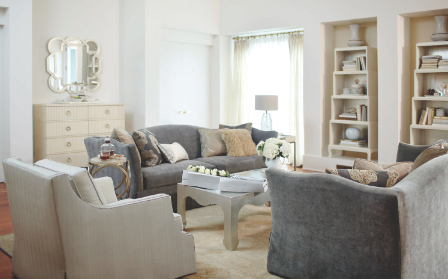 Inspired by a lifelong love of craftsmanship—and a bargain—husband-and-wife team Rich and Lara Breuche have built a thriving business. Their company, Everafter, has been purveying an eclectic range of furniture and accessories, along with interior-design savvy, at its East Brunswick location for 15 years. Lara Breuche shared the secrets of Everafter's success with Middlesex Health & Life:
How does Everafter keep its furniture prices competitive?
For one thing, we use inexpensive warehouse space instead of an elaborate showroom, and we can pass the savings from that onto our customers. Inside, there are rugs on the floor, chandeliers, furniture setups—but no fancy curtains or wool partitions. All of this gives us a lot of floor space, so we have a bigger selection than most showrooms.
Initially, when we realized the low cost of furniture from other countries, such as Indonesia, Honduras and Vietnam, we started importing containers of items and having sales every weekend, and the business grew from there.

How has the company changed as it's grown?
We decided to take the business to the next level, offering interior-design services and custom ordering. Our list of brands grew, as did our furniture sales and interior-design business. We are now open seven days a week, and offer mid-range to high-end furniture, including the products of U.S.-based manufacturers such as Haversham, Haute House, Drexel Heritage, Maitland-Smith and Key City.
I do all the buying and designing, and my husband takes care of the business and the money—though he's actually become something of a designer himself over the years.

What got you into this business niche?
I've just always been attracted to the finer things in life. I realized that I have a very good eye for price, quality and perceived value. Let's say there are two tables, each retailing for $200; I can quickly pick out the one that's going to look as if it's worth $500. It's a gift. I wish I could explain it!

Do you focus on any particular design style?
I will always be partial to traditional furnishing because trends come and go, but traditional never goes out of style. New fabrics and colors also give freshness to traditional styles. We also really love the new grayish wood tones that are being introduced by many manufacturers for a transitional look, and that work with color schemes of grays and blues.
What furniture shopping advice do you have for clients?
Take measurements. Bring them with you, along with photos of what you currently have. I don't want to design a living room or family room that's right next to the kitchen if I don't understand what the kitchen is like. So many people think they have space for a sectional, or for a sofa and a loveseat, but it's only when we lay out the room to scale that they have a true idea of what will fit. We like to sell people only the right pieces, because we want to be referred.
Any other tips?
Start with the main piece
of furniture first. Many people will say, "I can't find a bedroom set I like," and I'll ask, "Have you found a bed you like?" you don't have to buy the chairs or end table from the same set. We can help you find complementary items from other collections, because we've seen and touched every wood finish from every manufacturer. We're like personal shoppers that way. —Heather Halpern-Pedalino