Small Yard, Big Change
A Ridgewood family's outdoor turf was neither sizable nor usable. Now it's Fun Central.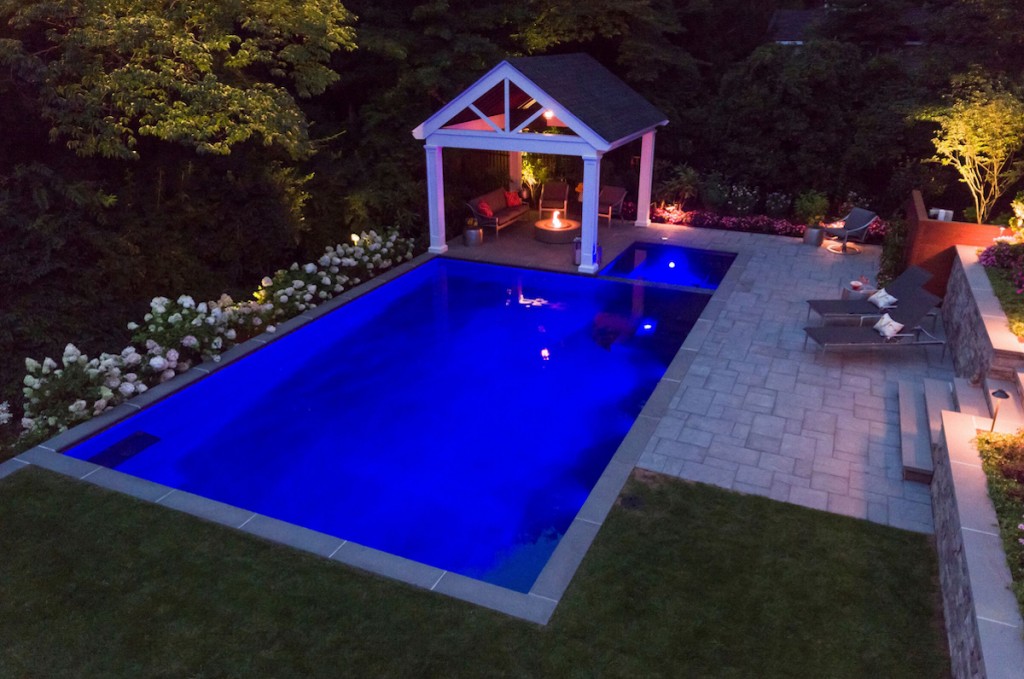 It wasn't a pandemic that kept a Ridgewood family indoors most of the time; it was their "meh!" backyard. Outdoors enthusiasts all, they decided that their outside space was underused because it was uninviting. So they asked Waldwick-based Thomas Flint Landscape Design & Development to give the property a much-needed facelift. The location, on a corner of a bucolic street, came with several hurdles, the most notable being the lot's small size and the municipality's regulations limiting impervious surfaces.
"We had to connect the dots and create an area that brought the family outside," recalls Flint, owner of the eponymous firm. "But we came up with a concept with everything they were looking for."
When designing an in-ground swimming pool for the confined space, Flint and his team considered the husband and wife's preference for clean lines. "The tight building envelope drove the design and details, so the rectangular pool really doesn't have a lot of length," he says. The solution was to add an adjoining spa, which made the pool appear longer. For more visual drama, they installed a hydraulic system in the pool that reduces turbulence on the water's surface and creates a mirror-like surface.
The addition of the spa produced an ideal location for a shade structure, another necessary outdoor component for the homeowners who like to entertain family, friends and their two kids' friends. Instead of an open-canopy pergola, Flint custom built a small-scale pavilion at the water's edge with a firepit in the middle. "These days people try to avoid too much sun exposure," he says. "They have their TVs outside and stay outdoors as long as they can. That creates the need for a covered structure." The team completed the hardscape with a stone patio that wrapped around one end of the pool.
"We wanted to keep everything in proportion," Flint recalls. "There are a lot of unique yards in Ridgewood, small and large. Several advantages can be unearthed in a smaller lot—they allow us to create intimate spaces."
Landscaping covers the other half of the yard, with plant life extending from the property line to the end of the pool. Not only did this satisfy the town's ordinances, it met "the clients' style, grass coming to the edge of the water," says Flint, who also planted hydrangeas that "spill over the pool."
"The overall design was inspired by the family's love of simplicity," he says, adding that the project took about two and a half months to complete. "The clients were thrilled with it, and their reactions are not something we take lightly. We get a lot of pleasure when they send us photos and social media posts of them out in their yard—and using it!"
By Darius Amos
Landscape design by Thomas Flint