Smoked Chicken Lollipop [Recipe]
Fire up the grill! These flavorful, protein-rich recipes are sure to be crowd pleasers.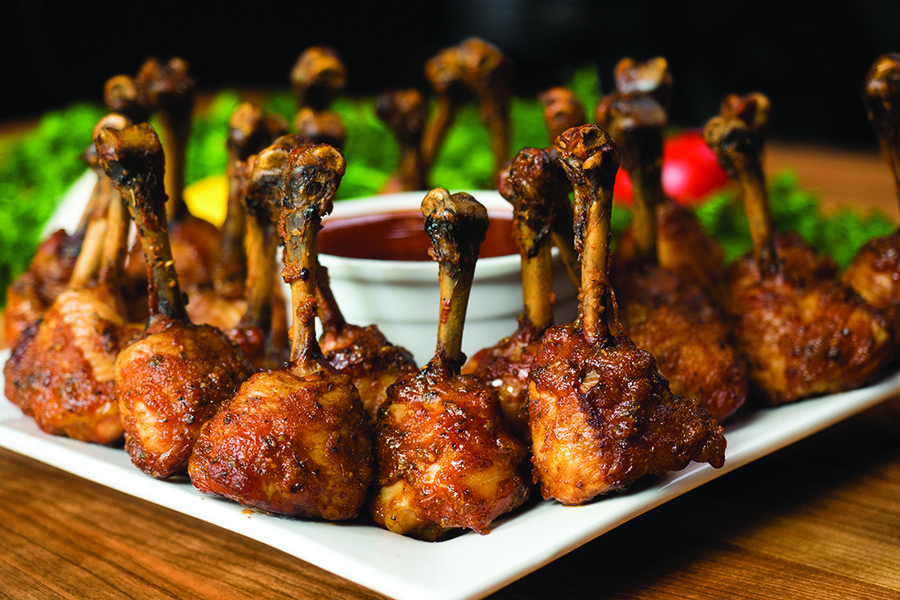 Yields: 24 lollipops
Ingredients
24 chicken legs
1 cup hickory wood chips
For the Wet Rub
5 Tbs. cayenne hot sauce
5 Tbs. olive oil
½ cup brown sugar
¼ cup garlic powder
4 tsp. black pepper
3 Tbs. oregano
2 tsp. salt
For the Cola BBQ Sauce
1 cup cola
1 cup ketchup
¼ cup Worcestershire sauce
3 Tbs. steak sauce
1 tsp. onion powder
½ tsp. black pepper
Directions
Preheat the smoker at 250ºF. Using a sharp chef's knife, cut and remove the skin that covers the bone of each chicken leg to shape them like a lollipop.
Mix all of the wet rub ingredients in a bowl, then dip each chicken leg into the mixture to give them an even coating.
Place the chicken lollipops in your smoker and add about 1 cup of hickory wood chips for smoking. Smoke until internal temperature of the chicken reaches 165ºF.
Mix all of the Cola BBQ Sauce ingredients in a saucepan and simmer for 10 minutes.
Serve the chicken lollipops with Cola BBQ Sauce.
Using cola as the liquid in this BBQ sauce works because it has the right amount of sweetness and is a taste everyone is familiar with. I sometimes use cola in my quick grilling marinades for its flavor but also because it helps tenderize the meat." —Robert Austin Cho, chef/owner, Kimchi Smoke, Westwood