Soup For You! 7 Best Soups To Slurp In Bergen County
January is National Soup Month, the perfect time to try out some or all of these yummy bowls (or cups!) at spots around Bergen County.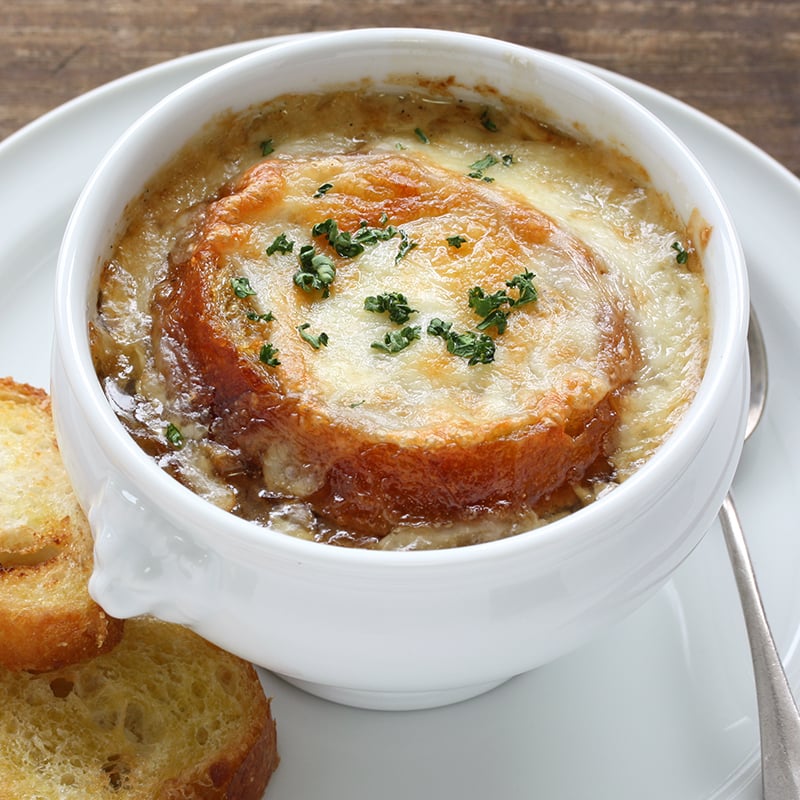 Ever ponder what you're going to have for lunch and think about how amazing a hearty soup sounds in that very moment? There's nothing better to warm you up on a cold day like a bowl of soup that's full of flavor and filled to the brim with perfectly seasoned meat and/or veggies.
And January is National Soup Month, so clearly you're not the only with that very specific craving right now. These seven soups in Bergen County, available for dine-in or take-out, will hit the spot—and have you coming back for seconds.
Chicken soup with lemon and orzo at Sofia's Mediterranean grill, Hasbrouck Heights. There's chicken soup, and then there's chicken soup with lemon and orzo. Mediterranean restaurant Sofia's makes this Greek specialty to perfection, with a tasty combo of flavors. With protein, vegetables and a carb, it's basically a whole meal.
*220 Boulevard, Hasbrouck Heights, 201.462.0123
French onion soup at Latour, Ridgewood. If you're going to order French onion soup, let a French chef make it. That's what you'll get at Latour. Order the French onion soup gratinée as an appetizer to start off your meal with a gooey, meaty, cheesy bowl that's perfect for dipping.
*6 E. Ridgewood Ave., Ridgewood, 201.445.5056
Lobster bisque at Soup Maison, Fair Lawn. The Soup Maison has three soups on tap every day, including the hearty and thick lobster bisque, a fan favorite, plus chicken noodle and New England clam chowder. Otherwise, special soup selections vary daily, from minestrone to lentil to potato leek to beef barley, making it the perfect wintertime lunch spot that'll hit the spot.
*11-08 Saddle River Rd., Fair Lawn, 201.254.9281
Matzo ball soup at Kosher Nosh, Glen Rock. You'll find "Jewish penicillin" at its finest at Kosher Nosh, a kosher-style deli known for its matzo ball soup (and pastrami on rye). The matzo balls, broth and carrot combo will remind you of the soup your bubbe used to make.
*894 Prospect St., Glen Rock, 201.445.1186
Pho at Pho Saigon, Hackensack. Every Vietnamese restaurant has pho on the menu, a traditional stocky soup made with spices, veggies and a protein of choice, but one of our favorites is available at Pho Saigon in Hackensack. Get your pho with beef, chicken, pork, shrimp or vegetables and tofu for the vegetarians.
*296 Main St., Hackensack, 201.342.3490
Tomato asiago soup at The Rolling Pin Café, Westwood. Every day at The Rolling Pin features two different soup du jours, both of which come with freshly baked buttermilk biscuits for dipping. Some customers opt for the tomato asiago, others prefer the roasted butternut squash, but you can't go wrong with any of their options. Pro tip: You can also order half a soup and a half salad with pickle or chips on the side.
*341 Broadway, Westwood, 201.666.4660
Vegetarian lentil soup at Giovanna's Café, Ramsey. This woman-owned business, Giovanna's Café, in the northern part of the county serves two soups every day—chicken soup and a rich vegetarian lentil. The third option changes daily, running the gamut from butternut squash to beef stew. Choose from a cup or a bowl.
*19 E. Main St., Ramsey, 201.825.5835
Which Bergen soup should've made our list? Tell us on Instagram @bergenmagnj!