Special Care for Kids in Surgery
Pediatric anesthesiologists are trained to handle smaller, more vulnerable patients.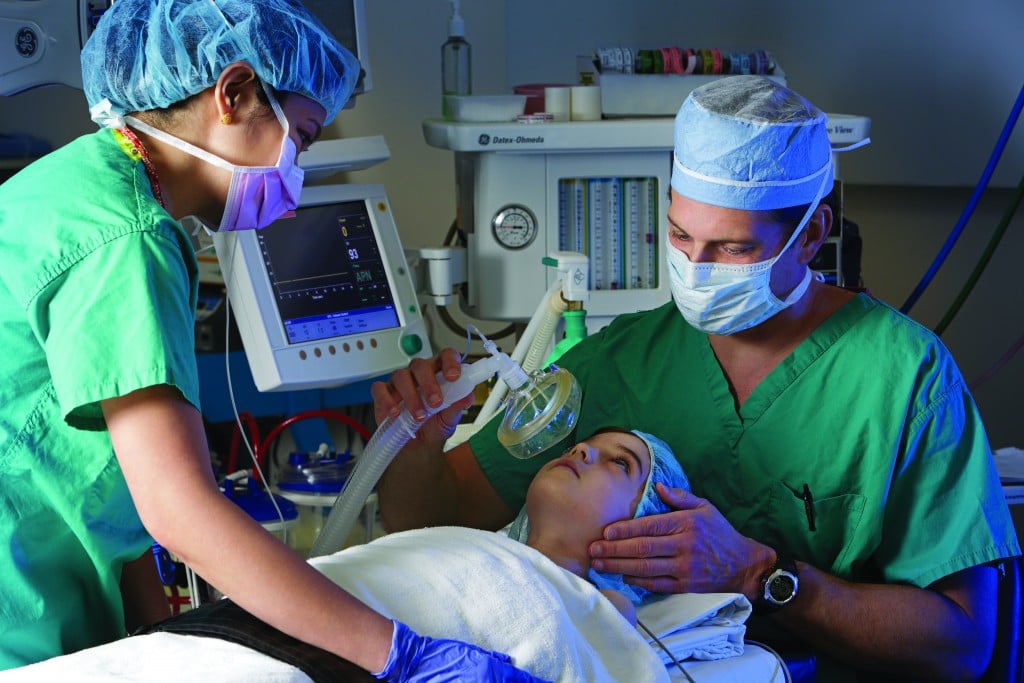 One question parents often ask doctors is: "Who would you send your kids to if they needed medical care?" When surgery is involved, James Sperrazza, M.D., of Anesthesia Consultants of New Jersey and director of Pediatric Anesthesiology at The Children's Hospital at Saint Peter's University Hospital, has a quick answer: "As a parent myself, I would want a person who is able to deal with any unexpected event," he says. "If my child needed surgery, I'd be most comfortable knowing that a pediatric anesthesiologist was in the room the whole time."
Pediatric anesthesiologists receive an extra year of training to learn the special techniques needed to care for younger and smaller patients. The pediatric anesthesiology program at The Children's Hospital at Saint Peter's has the largest number of board-certified and fellowship-
trained pediatric anesthesiologists in central New Jersey and is one of the few hospitals to offer 24/7 coverage of this kind.
"There are a lot of different considerations when caring for children," says Howard Lakritz, M.D., also of Anesthesia Consultants of New Jersey and chair- man of Anesthesiology at Saint Peter's. Positioning breathing tubes in an airway is challenging in any patient, but the tiny trachea of a 2-pound premature new- born, or even a 30-pound toddler, makes it exponentially more so. "If the tube is too high or too low, it may displace or you may ventilate only one lung," says Dr. Sperrazza. Maintaining proper oxygen levels during surgery is the most important thing anesthesiologists do, he says. "Oxygen levels can drop fast in kids— faster than in adults—and you need to know how to deal with that."
Medication management is also trickier in small patients. "Dosages need to be much more specific and calculated, because any small variation can have a big impact," says Dr. Lakritz. And complica- tions such as minor blood loss that would be inconsequential in adults can be devastating in a child. "Adults have more reserve—if something happens, they can compensate for it," he says. "Children lack that ability. For them, things can take a turn for the worse much more quickly."
Bedside manner is also important. Children are, of course, often afraid of hospitals, needles and doctors. "We are trained to comfort kids as well as care for them," says Dr. Sperrazza.
There are seven physicians in the pediatric anesthesiology program. "When we perform a procedure on a child, there is an experienced pediatric anesthesiologist in the room at all times," says Dr. Sperrazza. "That's what sets us apart."
To find out more about pediatric anesthesiology services at Saint Peter's University Hospital, please call the department of anesthesiology at 732.745.8530, ext. 7059, or visit saintpetershcs.com.