Special Delivery
How the lives of a mother and her infant were saved by quick action, cool heads—and blood.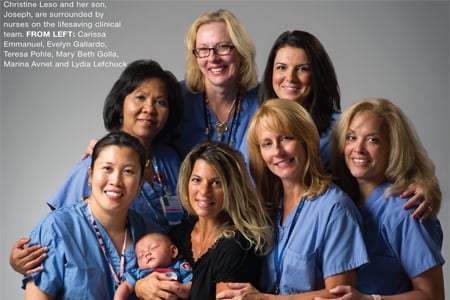 Following two high-risk pregnancies that led to Cesarean births and the healthy births of daughter Laci, 5, and son Johnny, 4—Green Brook resident Christine Leso was prepared for difficulties when her third baby was about to be born. But she didn't plan on a week-20 diagnosis of placenta accreta, a severe complication in which the placenta imbeds itself into the myometrium, or middle layer of the uterus, putting the mother-to-be at risk of hemorrhage. Yet that's what she received.
Four weeks later, Leso experienced the first of 13 massive blood-loss episodes. She was given a transfusion at Saint Peter's University Hospital and was admitted for continuous monitoring and strict bed rest at 27 weeks. "Christine was a ticking time bomb," says Robert Beim, M.D., the obstetrician/gynecologist who treated her at Saint Peter's. A Csection was scheduled on May 17 at 1:30 p.m., but three hours before surgery, everything went wrong.
"I started having contractions, and the baby's fetal heart rate dropped," recalls Leso.
She was rushed to Labor and Delivery (L&D), where nurses Mary Beth Golla and Teresa Pohle were waiting, prepped. "Blood was pouring from Christine at a rate I'd never seen before," Golla remembers.
As a state-designated Regional Perinatal Center with a Level III Neonatal Intensive Care Unit, Saint Peter's provides unique and highly skilled health care for women who anticipate or are experiencing a high-risk pregnancy. Dr. Beim immediately gave her another transfusion, and therein lies a significant factor that helped save both lives: Saint Peter's keeps blood stored in L&D. "It's an uncommon, expensive practice," says Dr. Beim. "But it bought us invaluable time while nurses ran back and forth to the blood bank." Leso lost more than two liters of blood (the average adult has a blood volume of five liters), which caused her body temperature to drop to a dangerous 94 degrees.
"We would pump it into her veins, and it would just pour back out," says nurse manager Lydia Lefchuck. The reason for that became clear when Dr. Beim discovered that Leso's uterus had ruptured—a life-threatening event for both mother and child. A hysterectomy was performed, and a total of 22 units of blood administered.
"All the nurses who assisted in this complicated surgery remained incredibly calm and efficient, which further contributed to our miraculous outcome," says Dr. Beim. "When Christine's son uttered his first cries, it was the sweetest sound in the world."
Born at 3 pounds, 10 ounces, Joey spent six weeks in the Neonatal Intensive Care Unit, and Leso recovered for seven days in the Intensive Care Unit. Now they're both home, strong and healthy.
"Everyone at Saint Peter's was very knowledgeable and kind," says Leso. "At another hospital, my outcome could have been quite different." —F.M.