Specialty Care, Across the Miles
Telemedicine allows pediatric specialists to treat kids at distant hospitals in "real time"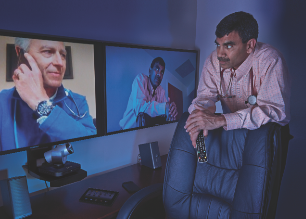 Disease isn't medicine's only foe; distance, too, sometimes works against healers. And even where distances aren't great, hospitals differ in areas of strength. Sometimes the best doctor for a given patient in an emergency is at another institution down the road. That's where today's technology of telemedicine can save the day.
The telemedicine program at Saint Peter's University Hospital uses advanced telecommunications and information systems to provide clinical health care at a distance and thus improve access to medical services. Through the program, the pediatric specialists at The Children's Hospital at Saint Peter's can care for children at multiple hospitals and locations, including CentraState Medical Center in Freehold.
Recently, a child suffering seizures was taken to CentraState, and Siva Jonna, M.D., chief, Pediatric Clinical Care, and director of Pediatric Telemedicine at Saint Peter's, was asked to help diagnose the problem. In a special room equipped with computers and monitors, Dr. Jonna could see all of the young patient's vital signs and imaging scans in real time. Via a camera-equipped stethoscope at CentraState, he could even conduct his own physical exam—from miles away.
"The child had multiple problems with his heart and brain, and we helped diagnose increased fluid in the brain that required surgery," Dr. Jonna says. The young patient was transported to Saint Peter's for the surgery. "We also were able to talk to the parents and the hospital staff and answer all their questions. The parents were very happy they could communicate with us before they even came here." The child, he says, is now fine.
"The use of this technology, offering real- time treatment, visualization and interaction, is a real advance in helping to achieve better outcomes in children," says Bipin Patel, M.D., chairman of Pediatrics at The Children's Hospital at Saint Peter's. "Not all hospitals have physicians in every pediatric specialty, so this can put physicians and hospitals in a position to interact with a wide array of appropriate specialists."
The technology is able to reach physicians beyond the corridors of the hospital. "We also have the capability to access service through desktop computers and iPads," says Dr. Patel. "The physician can be anywhere there is an Internet connection. We have access 24/7, even at home or on the road."
Indeed, Dr. Jonna once was called in the middle of the night to consult on a case. It didn't seem right to be seen in his pajamas consulting about a small baby with respiratory distress, he recalls. "I got out of bed and put on a shirt and tie."
Saint Peter's hopes to expand its telemedicine program to other community hospitals. "The telemedicine model allows our specialized care to be avail- able throughout the state," says David Jaipersaud, administrative director of The Children's Hospital. "It lets us share the expertise of our pediatric specialists, medical and surgical, in both densely populated urban areas and sparse rural areas with limited access. And with a continued national shortage of pediatric specialists, creating a virtual pediatric specialty pro- gram is ultimately the key way to provide for kids throughout the region. In the future, we hope to advance to a level where we can provide routine outpatient specialty care— and perhaps someday even home care."
Imagine that: your child at home, being given crucial treatment by a specialist who is miles away. "It's almost like our physician is in the room with the child," says Dr. Jonna. "And the most important thing is, the child benefits." —D.L.