Spicing Up The Kitchen
This room is food-prep central- and so much more. It deserves to be a place that lifts a family's spirits.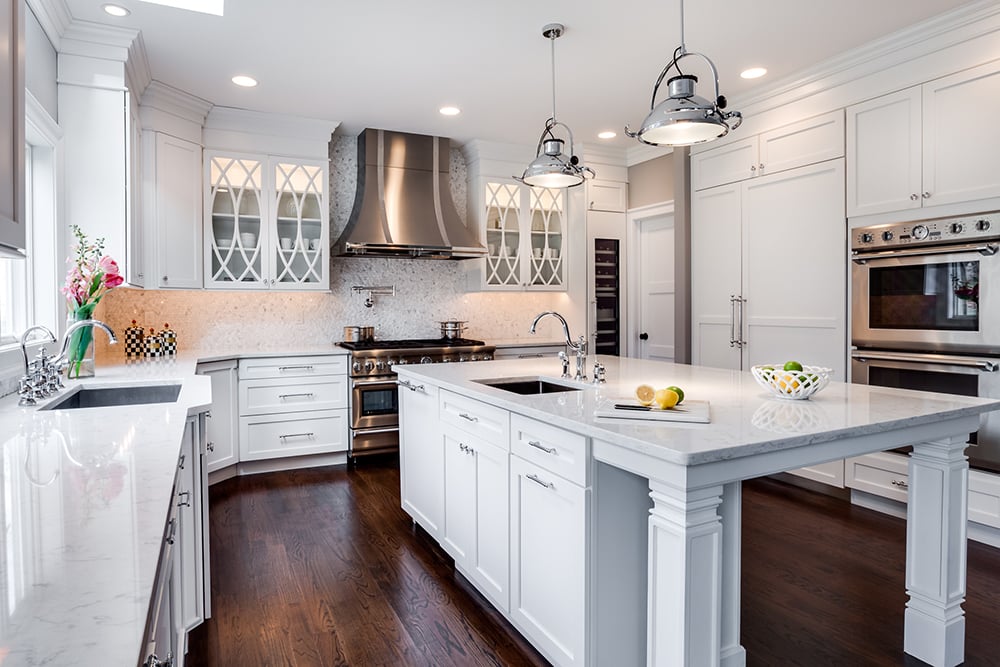 EVERY MASTERPIECE BEGINS WITH A CLEAN SLATE,
a canvas waiting for an artist's touch. For Hillsdale-based interior designer Jennifer Pacca, the canvas was a newly constructed home in Saddle River and its 432 square feet of empty kitchen space.
To start filling in the pieces for the floor plan, Pacca collaborated with Stephen Caruso of Kitchen concepts in Norwood and the homeowners to determine their wants and expectations. "I consider the space, the clients' lifestyle, how much they cook, who lives in the house, what appliances they want and the overall vision they have," Pacca explains.
Large marble counters were installed to give the chefs of the house plenty of food prep space, while the large island provides additional surface area for work. The 8-foot long island, which contains a second sink, a dishwasher and extra storage compartments, is the centerpiece of the kitchen—its custom design also provides ample room for family and guests to pull up a stool for a quick conversation, a bite to eat or nighttime homework for the kids, the designer notes. Two pendant lights combine with the recessed lighting to create a rich glow on the island's surface.
The homeowners chose pristine white cabinets to run along the perimeter of the kitchen, contrasting nicely with the dark hardwood floor. Specially designed doors were selected for the cabinets near the stove.
Pacca says she and her collaborators saw the design of the doors in the Kitchen concepts showroom. "We knew we had to use it as one of the focal points in the kitchen," she says, "so placing them next to the stove made perfect sense."
The white-surface dishwasher and refrigerator match the gleaming cabinetry, while stainless steel was selected for the cooking appliances —two ovens and stove—as well as the conversation-starting range hood, which Pacca notes "we all just fell in love with."
"This is a very awesome kitchen to work in, prep in and congregate in," she says. "there is plenty of counter space and room for everyone to move about."