Spring Fling
With garden-fresh ingredients like basil and berries, this palate pleasing cocktail is always in season.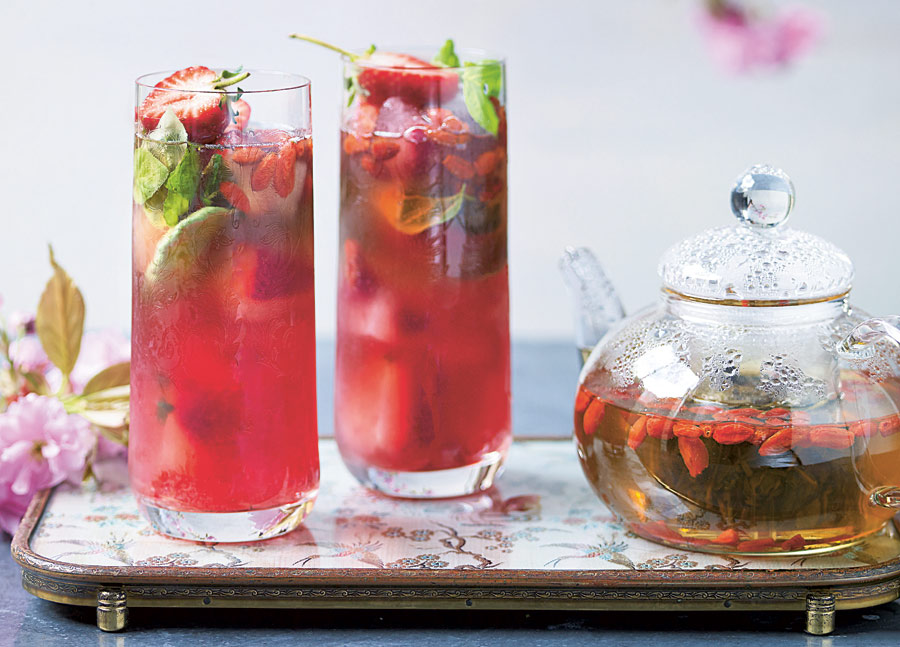 Strawberry and Jasmine Iced Tea
Ingredients
1 Tbs. goji berries
1 jasmine teabag
6 strawberries, hulled and quartered
6 fresh basil leaves
1⁄3 cup goji berry liqueur
2½ Tbs. white rum
2 tsp. Mandarine Napoléon liqueur
ice cubes
extra strawberries and basil leaves, to garnish
Equipment
cocktail shaker
muddler
cocktail stirrer
two tall glasses
Directions
Pour ¾ cup boiling water over the goji berries and teabag. Leave to steep and cool. Put the strawberries, basil and goji liqueur at the bottom of the cocktail shaker and muddle until the strawberries have turned into a pulp. Add the rum, Mandarine Napoléon and a handful of ice cubes. Put the top of the cocktail shaker on and shake for 15 seconds.
Pour the cocktail mixture into glasses filled with ice. Top with jasmine tea, including all the goji berries. Garnish with halved strawberries and a few basil leaves.
Slap and roll the basil leaves in your hands a few times before placing them in the cocktail shaker. This helps release more of the herb's oils, which can be infused into your drink." —Colin Furey, bartender, The Shannon Rose, Ramsey